If you live in a council-owned home - or were when it was transferred to another landlord – you may be able to buy the property at a discount. Read our handy Q&A to find out more.
Q. What is Right to Buy?
A. The Government's Right to Buy scheme allows all eligible council tenants – and some housing association tenants – in England to buy their home at a discount.
Right to Buy was scrapped in Scotland on 1 August 2016, and the Welsh assembly has announced plans to follow suit. The scheme is available in Northern Ireland although rules are different.
Q. Which housing association tenants have the Right to Buy?
A. Currently, around 500,000 housing association tenants are eligible for a discount to buy their home under the Right to Buy.
But ahead of the General Election in May 2015, Prime Minister David Cameron announced plans to expand the scheme to all 1.3 million housing association tenants in the country.
The Government is drawing these proposals up. And the Chancellor, Philip Hammond announced a 'large-scale' regional pilot in 2016 Autumn Statement.
If you would like to be kept updated, you can sign up here.
Q. Am I eligible?
A. You can apply to buy your council home at a discounted price if:
You're a secure tenant
It's your only or main home (and self-contained)
You've lived in a property owned by your local council or housing association for at least three years (reduced from five in May 2015). Note: These don't have to be consecutive years.
Right to Buy is not available to people who part-own their property through a scheme like Shared Ownership.
Q. What discounts can I get?
A. From 6 April, 2015, you can bag yourself a maximum discount of £77,900 or £103,900 in London. The discounts typically change every year in line with the Consumer Prices Index (CPI) measure of inflation. However, they remain frozen for 2016/2017.
The discount you are actually offered will be based on:
How long you've been a public sector tenant: the longer it is, the bigger the discount you can claim
The type of property you're buying (whether it's a house or a flat)
The value of your property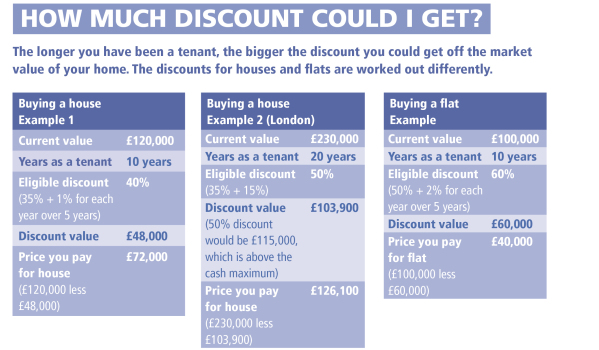 Q. Can I buy jointly?
A. Yes, you can make a joint application with up to three family members so long as you've lived with them for the past 12 months or someone who is on the tenancy agreement with you.
The discount will be based on whoever has lived in a council home the longest. This handy Right to Buy calculator will provide an indication of the discount you could qualify for.
Q. Can I use Right to Buy if my home is ex-council?
A. Right to Buy is designed for council tenants, so currently most housing association tenants won't be eligible – although Government plans are afoot to change this.
In the meantime, you may be eligible for Preserved Right to Buy if the council sold your home to another landlord, such as a housing association, while you were living there.
And you may qualify for Voluntary Right to Buy pilot if the council sold your home before you moved in.
Q. How do I apply for Right to Buy?
It's easy to apply for Right to Buy.
Send a completed Right to Buy application form to your landlord.
Your landlord must respond – either way – within four weeks of receiving your application. This stretches to eight weeks if they've been your landlord for less than three years.
If your landlord turns down your application, they must provide a reason.
If your landlord agrees to sell, they'll send you an offer within eight weeks if you're buying a freehold property – and 12 weeks if the property is leasehold.
Top tip! Your landlord is legally obliged to process your Right to Buy application within certain time limits – and you can get a reduced sale price if they don't.
Q. What happens when I want to sell my home (having purchased it through Right to Buy)?
A. You can sell your home whenever you like. But if it's within 10 years of buying it through Right to Buy, you'll need to give your previous social landlord or another one in the area first refusal at open-market value.
If the landlord doesn't want to buy your home, within eight weeks, you'll be free to sell it to whoever you chose.
Beware! Your former landlord may restrict who you can sell your home to if it's in a national park, area of outstanding natural beauty OR an area that the Government designates as 'rural' for Right to Buy.
Q. Will I have to repay my discount?
A. If you decide to sell your property within five years of exercising your Right to Buy, you'll need to pay back some or all of the discount you were given. The amount you'll have to pay back is as follows:
100% in year one
80% in year two
60% in year three
40% in year four
20% in year five
0% after five years
The amount you pay back will also depend on the value of your home when you come to sell.
If you transfer ownership of the property to a member of your family, you may not have to pay back the full discount. But you must agree it with your landlord first.
What's your view on Right to Buy? Tell us by posting a comment:
comments powered by

Disqus