Knowing what you're doing is paramount when it comes to buying or renting a home. But we can't all be Phil Spencer, so try these 10 super-handy tools on Zoopla instead.
If you come to a property website looking for a home to buy or rent, you'd expect to be able to drill down your search to specifics such as ensuite bathroom, double garage or swimming pool.
You'd also expect to find information ranging from how long a property's been on the market to statistics for crime and employment in the local area.
But here at Zoopla, we offer all of this and much, much more. If you want to really know what you're doing when it comes to buying or renting a home, these 9 FREE tools on Zoopla will empower your search.
1. SmartMaps
Already know where you want to start your search? Our SmartMaps tool does more than allow you to switch your search to map view. By clicking on 'Draw from scratch', you can mark out the exact area you are interested in and you'll only be shown homes within those boundaries. We've demonstrated below with homes near Newcastle: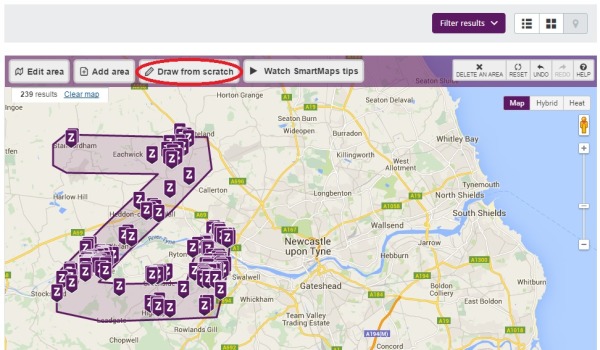 2. Travel time search
Our travel time search tool just does that – helps you find homes within your stated travel time to key destinations such as your work, your child's school or even your mother's house. You can choose your travel method – such as walking, train, bus or car – and our nifty calculator will factor the respective travel time into its calculation.
3. Find out how much YOUR home is worth
Even if you're not thinking of selling, our home values tool enables you to nose at the value of any property address in the UK! Just type in the postcode, select from the dropdown of addresses and you'll be returned a Zoopla estimate. If you want a more accurate picture, click on 'Get an agent valuation' and have a local Zoopla agent contact you – no strings attached.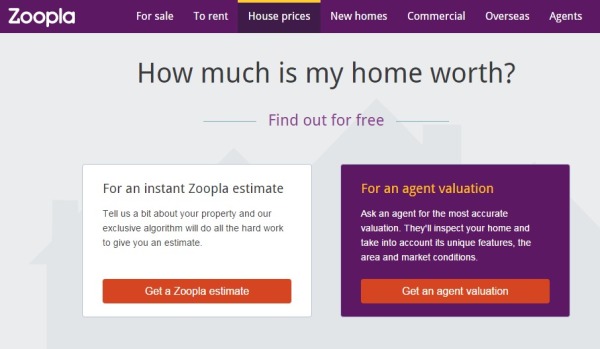 4. Uncover a property's past
As part of our house price tool, properties that have previously been listed for sale or rent on Zoopla have an 'H' symbol underneath them. If you click on this, you'll unearth the previous listing details. This means you can see what the home used to look like and (if you can stomach it) how much it used to cost.

5. Heat map tool
Zoopla's heatmap tool shows the average cost of property using a simple colour code. Areas coloured red (hot) are most expensive, while cold (blue) are cheapest. You can zoom into any given area too, presenting a great overall picture of any UK town or city. Click on Hybrid to switch to satellite view.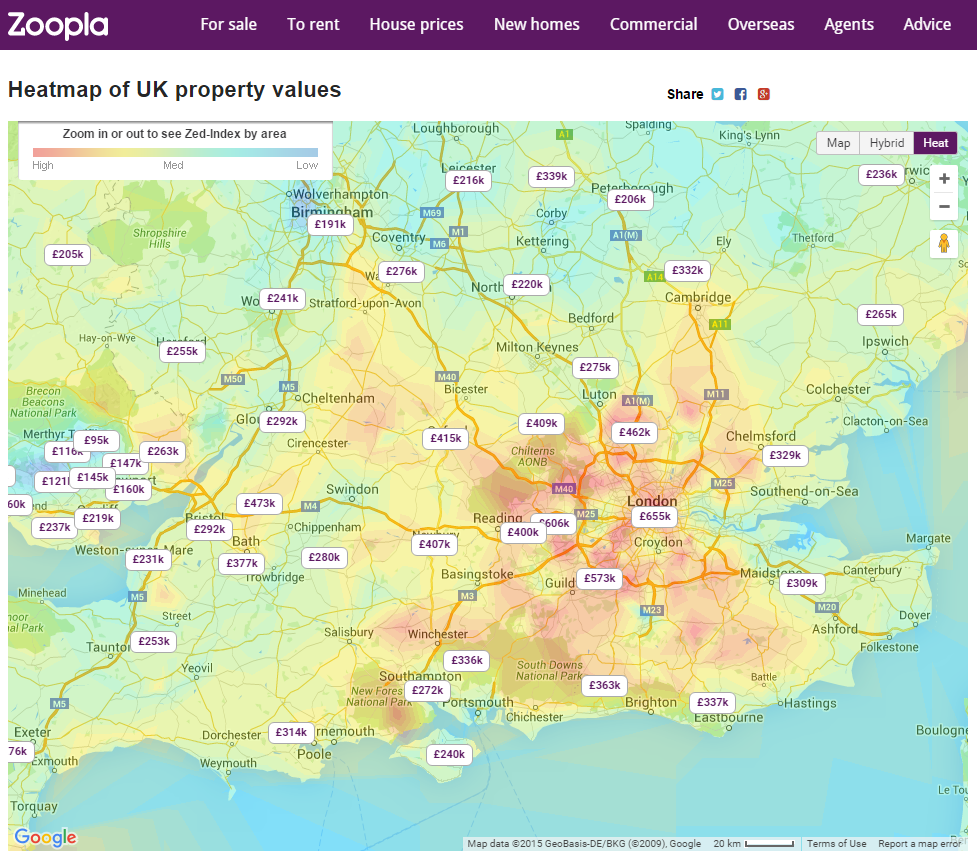 6. Find a Pro
If you are moving to a different part of the country, seek out local reliable tradesmen with Zoopla's Find a Pro tool. It provides access to a network of more than 35,000 professionals covering more than 50 home-related services ranging from painting and plumbing to locksmiths and conveyancing.
7. Instant removal cost estimator
When there are so many bills to foot upfront it's easy to brush the impending removal costs under the carpet. Thankfully, our cost estimate tool from AnyVan provides an instant figure which you can factor into your budget. You'll need to enter how many bedrooms you have, how many people are moving and how many miles you need to travel.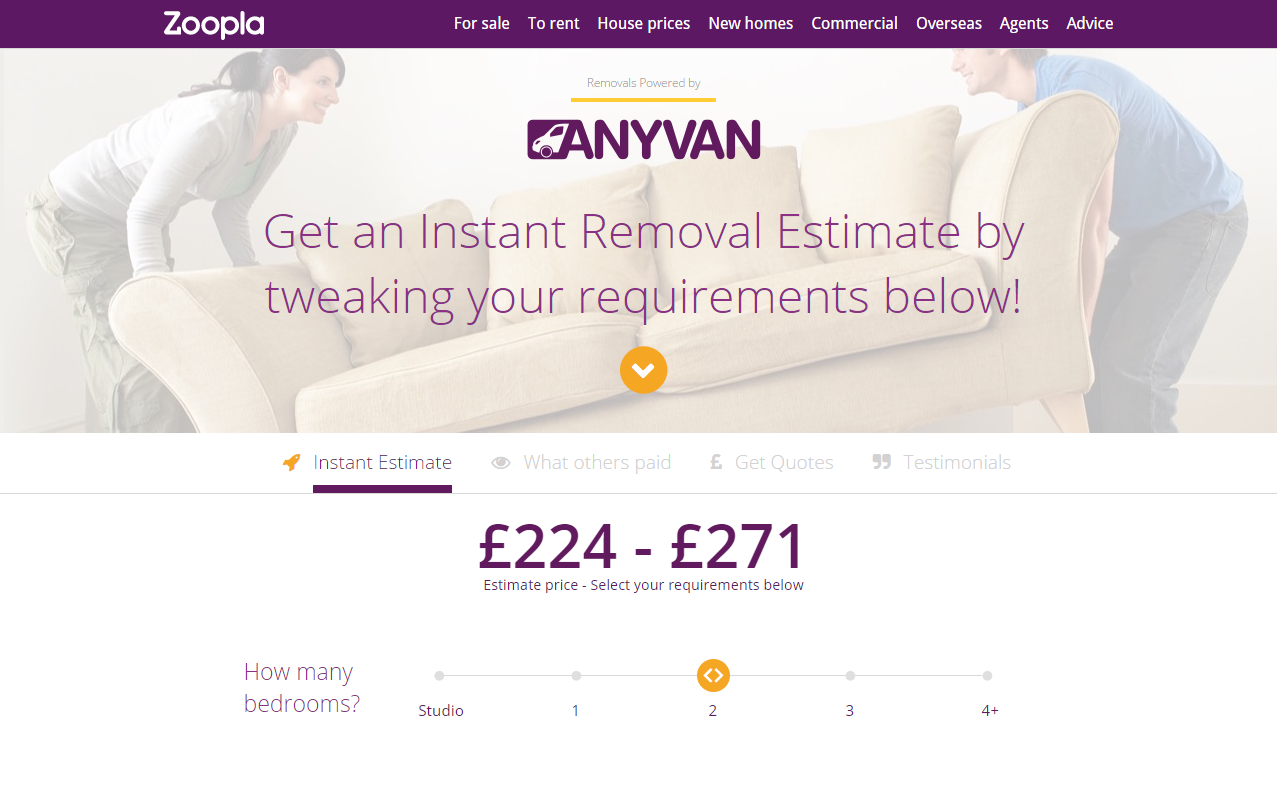 8. Postcode finder
Our postcode finder is a really handy tool as, even if you only know part of an address, it will search over 27 million UK properties to get the correct full postcode. And if you're not moving, it's pretty handy for Christmas and birthday cards too.
9. Running costs tool
One of our most recent additions to the Zoopla tool range is our Running Costs tool, which Phil Spencer explains more about in our dedicated page. Under each property for sale on Zoopla, the tool gives a clear estimation of how much it would cost each month to run. That's everything from council tax and energy bills to your monthly mortgage repayments. (You'll just need to adjust the slider on the calculator to your deposit amount, mortgage interest rate and repayment term.)
10. No-nonsense glossary
Finally, we've pulled together some of the most commonly used terms when buying a house whether you're taking the first step on the housing ladder, or you've simply forgotten from last time.
comments powered by

Disqus