Alnwick's imposing castle and elegant stone-built houses set amid Northumberland's wild countryside make it a property hotspot.
Found in the north of Northumberland, the market town of Alnwick sits in an enviable position just five miles from the coast, which is a designated Area of Outstanding Natural Beauty. It's also only 30 miles north of Newcastle, making it ideal for commuters.
Alnwick is characterised by its history. As one of the border towns of Scotland, the town and its castle featured in many wars and battles against the Scottish. Remnants of these conflicts can be found throughout the area.
You'll have to move quickly to secure a home here. Property is eagerly snapped up, especially when it comes to period homes. House prices reflect this demand – the average across the whole district is £229,000, far higher than the Northumberland average of £187,000. You can take a look at the latest prices here.
Discover what else Northumberland has to offer by reading our detailed guide.
Living in Alnwick: what to expect
Local authorities have worked hard to keep the town's historical character. Dominating its skyline is the castle, which leads to twisting cobbled streets and roads filled with charming stone-built homes.
The heart of the town is found in the market place, which still has its old market cross. Lively markets are held here, and the surrounding streets are filled with a mix of boutiques and high-street favourites.
Alnwick has strong ties to the countryside too. To the west are the rugged hills of Northumberland National Park and to the east is the stunning coastline. For more urban comforts and big city entertainment, Newcastle is less than an hour's drive away.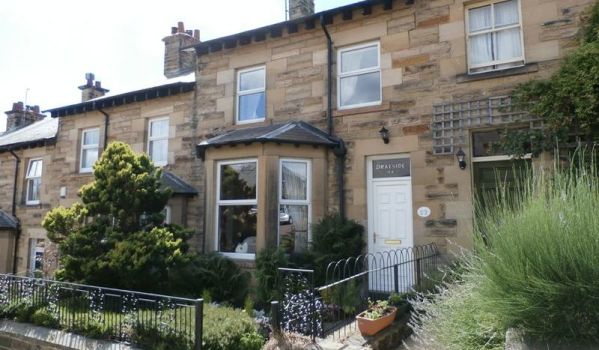 Where to start your property search
Period properties in the centre of the town are highly sought after. Bondgate Within has a selection of early-19th-century character stone properties, most of which are flats above shops.
For grand Georgian townhouses, look towards Bondgate Without. Here you can find four-bedroom properties with original fireplaces and sash windows
Listed properties occasionally come to market. Keep an eye on areas such as Clive Terrace, which has Grade II listed homes with sash windows and quaint cottage gardens. More listed townhouses can be found on Green Batt.
Edwardian stone-built terraces can be found on roads such as Stott Street. Many have three bedrooms and some even have the original mosaic tiled floors. For smaller two-bedroom properties, take a look in Armstrong Place and along Lisburn Street.
Handsome stone properties are also available on the outskirts of the town. Search along South Road for extensive Edwardian semi-detached homes that boast attractive gardens, open fireplaces and high ceilings. Some have as many as eight bedrooms.
If you'd prefer a more modern property, there is a good selection of inter-war and post-war estates with good-sized family homes. If you look towards the south east of the town you can find roomy 1920s and 1930s semis set on quiet residential streets such as West Acres. Some have mock Tudor detailing and many have large driveways and garages. Post-war semis with two to three bedrooms are available on Ravensmede and the St James Estate.
New developments are also beginning to crop up. Willowburn Park has two- to five-bedroom homes that are accompanied by natural play areas. The Maltings is also worth a look – it's a new development of 37 luxury apartments in the centre of Alnwick, some of which have views over the castle and the surrounding countryside.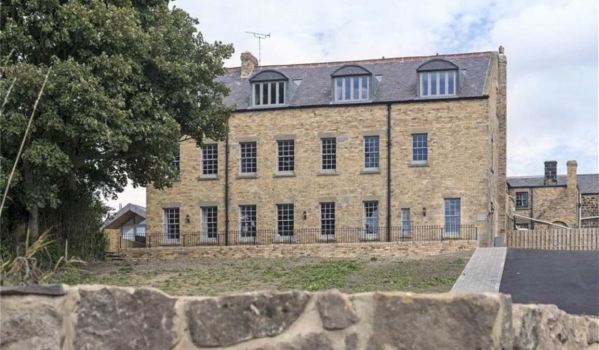 Getting around Alnwick
By rail: Alnwick doesn't have its own train station, but there are train services at nearby Alnmouth. From here residents can travel to Aberdeen, Berwick-upon-Tweed, Bristol Temple Meads (via Leeds), Edinburgh, Glasgow Central and Newcastle.
A journey to Edinburgh takes an hour whereas Newcastle can be reached in just 30 minutes.
By car: The A1 lies to the east and provides access to Newcastle in 45 minutes and Edinburgh in two hours. The other major route is the A1068, which heads towards the coast and then follows it southwards.
By air: The closest airport is Newcastle International, which is just a 40-minute drive away. Flight operators including easyJet, Flybe and Ryanair fly to both domestic and international destinations such as Paris, Madrid and Malaga. One long-haul service to Dubai is also available.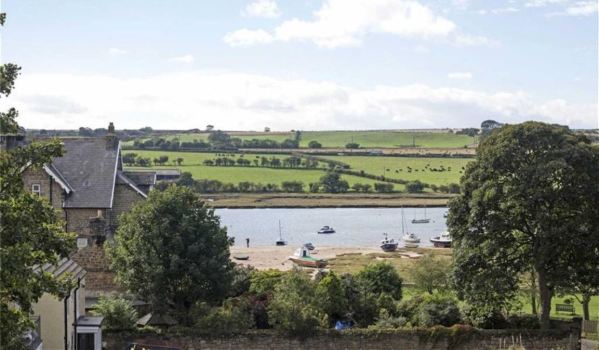 Things to do in Alnwick
History: Alnwick's castle connects the town's past and present. It has been, and still is, the home of the Percy family for 700 years. Despite seeing many conflicts over the centuries, the castle remains habitable thanks to remodelling and renovation projects. During the Victorian era, its state rooms were decorated in a sumptuous Italian Renaissance style.
The castle is not open to the public during the winter, but from March to October you can explore the state rooms, view several exhibitions and discover its varied history in one of the museums.
Also in the castle quarter is the Bailiffgate Museum and Gallery. Its displays and interactive activities teach visitors about the town's heritage, but there are also displays of art as well as craft and sewing workshops.
Cultural: The Alnwick Playhouse is the town's vibrant centre of the arts. It hosts professional touring companies as well as putting on its own performances of drama, music, dance and film.
The Bakehouse Gallery is in the old town bakery. It showcases British artists and designers and has a selection of paintings, jewellery and ceramics for sale.
The eight-day Alnwick International Music Festival brings thousands of visitors to the town. It celebrates the diverse culture of the UK and the wider world with live poetry, jazz, blues and world fusion music. Tea dances and workshops are also held throughout the week.
Outdoors: The Alnwick Garden is a green oasis in the town. Its ornamental garden has more than 15,000 plants but there are also other 'secret' gardens to discover. Visitors make a beeline for the Grand Cascade's fountains and weirs as well as the 'poison garden', which is filled with the world's deadliest plants.
The Northumberland Coast gives residents miles of golden sand and rocky outcrops to explore. As well as long coastal walks, visitors can also drop into one of the quaint villages, such as Craster, Embleton Bay and Beadnell, for food or typical seaside fun.
Also nearby is the Northumberland National Park, which is characterised by rugged hills and tors. It's the perfect place for hiking or cycling and has 700 miles of footpaths and trails to explore.
Shopping: Markets selling local produce are held every Thursday and Saturday from April through to December. There are also monthly farmers' and craft markets, which offer stalls of artisan goods.
Surrounding the market place are the premier shopping streets of Narrowgate, Fenkle Street and Bondgate Within.
Bondgate Within has an eclectic mix of mainstream shops, independent arts and crafts stores and traditional butchers, bakers and delis. Market Street also has many traditional shops as well as jewellers, whereas Fenkle Street is the place to go for women's fashion and interior design.
Food and drink: The Alnwick Beer Festival was launched in 2007 and is now held annually in the Town Hall. Choose from 30 real ales from local and national breweries, or sip on a selection of cider and wine.
A tea drinker's paradise can be found in Bari Tea Brewery. 'Bari' is Northumbrian for 'lovely', and visitors to the shop and café can find a cosy place to buy and sample 30 loose leaf teas with a slice of cake.
One of Alnwick's more unusual dining locations is The Treehouse in Alnwick Gardens. This unique restaurant is Europe's largest treehouse and its interior is filled with roaring log fires and trees sprouting through the floor. Wander across the wobbling rope bridges to enjoy locally inspired food and regular live music nights.
Another hotspot is The Dirty Bottles. The pub is named after the local legend of the dirty bottles – 200 years ago the innkeeper died after moving movmmmovbottles in the window. The bottles were then sealed between two panes of glass and have been untouched ever since. Today, this historical pub has futuristic iPad ordering booths, a tasting wall and DIY pint taps on individual tables.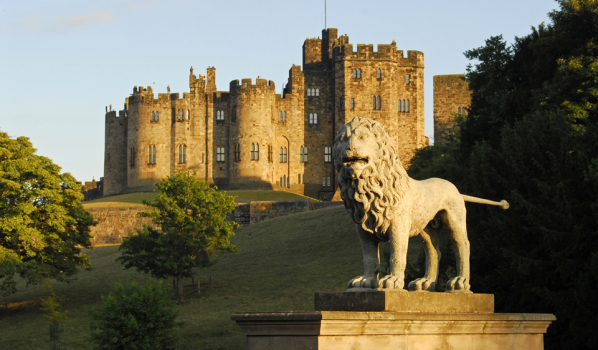 Hidden Alnwick
Alnwick's historical buildings mean that it has attracted many film and television productions. It's served as the setting for Blackadder and Robin Hood: The Prince of Thieves, and its castle also featured in the first two Harry Potter films and in the 2014 and 2015 Downton Abbey Christmas specials.
5 reasons to live in Alnwick
Attractive historic centre
Close to the Northumberland Coast, an Area of Outstanding Natural Beauty
Grand period stone properties
Thriving independent and mainstream shops
Good connections to Newcastle and Edinburgh
What about Alnwick grabbed your attention? Share your thoughts in the comments below…