Regeneration over the last few years has made historic Belfast a centre of culture and entertainment – and a desirable home to boot.
The port city of Belfast is the capital of Northern Ireland. It is steeped in history, from its rise during the Industrial Revolution and its manufacture of the doomed liner Titanic, to the Troubles that dominated politics for almost 30 years from the late 1960s.
Thanks to ambitious regeneration plans, particularly around the docklands, new cultural hubs are emerging. The city is home to quirky restaurants, museums, and lively bars and pubs.
Belfast property can be pricey by Northern Irish standards. The current average house price is £154,000, a notable step up from the £136,000 for the area overall (see the latest figures here). However, more affordable properties can be found in the northern areas of the city.
Discover other areas in Northern Ireland by reading our guides on Ballymena and Lisburn.
Living in Belfast: what to expect
Investment in Belfast's riverside has created a new waterfront area, complete with bars, restaurants, entertainment venues and contemporary apartment blocks.
But Belfast's history is still evident. The Titanic Quarter celebrates its past as a major site of ship building and the Cathedral Quarter's cobbled streets have historic charm.
The city is flanked by hills and the sea. Notable landmarks such as Napoleon's Nose on Cave Hill and wide country parks give the city a welcome green backdrop.
Getting around and out of the city is also convenient thanks to the proximity of several motorways, two airports and a comprehensive rail network.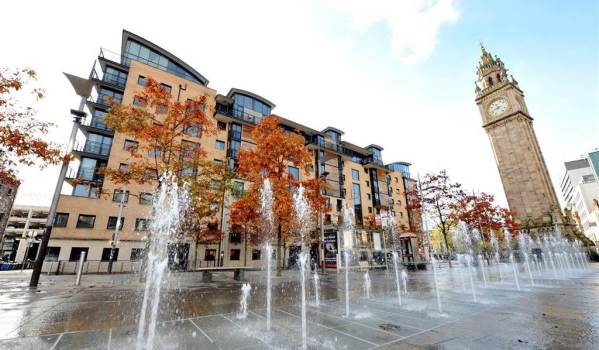 Where to start your property search
Belfast's riverside area and city centre are among the best places to search for an apartment. Try St John's Wharf, a new waterfront development that includes purpose-built apartments with balconies and communal gardens.
South Belfast is the sought-after corner of the city, thanks to its leafy streets and spacious Victorian and Edwardian homes. The cachet is reflected in the steeper house prices.
Malone is an exclusive neighbourhood in the south of the city, where many properties are based on a hill. Malone Road has spacious three-bedroom semis with bay windows and generous gardens. And streets of impressive period homes, some of which are double-fronted with arched doorways, span off from Malone Road.
The Ormeau and Ravenhill areas of south Belfast are also popular. Streets leading off Ormeau Road have a good selection of handsome red-brick Victorian semis, while houses overlooking Ormeau Park include grand detached homes with classic period features.
You may also want to look at Upper Galwally for more period homes with sash windows, corniced ceilings and original fireplaces.
East Belfast has attractive homes. The Knock area has smart semis with small bay windows. If you want something bigger, check out the grand detached houses lining Cherryvalley.
West Belfast has a good selection of terraced homes. Find three-bedroom terraces on roads such as Clonelly Avenue and Ramoan Drive in the Andersonstown area. Alternatively, check out the new estates such as the one leading off Caffrey Avenue.
Blackstaff Stop also has plenty of terraced homes. Pick up a modern version on Lawnbrook Avenue or Battenberg Street, or an older property on Mayo Street.
North Belfast tends to have the most affordable properties. Pick up a humble post-war terrace on Glenbank Place or Primrose Street in Ballysillan. Alternatively, consider one of the red-brick terraced homes or larger period semis on Ballysillan Road.
Grids of more red-brick terraced homes are scattered throughout the Ardoyne area. Rendered, post-war terraces can be found on Strathroy Park while Hesketh Park has more modern terraced homes.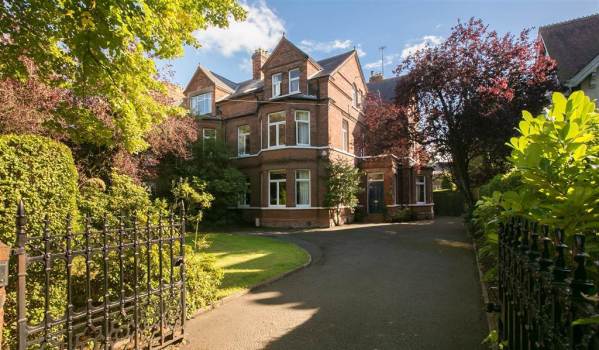 Getting around Belfast
By rail: There are two train stations in the city – Belfast Central and Belfast Great Victoria Street.
Both stations connect to the Belfast Suburban Rail system, which runs trains to Carrickfergus, Larne, Larne Harbour, Bangor, Lisburn and Portadown.
There are also regular direct services from Central station to Newry, Londonderry, Coleraine, Whitehead, Dublin Connolly and Portrush.
By car: The M2 starts in Belfast and heads north along the coast before veering west to Newtownabbey and Antrim.
The A12 in the city centre links to the M1, which takes you south west to Lisburn and across to Dungannon.
The M3 in the city centre can be used to connect to the A2, which runs towards the George Best Belfast City Airport and Bangor.
By air: George Best Belfast City Airport predominately has flights to UK destinations, such as Edinburgh and Manchester, but it also serves a handful of European locations.
Belfast International Airport has a far wider choice of destinations, including a few long-haul flights to the US.
By sea: Belfast has a thriving port, where regular ferry services run to Douglas, Cairnryan and Liverpool Birkenhead in northern England and Scotland.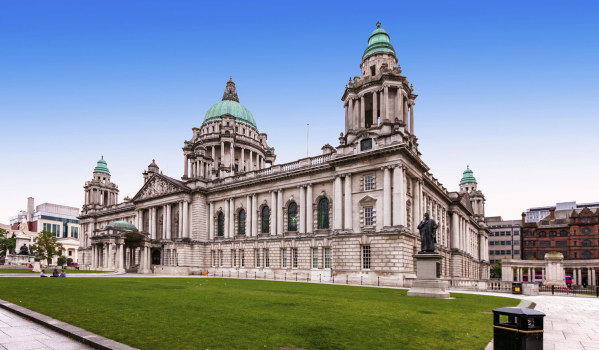 Things to do in Belfast
History: Titanic Belfast celebrates the city's ship building industry. It has nine galleries charting the stories of Titanic and the people who made her as well as replicas of cabins and engine rooms.
A more unusual experience can be had at Crumlin Road Gaol. It was opened in 1846 and used as a prison for 150 years. Guided tours enable you to get a glimpse into prison life, including the last days of men in the Condemmed Man's Cell.
Cultural: There's an excellent choice of venues in Belfast. The Victorian Grand Opera House is one of the most atmospheric and has a full programme of dance, opera, comedy and musicals.
The Belfast Waterfront and The MAC hosts theatre as well as pop and rock concerts. The latter has two theatres and three art galleries, which showcase regular exhibitions and experimental works.
The arts are particularly celebrated during the Cathedral Quarter Arts Festival. Readings, live music, theatrical performances and visual art are promoted through more than 100 events every spring.
Outdoors: The Sir Thomas and Lady Dixon Park is a popular spot. It covers 128 acres and comprises meadows, copses and woodland, a walled garden, a Japanese-style garden and the celebrated City of Belfast International Rose Garden.
For untamed countryside, head to the nearby 4,200-acre Lagan Valley Regional Park, an Area of Outstanding Natural Beauty. Follow towpaths by the river, climb the hills for iconic views or head to the watersports centre for rowing and kayaking.
Explore Cave Hill Country Park on foot or by bike, visit famous landmarks such as Napoleon's Nose, a distinguishing feature on the hill thought to resemble the French leader's own nose, and enjoy picturesque views from the summit of Cave Hill.
Shopping: Find big-name stores at both Victoria Square and CastleCourt shopping centres. Victoria Square alone has more than 70 shops, including high street favourites such as Accessorize, H&M and Mango.
For more exclusive shopping, head to Lisburn Road, dubbed the 'Bond Street of Belfast'. It is full of boutiques, delis and classy restaurants.
The covered St George's Market was built in the late 1890s and still hosts traders selling crafts, food, gardening items and antiques every Friday to Sunday.
Food and drink: The Golden Mile is the go-to place for some of the city's best bars and restaurants. Search the streets between Belfast City Hall and Queen's University for noodle bars, kitsch restaurants and an international array of take-aways.
There's also a good selection outside of the Golden Mile. Bert's Jazz Bar and Restaurant has live jazz every night and a bistro menu of dishes such as moules frites. Meanwhile, the Garrick bar is one of the oldest pubs in the city and has more than 60 local and international bottled beers and ciders. It hosts regular folk music nights and acoustic sessions for an authentic Irish pub experience.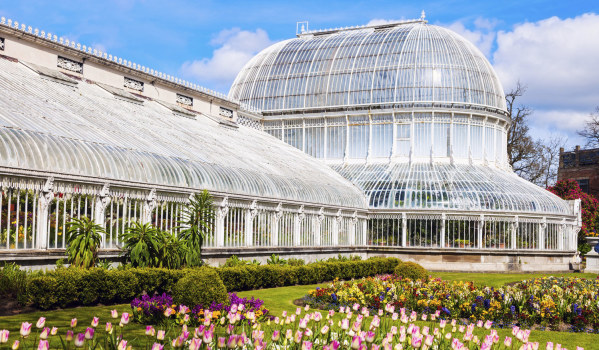 Hidden Belfast
The Crown Liquor Saloon rose to fame when it was the setting for the film, Odd Man Out, starring James Mason. Bizarrely, the panels in the Victorian-era Crown Bar were originally made for HMS Britannic, Titanic's sister.
5 reasons to live in Belfast
Lively urban centre with culture, shopping and entertainment on tap

Plenty of history

Good transport links

Close to attractive parks and reserves

Pick of property, from period property to modern riverside developments
You might also be interested in...
What appeals most to you about living in Belfast? Share your thoughts in the comments below…