Here's our round-up of Zoopla's most clicked-on properties of the year. And the good news is, if you've got the budget, some are still up for grabs.

1. Seven-bedroom detached house in St Albans, Hertfordshire, Price on Application
With a price tag that undoubtedly runs into several millions, this new-build Hertfordshire mansion (above) attracted the most views of all this year. As well as seven bedrooms and eight en suite bathrooms, lavish features include a cocktail bar, Pilates studio and underground parking with car lift. Interested? It's still on the market.
Available via Cassidy & Tate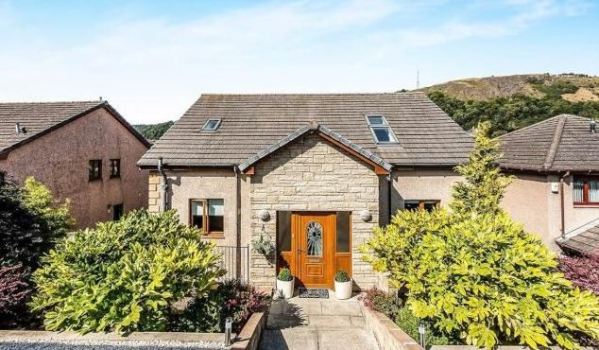 2. Five-bedroom detached house in Burntisland, Fife, previously for sale at £475,000
In second place was this modern home (above) in the Scottish coastal town of Burntisland, which has now been sold. The exterior might look unassuming – but it conceals an astonishing double-height open-plan living space with a balcony overlooking a state-of-the-art curved kitchen. As well as five bedrooms, the new owner got a double garage and landscaped garden.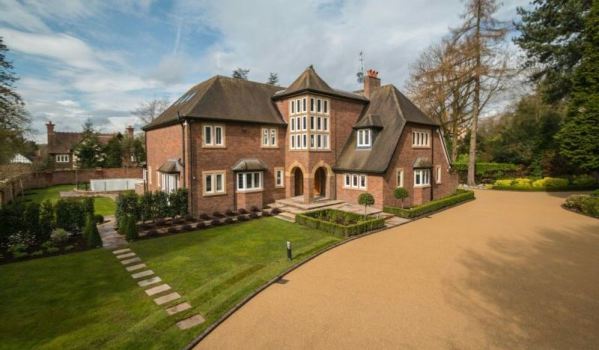 3. Six-bedroom detached house in Altrincham, Greater Manchester, previously for sale at £3.6m
This palatial property in the affluent commuter town of Altrincham took third spot in 2017, but was the most clicked-on of all in September when it was first marketed for sale. The entire property has been recently refurbished and includes plush trimmings such as a leisure complex with an indoor pool, Jacuzzi, gym and home cinema.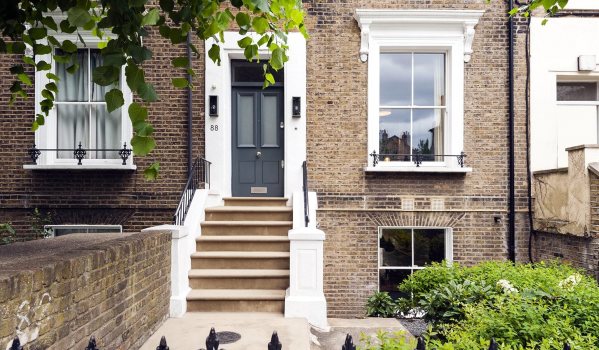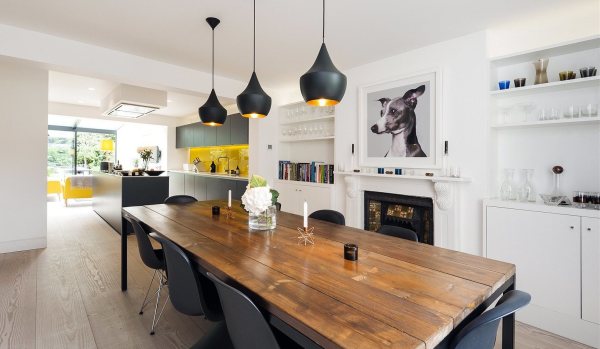 4. Three-bedroom property in Hackney, east London, for £2.5m
The stunning interior design and minimalist extension in this four-storey Victorian home explains the volume of interest, as well as the price tag. The property has been sold subject to contract, and the details removed. But we kept back a couple of pictures including of this uber-trendy kitchen.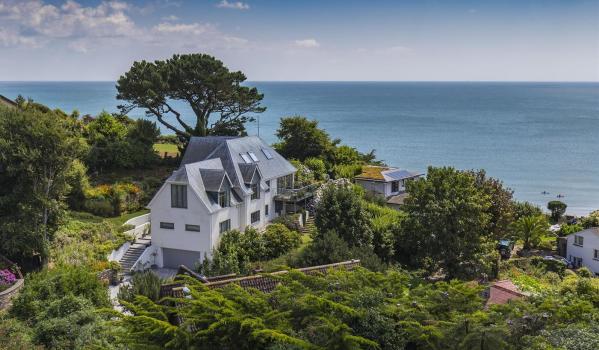 5. Five-bedroom property in Looe, Cornwall, for £1.1m
Set against the spectacular backdrop of the Cornish coastline (above and main header picture), this modern five-bedroom home has been unsurprisingly popular. With the kitchen and reception rooms on the first-floor and the five bedrooms tucked away downstairs, it's been designed to take full advantage of the panoramic Cornish views. And it's still waiting for a buyer.
Available via Ocean and Country Ltd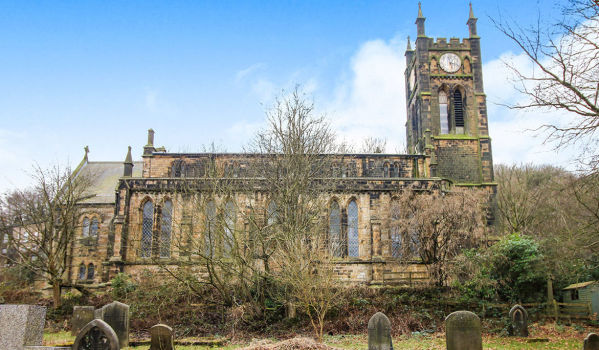 6. Five-bedroom detached house in Todmorden, West Yorkshire, for £150,000
This partially-converted church also clearly captured your imagination. It's still for sale but the Grade-II listed building will require a determined new owner. To complete the mammoth conversion, the buyer will need to adhere to restrictions such as preserving the chancel and bell tower. But for an initial outlay of just £150,000, it could be a dream project for someone.
Available via Reeds Rains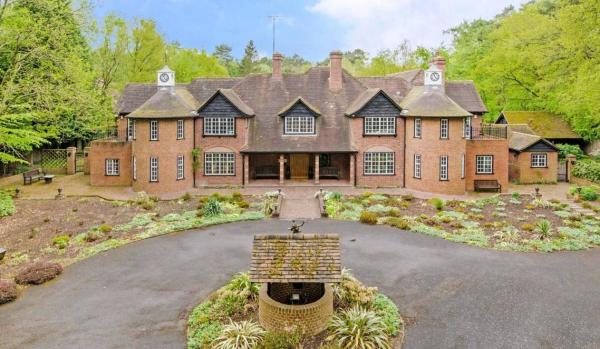 7. Eight-bedroom detached house in Crowthorne, Berkshire, previously for sale at £2.8m
How do you make a mansion stand out from the crowd? Install an automated two-lane bowling alley of course (see picture 15). And this wasn't the only feature of the vast Berkshire home that was worth shouting about. The lucky new owner also landed an indoor and outdoor swimming pool, home cinema and billiards room.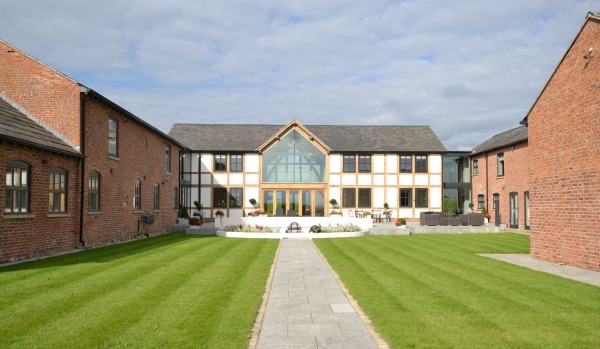 8. Five-bedroom detached house in Mobberley, Cheshire, for £4.75m
Currently owned by former Manchester United footballer Wes Brown and his wife Leanne (who stars in the Real Housewives of Cheshire), this country pad is nothing if not glamourous. But, as one of the most expensive properties to make 2017 list, you'll need a premiere league wage to match. With a 10% deposit, monthly mortgage repayments ring in at around £17,000 a month.
Available via Benson Bunch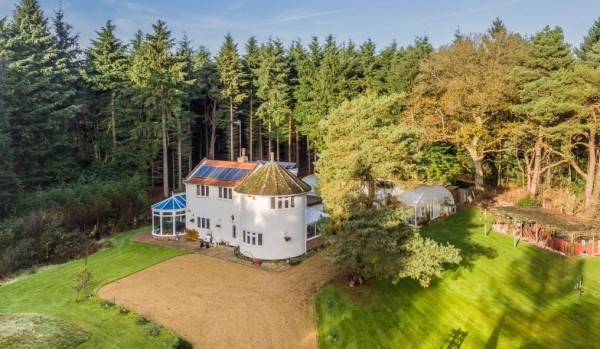 9. Three-bedroom detached house in Fritton, Norfolk, previously for sale at £550,000
One of the more unique properties that got you clicking in 2017 is this former toll house in the quiet village of Fritton. The property sold for £540,000 back in April and, chances are, the new owners are now enjoying the warmth of the wood burner or taking a dip in the heated swimming pool.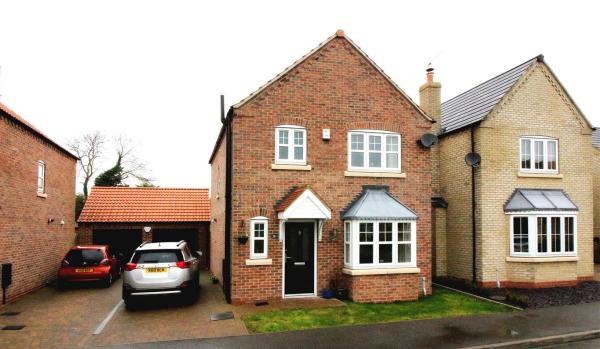 10. Three-bedroom detached house in Nafferton, East Yorkshire, previously for sale at £190,000
Not all popular homes need to be salubrious. This modest three-bedroom family pad, which sold in June for its asking price, simply ticked all the boxes with its open-plan kitchen/diner, master en suite bedroom, easy-to-manage garden and garage.
You might also be interested in...
Which of these homes repesents the best value for money? (And which would you simply love to live in?) Tell us by posting a comment below...