Hermit crabs are the stars of Zoopla's new TV advert for good reason – they are excellent at moving home. Here are 5 lessons they could teach us humans about the process.
Hermit crabs protect their soft bodies by salvaging shells that once belonged to other sea animals and climbing into them. But, just like humans and their homes, they'll need to find the right type of shell at the right time.
Here are 5 worthwhile lessons hermit crabs could teach us about the moving process.
Lesson 1: Prepare to rent to prevent chains breaking
Hermit crabs hunt for a new shell when they grow too big for the one they're in. If they find a vacant shell but it's unsuitable, they wait next to it as a signal to other crabs they're in the market to move.
The waiting crab will soon be joined by others also looking to upsize, and a chain starts to form.
Each hermit crab gets ready for the next biggest to vacate their shell and, when the time is right, they all move together.
However, if one crab stays put for too long the whole chain (which can be up to 20 crabs long) becomes disrupted.
It's the same with human property chains. It only takes one link to cause problems and delays for everyone else. If you happen to be that link, consider moving into rented accommodation for a while or staying with family.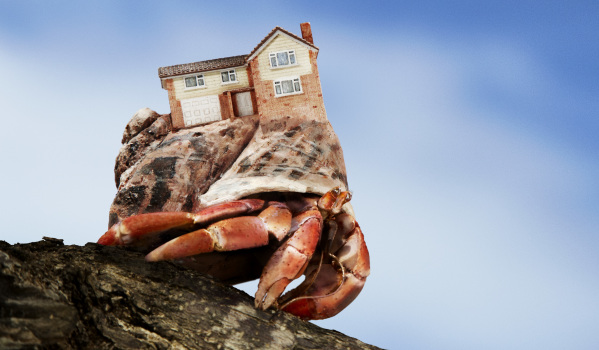 Lesson 2: Don't be too fixed on a specific area
Low availability of shells in one location where several hermit crabs all want to move can result in fighting, with the strongest taking the prize. The rest are forced to take less suitable shells or remain in their existing one for longer.
Buyers can also outnumber homes in the human property market – especially in highly-populated cities like London. But the winners here are usually those who can afford to make the highest offer.
Rather than busting your budget, try expanding your search area using Zoopla's SmartMap tool. In some towns and cities, the difference of just a few roads can result in much cheaper properties.
Find out more about SmartMap and Zoopla's other online tools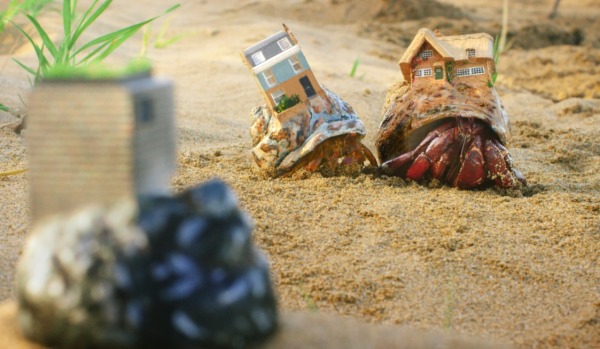 Lesson 3: Research the home you're moving into
Hermit crabs are totally prepared for their next move. In many cases, they've already picked up the scent of a dead or dying mollusc which indicates its shell will soon be free to inhabit.
Humans can carry out preparation too. Zoopla's house price tool allows you to see what a home last sold or rented for if it had been listed with us. And you can get an estimate of what the monthly bills might be with our running costs tool.
Lesson 4: Invest in the appropriate survey
Hermit crabs are quick to reject defective shells as they won't stand the test of time or provide the protection they need to survive.
For the most thorough inspection of a property's structure, humans will need to commission a Building Survey which costs around £750. There are less detailed (and cheaper) options too though, which you can find out about with our guide.
Lesson 5: A big home isn't always best
Carrying an over-sized shell around would mean wasting precious energy for a hermit crab, so they go to great lengths to find one that fits just comfortably.
This approach makes sense for humans too. A home that's bigger than you need can result in a more expensive council tax band, bigger energy bills and, of course, more cleaning and general maintenance.
Read more...
Director of photography on Zoopla's advert, Doug Allan, has been a wildlife cameraman, photographer, marine biologist and diver for more than 30 years. He has worked extensively with David Attenborough specialising in the polar regions and underwater.
Find out more about his incredible career at 5 minutes with Doug Allan.
You might also be interested in:
Got any moving tips to rival our hermit crabs? Share them by posting a comment below...