The height of summer is the perfect time to shop for homes with their own roof terraces. Here are our top picks from around the country.

From this astro-turfed roof terrace on top of the annex of this modern family home, you'll be able to kick back and breathe in the stunning views of the Cornish countryside. Thanks to clever design, the chic terrace even merges discreetly into its surroundings.
Available via My Place In Cornwall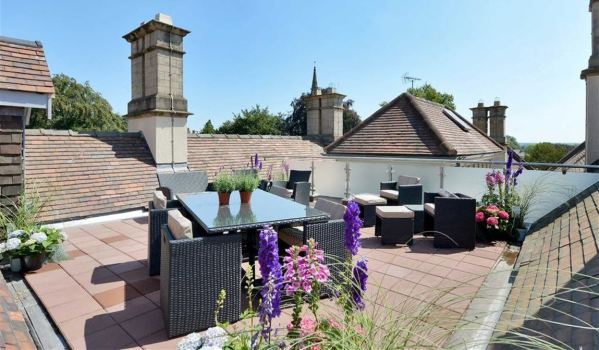 2. Two-bedroom flat in Epperstone, Nottingham, for £395,000
Tucked away between the grand chimneys of this 1760 manor house is this gem of a roof terrace. The secluded spot offers plenty of seating for guests and room for more than a few plant pots to add a splash of colour.
Available via FHP Living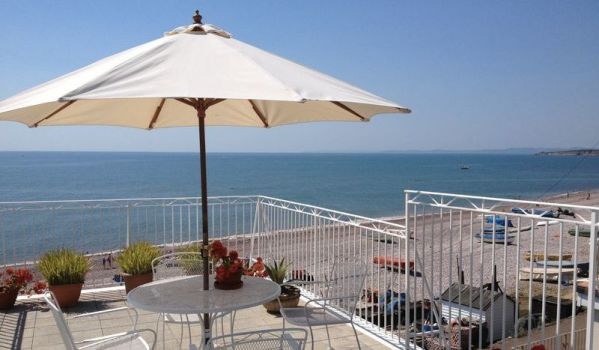 3. Three-bedroom flat in Budleigh Salterton, Devon, for £595,000
If you're after a terrace with a sea view, you're unlikely to beat the one from this beach-front flat in Devon's Budleigh Salterton. When the clouds come over, you'll be able to retreat into a tastefully refurbished home with newly-fitted flooring throughout.
Available via Red Deer Country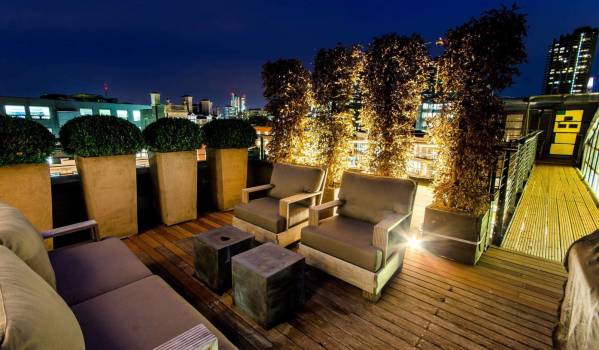 4. Two-bedroom flat in Clerkenwell, London, for £2.6m
Cross over a private decked walkway and arrive at this uber-trendy roof terrace in north London's Clerkenwell. The potted plants will help keep you screened away from nosey neighbours, but you'll still be able to take in the sights of the city.
Available via Foxtons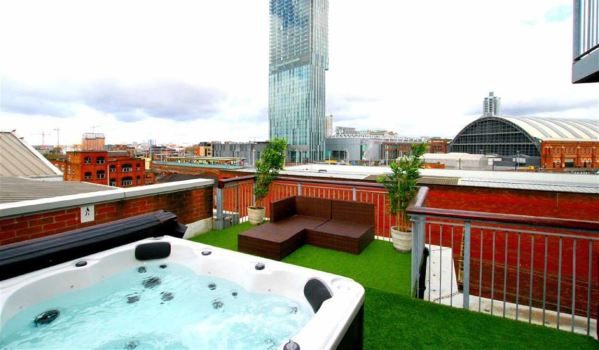 5. Two-bedroom flat in Deansgate, Manchester, for £289,950
Long day in the office? Drag your weary bones into the hot tub on the roof terrace of this smart penthouse apartment. The astro-turfed terrace offers views of Beetham Tower (the tallest building in Manchester) and the Grade II-listed Manchester Central Convention Complex.
Available via Reside Manchester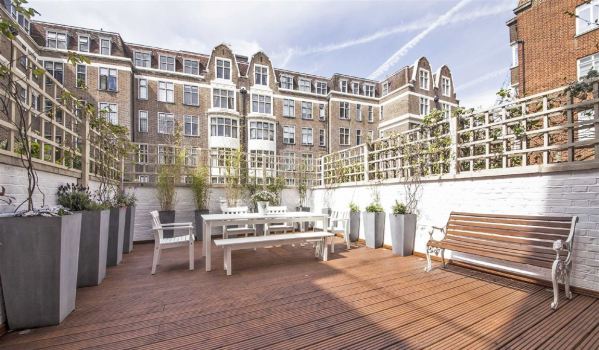 Hidden away just minutes from Oxford Street and Regent's Park, is this picture-perfect town house with a west facing first floor roof terrace. A tranquil spot amid the bustle of central London, it's perfect for summer evening entertaining – so long as the host can afford the £6m price tag.
Available via Dexters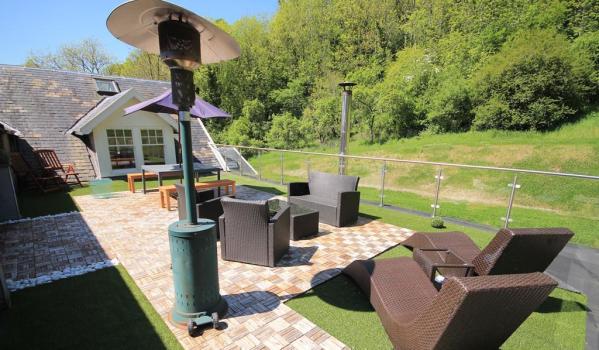 The roof terrace of this modernised Victorian home in South Lanarkshire can only be accessed through the master bedroom. The artificial grass helps it blend in with the 8.5 acres of land that surround the house.
Available via Residence
This huge decked terrace comes as part of a charming barn conversion in Mochdre, which is on the northern tip of Wales. It's only accessible externally, but once you're up there you won't wish for a better view of the stunning Welsh countryside.
Available via House Network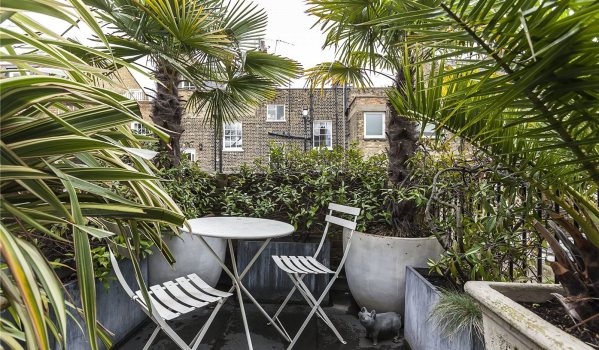 If you want private roof space in London's prestigious Chelsea, it's likely to be small. This exotic-looking terrace is on the second floor of a sleek five-storey end-of-terrace house, which currently contains a separate flat. So, all in all, we're not complaining.
Available via Hamptons International
Which of these roof terraces has got your name on it? Tell us by posting a comment below...