From robot builders and treadmills that generate energy, to 'greening' the streets and modular houses, we speak to the experts about what could be in store.
This article is part of our Master Your Move Zooploma - a series of free guides, insider advice and inspirational stories delivered straight to your inbox.

It's impossible to predict exactly how we will live and what our homes will look like in the next half a century or more. After all, the science fiction films of 50 years ago present a very different picture of the homes we live in today.
However, change is often slow and there are many useful markers of the direction of travel.
We spoke to the experts to get their predictions on how our homes may change - and how those changes might help us to live better.
1. Healthy homes
There is growing scientific evidence of the positive effects of healthy homes. This often relates to things we might take for granted, such as ample natural light, which has been shown to improve quality of life, quality of sleep, and to reduce how often people fall sick.
Tamara Hooper, policy manager at the Royal Institution of Chartered Surveyors (RICS) says "the impact of our homes on our health is more vital than ever", adding "the way we develop must look to provide healthy homes and communities".
The WELL Building Standard is an international tool for rating the health of buildings, introduced and administered by the International Well Building Institute (IWBI) in America. The first UK building to meet this standard was 22 Bishopsgate in London.
The IWBI argues that because we spend 90% of our time indoors, our physical environment impacts our health more than lifestyle, medical care and genetics. Buildings that meet the WELL Building Standard are designed to impact on occupant health in seven areas: air, water, nourishment, light, fitness, comfort and mind.
"Healthy" buildings use natural materials that are better for the environment and do not contain allergens. Some materials found in homes are known to give off volatile organic compound gases (VOCs) which can cause poor air quality and impact health. Damp and mouldy homes can be linked to a raft of health complaints, from asthma to respiratory tract illnesses and allergies.
The Covid-19 pandemic has highlighted the need to create healthy indoor environments. But for years architects have been designing indoor environments that mitigate pathogens rather than create unhealthy corners that harbour them.
Experts predict that homes of the future might be installed with air conditioning systems that use ultraviolet light to kill germs as well as filter out air pollution. The same system might also manage humidity and use sensors around the building to prevent the conditions (warm and damp) within which germs and mould flourish and multiply.
"If you have better air quality you have better health generally and increased life expectancy. The health of an environment has an immediate impact upon the health of those inside it," says Hugh Pearman, editor of the RIBA Journal, who recently judged the Royal Institute of British Architects' RETHINK: 2025 – an international design competition seeking designs for our post-pandemic world.
Architect Simon Bird, director of LOM, suggests that we will see more widespread adoption of the Passivhaus standard, a methodology developed by the Passivhaus Institute in Germany which is driven by air quality and comfort, using little energy. Currently there are 65,000 Passivhaus-certified buildings in Britain.
Bird says: "Looking to the future, we need to embrace some of the principles at least of the Passivhaus more broadly to create quality spaces that are ventilated properly and contain quality windows. Homes should be well engineered and benefit from complicated thinking."
Kelly Bream, chief operating officer of Navana Property Group, says the same principles apply to big property developments in city centres.
She explains: "Fresh air will need to be managed within buildings. We'll need sensors connecting back to the smart home model to ensure efficiencies within big developments, that tie into sustainability and health."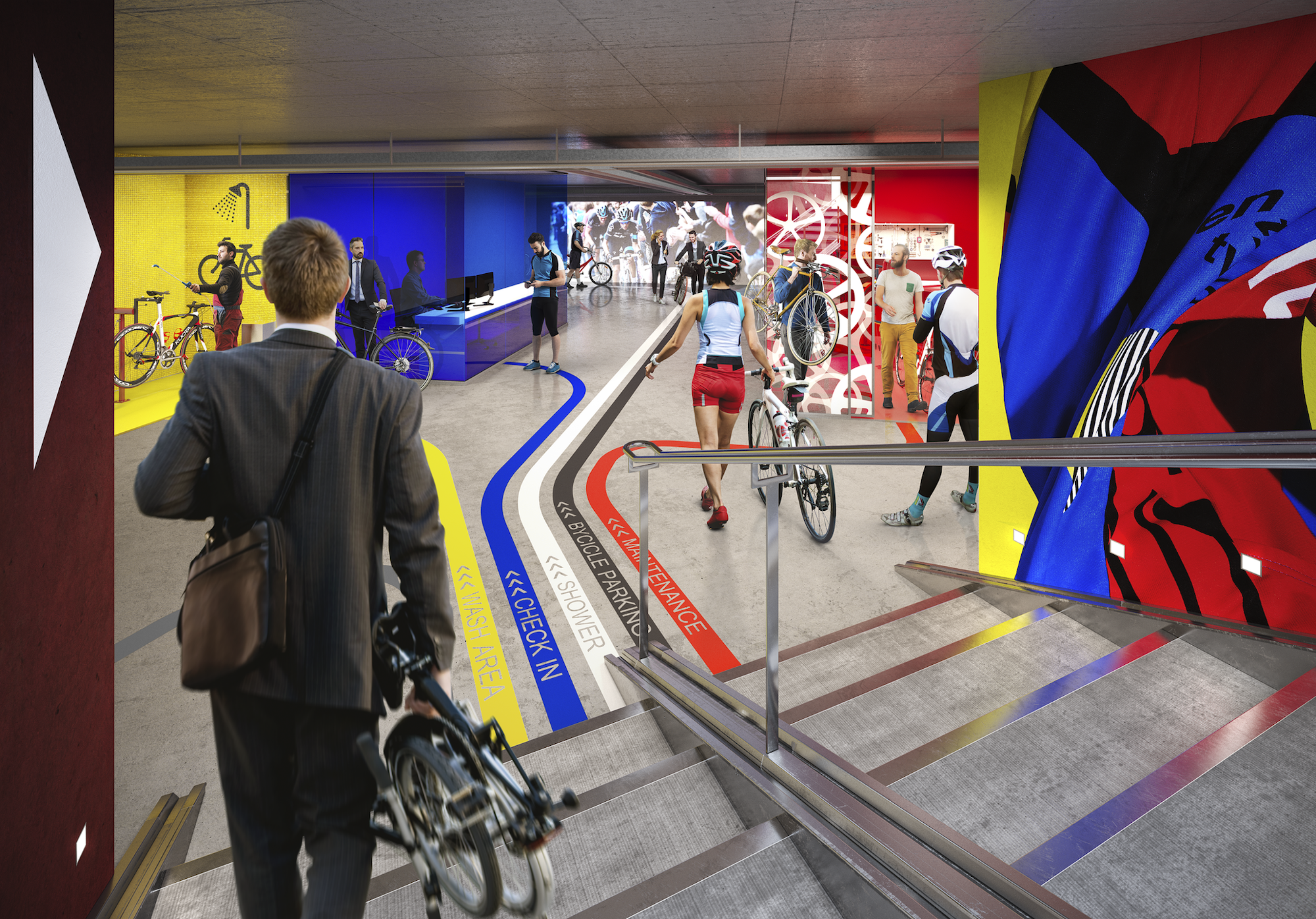 22 Bishopsgate, the first UK building to meet the WELL Building Standard (credit: Martin Richardson)
2. Plant power
The current trend for house plants is not just a design aesthetic, according to our experts. Incorporating greenery into our homes is something that is set to grow in future, too.
Biophilic design is a concept used within the building industry to boost connectivity to the natural environment by bringing nature inside in some way, ensuring that buildings open out into nature or overlook green spaces.
"Green spaces and the impact on wellbeing are now recognised to go hand-in-hand," says Bird.
"Wellbeing is tied with biophilia. Even if you've only got a small courtyard, plants are going to be so important in tying residential environments to the natural environment in future."
Proximity to nature and large trees that can mitigate air pollution and boost general wellbeing is another key part of the WELL Building Standard.
Whether it's rooftop gardens on high rise buildings, sedum roofs, reclaimed odd spaces within urban environments, communal gardens or living walls within buildings themselves, the homes will need to be innovative to benefit from plant power.
"One of the proposals for the RIBA RETHINK: 2025 competition looked into 'greening' the actual streets," says Pearman.
"Why not plant trees between the roads and pavements? That would really filter out the traffic, not just noise and fumes, but it would give the space back to residents.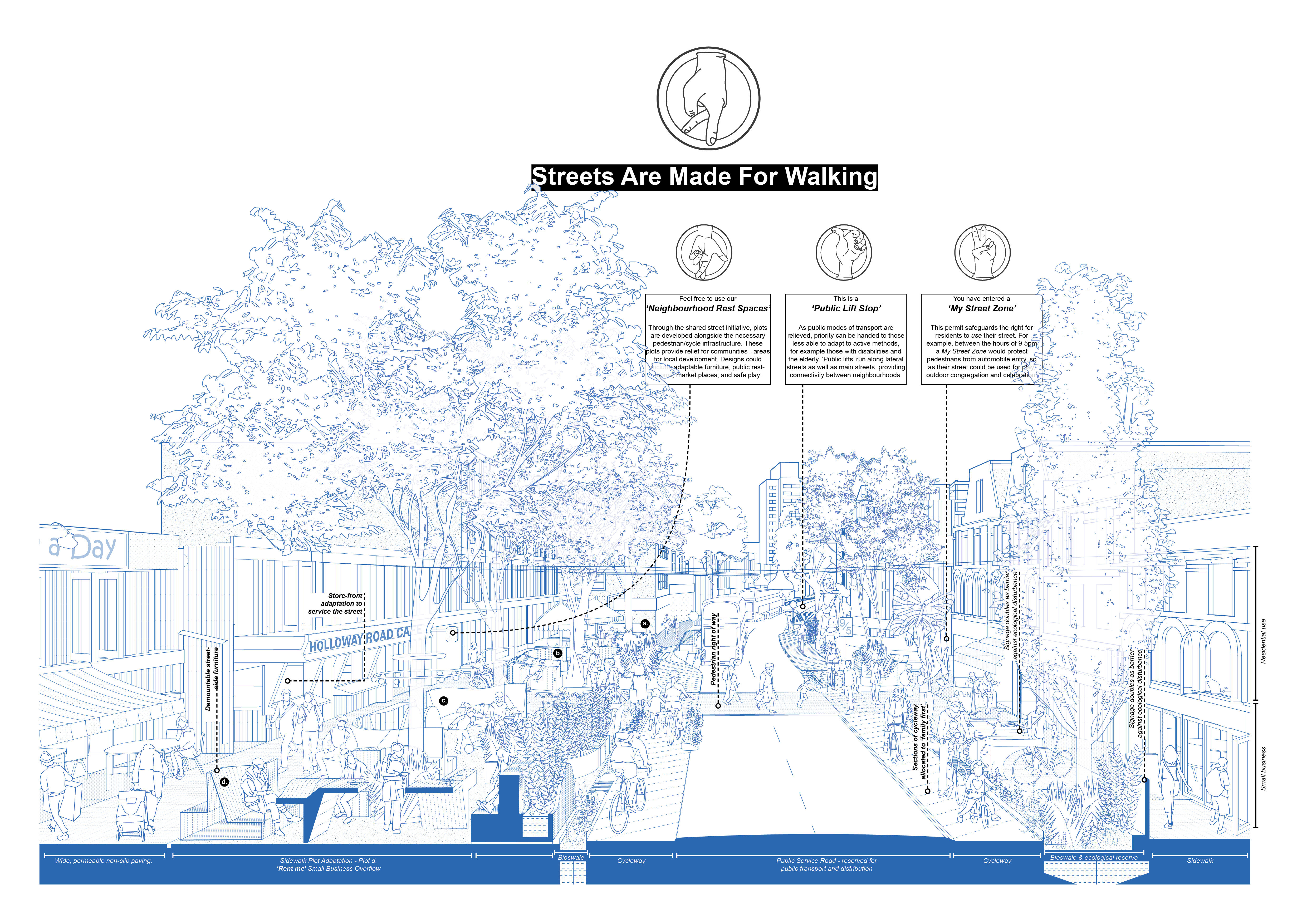 RETHINK: 2025 competition entry, a reimagined Holloway Road, by Naomi Rubbra and Leopold Taylor aka People Matter
3. Transport and exercise
In the future, our homes may play a more significant role in how we keep our bodies fit as well as influencing how we might travel more broadly.
Bream predicts that big developments will combine gym equipment and power generation.
She explains: "We've got treadmills that generate energy and bikes that power up lighting and can contribute towards energy in other parts of the building."
Bream is also seeing a move towards transport that is both eco-friendly and an opportunity for exercise.
"We have looked at cycle hire schemes. Not everybody has a bike or needs one full-time, so buildings may come with bikes that you can use as you need them. Charging points for electric scooters are also on the cards. There's going to be a huge rise in those and skateboards," she says.
Does this mean cars are out of the picture? Not necessarily, says Bird, but it's impossible to predict and so flexibility is vital.
"When planning for the future, we really need to think about how people move around," he says. "But it's true that if we increase the density in town centres then people won't be so reliant on cars as they are in non-urban environments."
Pearman believes there's a chance of a reversal between towns and cities, with the removal of cars from central metropolitan areas turning them into green oases, while "the big pressure on traffic moves into the market towns."
4. Communal living
Sharing resources to get better facilities and enjoy social or community gatherings is something our experts say will be a priority in the building of future homes.
"Rather than living in a house with a shared garden that nobody looks after, we might see people living in a large building with professionally-managed gardens, with fruits and vegetables growing and communal events, such as barbecues or ping pong, on Saturdays," says Bird. "People may get more out of their residential environment by pooling resources."
In big housing developments, communal terraces, shared gardens, large function rooms, cinemas and other social spaces can be formed to suit different demographics. Perhaps a lunch club for older residents, a play area for children, and a chill out space for socialising in the evening?
Bream says: "The value of shared spaces is something we will see a lot more of in future high rise development."
5. Floorplan flexibility
With many more of us working from home as a result of the global pandemic, the open plan style that has dominated the past several decades looks under threat.
But our experts don't think that the pandemic has signalled the death knell of open plan. Instead it points to the need to build flexibility into our homes to accommodate big shifts in working or family life.
"Back in 1972, the then RIBA president Alex Gordon coined the phrase 'long life, loose fit, low energy' for the future of housing. Arguably the same three principles could apply to the future of housing today," says Pearman.
"The old fashioned idea of the study suddenly becomes very attractive as more of us work from home. But in 20 years? Who knows?"
Alex Rose, director of new homes at Zoopla, says: "Homes that can adapt over the course of a lifetime are key because we are not a nation that moves frequently. I think the average is 22 years. A younger family might want more bedrooms but as an older family you might want bigger rooms.
"If the external walls can bear all the load, you can reconfigure the layout of the rooms and it won't cost you a lot in terms of time and money to do. The walls don't have to be on hinges and rails yet, it's just enough to say you don't have to knock down half your house when it's time to remodel."
6. Hyper localisation
If more of us are working from home longer-term, then the services we use are more likely to be local and this may lead to the development of what Bream calls "vertical villages".
"I do think we may see a return to more localised services within high rise developments. For example, a building might include a creche, a local butchers, dry cleaners, green grocer's and gym facilities. If you're not commuting for work, why would you shop three miles away or take your children far away for nursery or school?" says Bream.
Does this mean an end to bustling city centres?
"Families and the slightly older generations will de-centralise, and some of those commuter towns and country areas will become places where people can set up. This may cause the city centre to change and become less busy," says Bird.
"But I don't think we're really going to lose the city centre. As vibrant, social, cultural spaces, they're still places people want to live and be excited by. People won't want to lose that experience."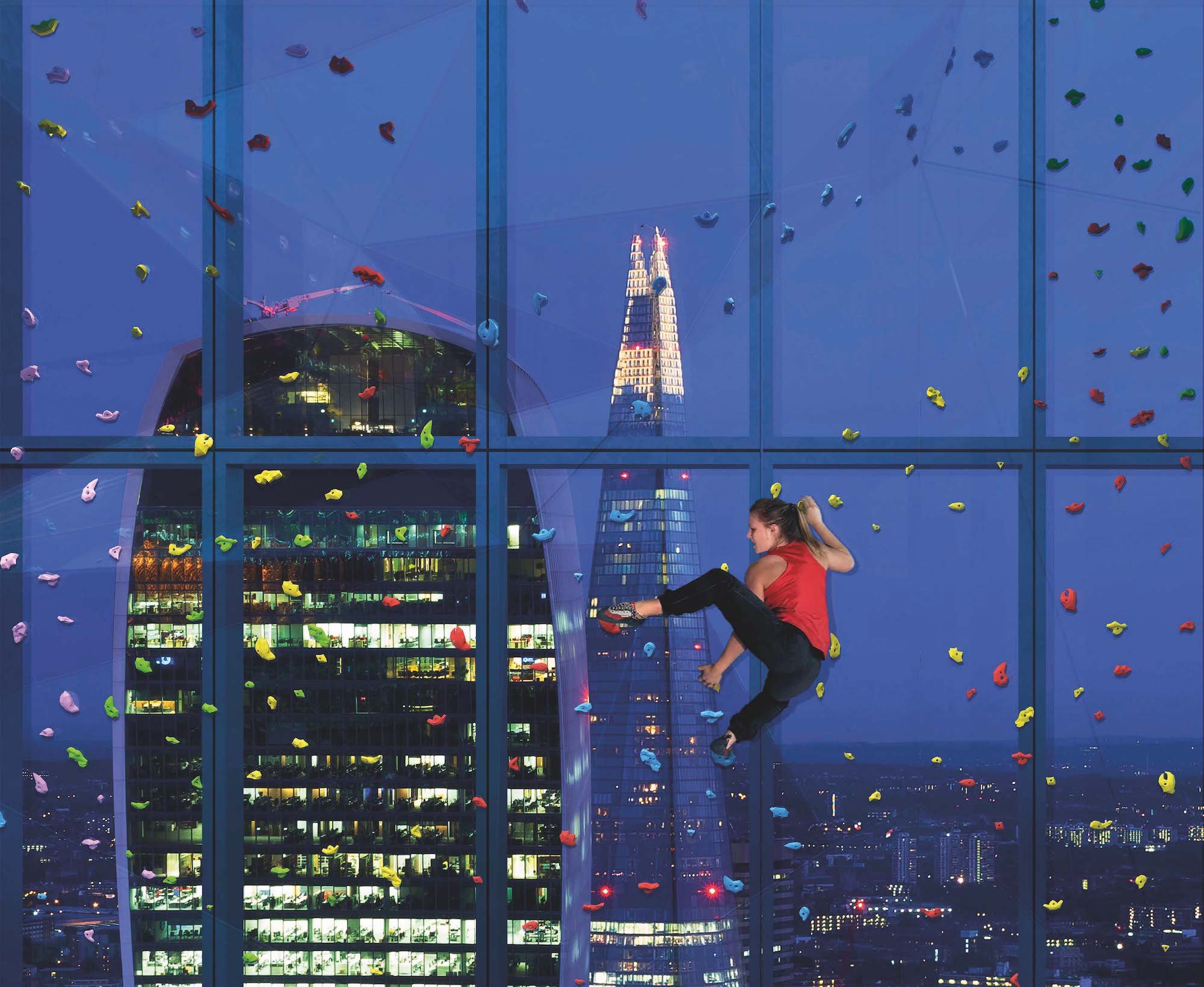 Climbing wall at 22 Bishopsgate (credit: Miller Hare & 22 Bishopsgate)
7. Construction methods
Our homes might not look wildly different in 50 years but one of the key changes will be how they're built, with innovations in construction needed to speed up site time and deliver much-needed housing on a large scale.
Apis Cor, an American firm, claims to be able to 3D print a house that can be built in under three days and for around £12,000 - something that is hugely attractive when the number of new homes being built in England has consistently failed to keep pace with demand.
Other futuristic ideas that might bring greater volume to the housing market and speed up build times include the use of robot bricklayers or drones in construction.
Prefabricated housing might have had a bad reputation, but modular homes that can be transported easily in small parts, wired up and even plastered off site and then put together quickly also have huge potential, according to our experts.
Bird says: "The industry is finally getting sold on modular construction. That includes all sorts of things, from robot builders, to 3D printers.
"It'll take a while for these things to catch on mainstream. But the idea of making homes in a factory and then putting them together on site, means they are quick and that fast site time is very attractive for the industry."
You may also be interested in...
Zooplomas are our free guides to buying or renting a house, giving you expert advice and information straight to your inbox.

The information and data in this article was correct at the time of publishing and every attempt is made to ensure its accuracy. However, it may now be out of date or superseded. Zoopla Ltd and its group companies make no representation or warranty of any kind regarding the content of this article and accept no responsibility or liability for any decisions made by the reader based on the information and/or data shown here.