The presenter of More4's Building the Dream will be appearing at The National Homebuilding & Renovating Show this weekend.
Architectural designer and presenter Charlie Luxton, of More4's Building the Dream has revealed he is upgrading from his renovated cottage to his dream home in Cornwall.
His comments come ahead of The National Homebuilding & Renovating Show at the NEC in Birmingham, where he will be presenting this weekend.
During the last 12 years Luxton has been designing and building sustainable buildings, making television programmes about architecture and design, giving talks on sustainability and working on environmental community projects.
When it came to designing his own home, Luxton knew exactly what he wanted. "We spent a lot of time refurbishing our little cottage but we seem to have outgrown it. We are building a new place down in Cornwall and we have come up with simple design with good quality space, that lets in lots of light and has high quality levels of insulation," he explains.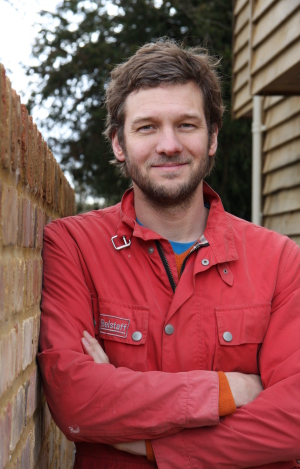 The location where a property is built is the key to successfully building a dream home, he says. "As a house designer, I can't say what a dream home would look like without seeing the site where it is going to go. Good architecture is all about making the most of the site and the plan and design responding to that."
For those that are embarking on their own quest to build their dream home, Luxton has some solid advice.
He believes that going to see the real deal instead of just looking at inspirational images is vital. "Ensure you visit lots of other contemporary homes so you can gain a sense of what technologies and building methods are available and understand the financial implications for your project. It's one thing looking at pictures of houses, but it's important to experience and feel them in the flesh to actually get a sense of what they are about."
He also argues that quality should prevail over quantity: "Don't get hung up on building the largest house possible. I believe that investing in high end design is some of the best money you will ever spend. Good architecture will bring so much quality and longevity to the project," he says.
Sustainability should also be a priority and can do more for a home than cutting down bills, says Luxton. "Low energy homes are so much more comfortable than leaky properties as they have no draughts, no noise and no cold spots."
Luxton is a spokesperson for The National Homebuilding & Renovating Show and is one of the many celebrity experts that will be presenting at the event, which runs from March 26 to March 29.
The show offers inspiration and guidance in remodelling, extending, constructing a new dwelling from scratch or revamping an existing property.
Visitors will have access to all the latest products on the market from more than 500 exhibitors, as well as the opportunity to take part in master classes and seminars held by experts - making a visit a must for all DIY and design lovers.
Zoopla is giving away free tickets to the event, which are worth £36 each. Tickets must be claimed by 5pm on March 25. To claim your free tickets go to www.homebuildingshow.co.uk/zoopla and fill out your details.
Terms and conditions apply: http://www.homebuildingshow.co.uk/terms