Proving you don't stick to the UK when it comes to finding dream homes, June's 'most popular' overseas list reveals the hot properties that have caught your eye this month.
The hottest international properties on Zoopla in June take us from the Med to the Hollywood Hills in Los Angeles and showcase some stunning homes that are just a mouse click away.
Here is the top 10 and the chance to enjoy some amazing property pics...
1. 8-bed villa in Mykonos, Greece for £9.3m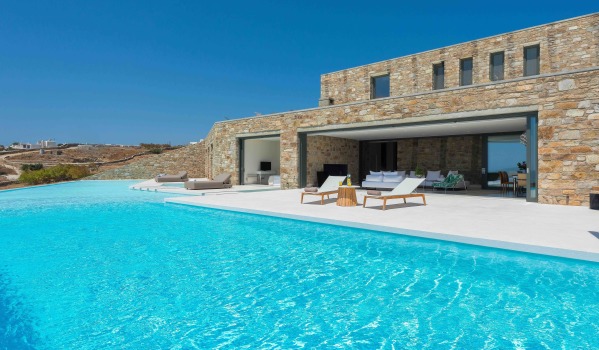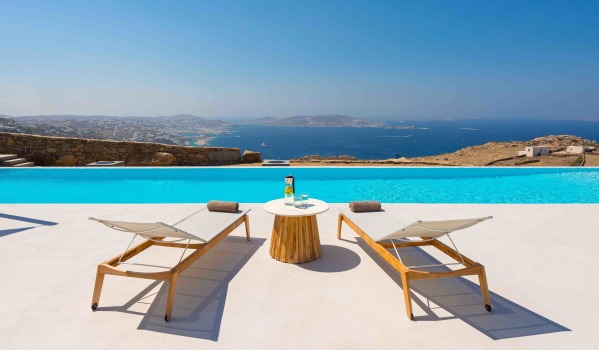 Topping the charts is this fabulous offering from the Cyclade Islands with jaw-dropping views over the Aegean Sea.
Contemporary interiors put a modern spin on the Mykonian property that boasts nine bathroom suites, with the master bedroom also having its own outdoor private pool and jacuzzi.
A larger infinity pool, another jacuzzi and al-fresco dining and BBQ areas will keep all the guests entertained, and the extra cave cellar gives hosts no excuse for understocking on vino.
The secluded estate also gives you panoramic views of the town. And if you can afford the asking price, you'll be keen to learn a new port has recently opened, so you can dock your yacht too!
Available via Greece Sotheby's International Realty
2. Five-bed home in Hollywood Hills, Los Angeles for £28.8m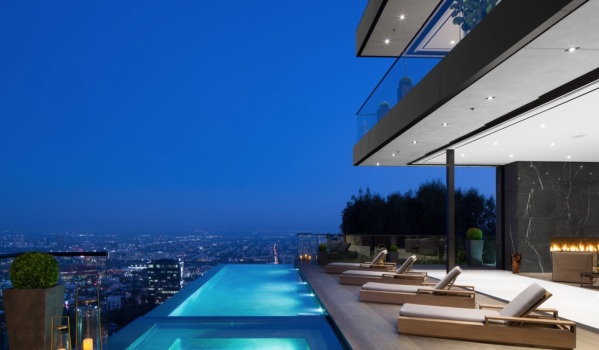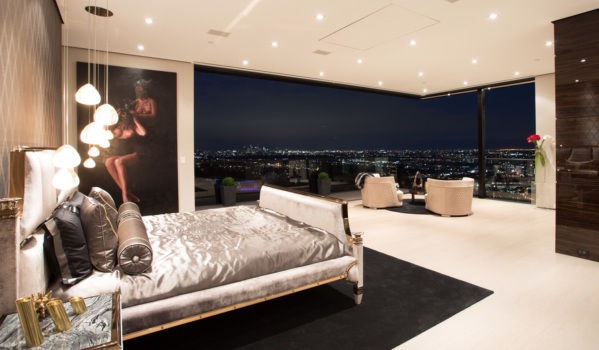 The agents refer to this as a "one-of-a-kind masterpiece" and they may just have a point.
It's almost twice as pricey as any other property in our top 10, but it's not hard to see why as panoramic views span from Los Angeles to Catalina Island and its French cobblestone driveway leads to a custom rotating carport.
Once inside, nine bathrooms serve five bedrooms, with the lounge an entertainer's paradise with a wine cellar, a wraparound fire pit and even a swing suspended from the ceiling.
As for finishing touches, how about a custom-made Italian kitchen? Or an ethereal floating stairway accented by a handcrafted chandelier with 24k gold leaf and hand-blown glass?
Then there's a fully-equipped gym, a horizontal massage shower and the master suite has a full bar, showroom closet and opulent bath. Plus, there's an in-home movie theatre and infinity pool. All in all, it feels very Hollywood.
Available via Mansion London Ltd
3. Seven-bed chateau in Pays-De-La-Loire, France for £522k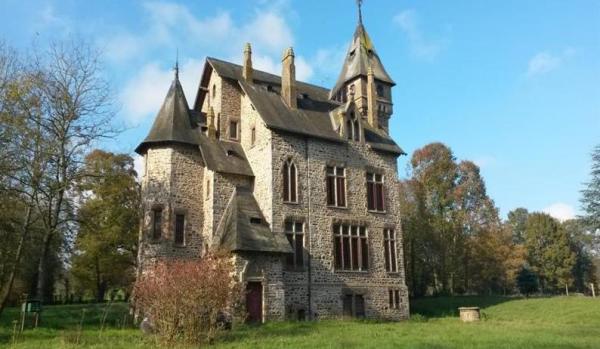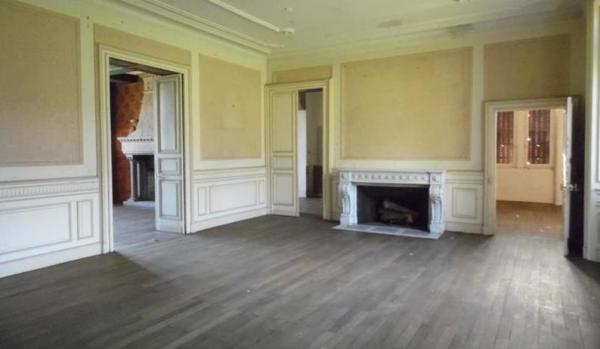 If you want to be king of your own little castle then this 19th Century Chateau – a 25-minute drive from Laval – could be your crowning glory.
It needs a little restoration but for just over half-a-million you'll get a characterful home set in five hectares of mature parkland that overlooks a river where you'll have your own harbour and caretaker's house.
Suitable as a large family dwelling or with potential to be converted into apartments, it retains original features including parquet floors, wood panelling, fireplaces and stained glass windows.
Available via Mayfair International Realty
4. Seven-bed villa in Mallorca, price available on application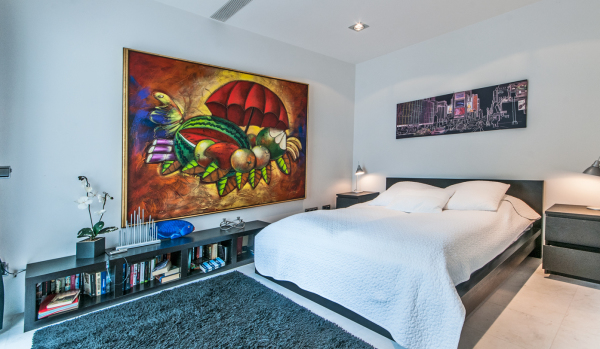 The Balearic island is a perennial favourite and this south-facing villa in Portals Nous, just a short hop from the airport in Palma, could become your perfect island getaway.
With 500 square metres of floor space and seven bedrooms - including one handy ensuite on the ground floor - a child-friendly garden, large pool, and open and covered terraces, it's perfect for hosting every generation.
There is also sea views aplenty, a natural, heated stone floor and loads of extra storage space thanks to a big cellar and large garage at your disposal.
Available via Mallorca Gold Real Estates
5. Four-bed villa in Andalucia, Spain for £703k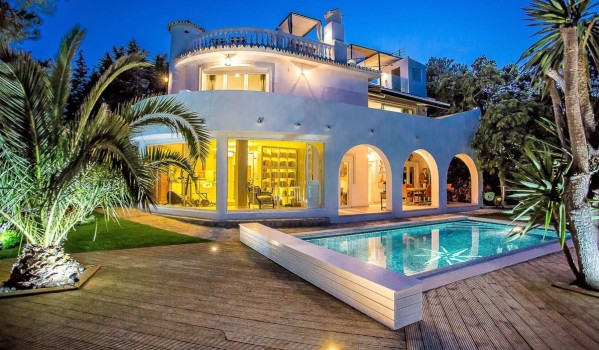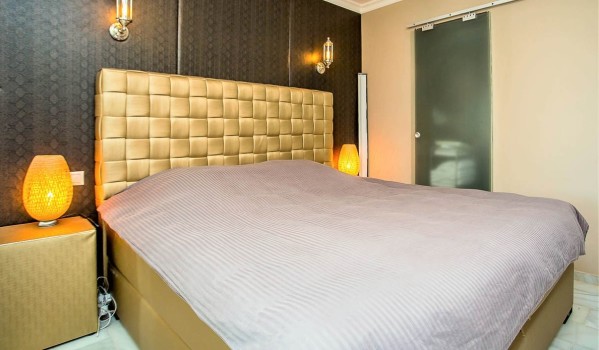 If sea views and a little privacy are your thing then this fully refurbished four-bedroom detached villa, could be the perfect buy.
Located in a quiet cul de sac in Calahonda, it is fully air-conditioned with an open plan living area and four bedrooms and four bathrooms split over two levels.
South-facing and on a 764 square-metre plot, with hot tub, pool and plenty of outdoor space to relax.
Available via Right Casa
6. Five-bed villa in Mallorca, price available on application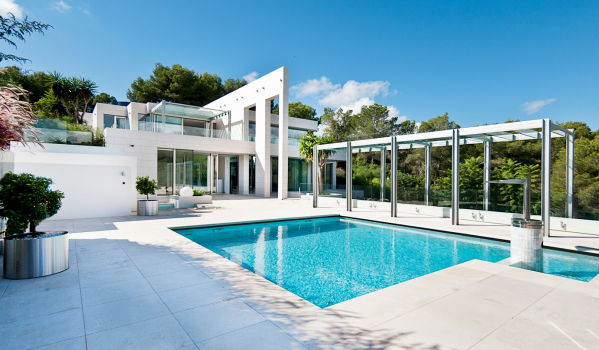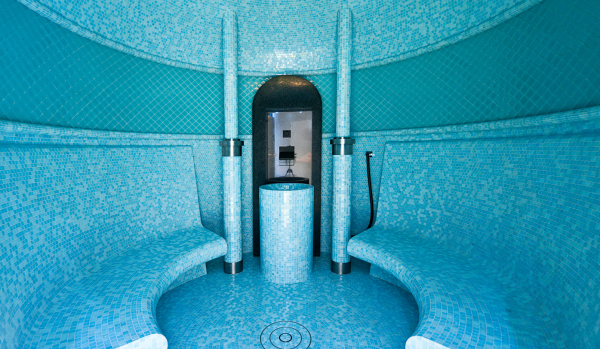 Back to Mallorca for this five-bed new build, providing both mountain and sea views, fitted out with all the mod-cons and again just a short distance from the airport.
it's spread over two floors and its highlights include high celings, a modern luxury kitchen, a rainforest shower en suite, a designer wine cellar, guest cloak room, and spa area with Roman bath.
The villa is a tecchies dream, with underfloor and ceiling heating and cooling systems, power via photovoltaic system and heat pumps, complete audio and video installation, a professional LED lightning system, alarm system with security cameras, and an elevator for easy access. Plus, it even has its own technology room.
Available via Mallorca Gold Real Estates

Dropping one place from last month, this eight-bed home in Bergerac remains magnifique for the right buyer.
While it might need a little updating, its authenticity also shines through from shuttered windows to wooden beams and exposed stone kitchen.
Throw in a couple of barns, a heated pool, Jacuzzi and hammam, making it an ideal as large family home or BnB and its dripping with Gallic charm, and worth a look before it makes a swift French exit from the live listings.
Available via Leggett Immobilier
Read more: Three ways property can boost your pension
Up two places, this potential bargain just north west of Valencia on the east coast of Spain is still grabing your attention, if not your euros.
Located 4km from the town of Villar del Arzobispo it's available on a chunky 2,400-square metre fenced plot that provides mountain views.
Have a flick through the pics and see if you have the vision to turn this into an overseas bolthole of your dreams.
Available via Rustic Levante Immobiliarias
9. Four-bed villa in Mallorca, Spain for £2.5m
... and there's still no escaping the clutches of Love Island, as Casa Amor, the four-bed villa that featured on the hit ITV show, remains in our top 10 most clicked-on.
Our third property in Mallorca to make this month's hottest international properties list, it has been designed by one of the island's leading architects, with beautiful materials and striking geometric lines offering a contrast against the natural Mallorcan country's side.
Available via Chesterton's
And finally, this renovated villa-turned-luxury retreat was Zoopla's most popular overseas property in May, but has slipped to 10th this month.
It's still a cracker, though, offering incredible views over the Med and providing vast living and outdoor space including a BBQ area, huge swimming pool, tennis court and even a rooftop Jacuzzi.
Ibiza town is just a five-minute drive away, making it close to all the leading restaurants and world famous nightclubs.
Available via Lavin-Estate
You might also be interested in...
If money was no object, which of these homes would you go for? Let us know by posting a comment below...