Live in a small flat or house? If you despair of a lack of space at home, we have the answers.
If you're running out of space at home - spare a thought for those living in the newly emerging micro apartments that measure just 31 square metres.
These apartments are becoming the answer for those priced out of homes in expensive cities around the world - and thousands now exist all over the UK.
Compact homes appear to be a growing trend.
For example, just the living rooms of new homes being built in the UK today are on average 32% smaller than they were in the 1970s – shrinking from 24.9 square metres (268 square feet) to 17.1 square metres (184 square feet), according to analysis from LABC Warranty.
Master bedrooms and kitchens have also seen a reduction in space over the past 40 years.
The good news is that high street retailers have been busy launching some clever furniture solutions – and in some cases entire ranges of furnishings on a smaller scale to make the most of what might be described as "bijou" spaces.
With some clever interior design ideas from the pros, you can make a small space feel bigger, better and ultimately more enjoyable to live in.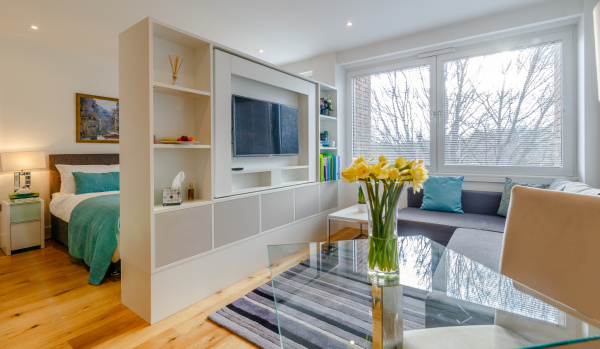 Above: Shelving can be used to divide spaces and to create much needed storage space.
Top tips to maximise space
Use vertical storage
Get things off the floor and on to the walls. Think floating shelves, wall lights and wall mounted magazine racks. That will allow you to store things and display belongings without taking up valuable square floor footage.
Mounting a TV on a swing-arm device is a handy way to eliminate the need for a bulky media centre. The same goes for swing-arm lamps or wall lights which will free up space on the side tables.
Use multi-tasking furniture
Multi-purpose furniture is ideal in small living room designs.
An ottoman doubles up as a storage box, and a sofa bed is ideal for overnight guests.
In fact, think about storage when you buy anything - pouffes, attractive looking trunks, coffee tables. If there's a design that hides clutter (the enemy of small spaces), then go for it.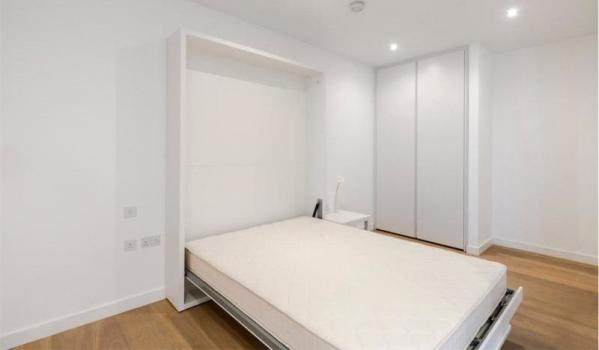 Above: This bed folds away to create valuable floor space.
Go off piste for tables
If you don't entertain much you might prefer not to have a dining table out all the time. Use a folding table that can be stored against the wall.
Nesting side tables which can be tucked away when you're not using them, are handy too.
Ditch dining chairs
A bench or stool, rather than chairs, means you can get more people around the table – plus they stow away.
Choose a coffee table that's not only stylish, but also has lots of drawers or a shelf to hold your favourite magazines and the remote controls.
Measure up
When planning what can go where, lay out newspaper in the outline of furniture you are planning to buy. This makes it much simpler to gauge how much space things will take up.
For a new home or a complete overhaul of a room, get the bed in first and work the other furnishings around that.
Don't forget to measure dimensions of the larger pieces of furniture to make sure you can get them in the door.
Be creative if you don't have space for a desk
If you don't have space for a study in your home, check out the desks you can squeeze into small spaces.
The John Lewis Anton Leaning Bookcase (£199) doubles up as a desk. Alternatively you could use a laptop table which slides up to you sitting on the sofa or in your favourite armchair. French Connection's is just 33cm and allows you to work in your living room.
Update inside cupboards
Review your existing storage spaces, which can be enhanced with clever shelving/drawers and hanging rails. Ikea is a good place to start.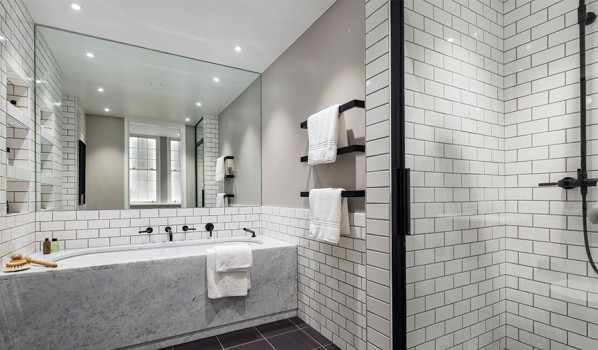 Above: Use mirrors to create the illusion of a bigger and brighter space.
Use trickery
Hang a mirror opposite a window to reflect more light into the room. The more you can see around the object (or though the object) the bigger the room will look as you're allowing light to flow through the room and maximising the sense of space. Glass furniture, sofas raised on legs and skinny-framed shelving will all help.
Where to shop
DFS has a Capsule range, designed for those whose homes are on the diminutive side.
Each sofa also comes with compact arm widths and bolt-off removable arms to ensure the range can easily be delivered and installed, regardless of narrow stairways or small door-frames.
At Sofa Workshop you can specify the depth and width of your sofa according to your specific dimensions. You can also add longer legs to elevate the sofa higher.
Experts say by being able to see the space under furniture you create an illusion of a larger room.
HOUSE by John Lewis features designs for every room, with lots of clever ideas to suit those with smaller spaces. Its best sellers include a bedside table and a tall skinny bookshelf.
Marks & Spencer has an entire range dedicated to shoppers with small homes. The LOFT range includes sofas, chairs, dining tables and chairs as well as beds and side tables.
Designers are getting in on the act too.
For example, interiors designer Steuart Padwick has several space-saving pieces in his range. Among them is a folding table that can be folded and hung on the wall as art. The table (£695) has an abstract design on the top.
You might also be interested in...