House prices are unpredictable. But if you're looking to make improvements, some might be more profitable than others. Try these 10 for starters.
Not even the country's top-notch economists can be certain what your home will be worth in the next 5 or 10 years.
What we do know however is that some changes made to your home will improve its relative value more than others. Try these top 10 for size.
(Figures are based on a typical three-bedroom family home and, of course, are only a benchmark. Planning permission will be required in many cases.)
1. Converting the loft
Increasing your living space with a loft conversion is an easy way to add another bedroom, bathroom – or even both. You'll need to reinforce the floor joists which will raise the floor level, so factor this into your standing room.
Potential cost: £20,000
Potential value added: 12%
2. Adding a conservatory
No longer a glass 'bolt-on' to the house that you shut the door on in winter, a good modern conservatory will add natural usable – and valuable – square footage to your home.
Potential cost: Between £5,000 and £30,000 (for a full-blown extension)
Potential value added: Between 7% and 15%
Top tip! Basement conversions could also be an option depending on your house and the area. However, they are very expensive and alter the structural load of the property, so will need careful thought and planning.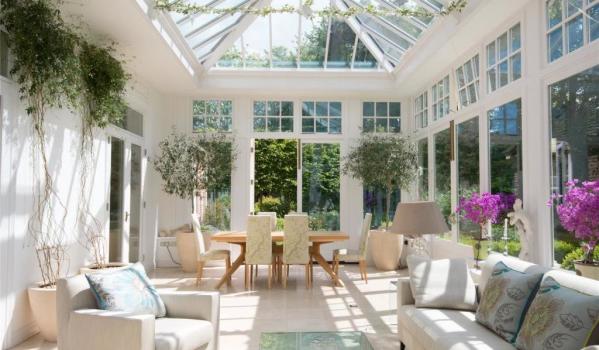 3. Swapping the garage for living space
Did you know that 90% of Britain's garages don't house a car? If yours is among them, it might pay to turn it into living space instead.
Potential cost: Between £10,000 and £15,000
Potential value added: Up to 15%. (For a more accurate figure, multiply the square footage gained by the local square-foot price)
Find the best quotes for local tradespeople with our partners, Plentific.
4. Fitting a new kitchen
If your budget stretches to just one refit in the home, the kitchen is probably your best bet. Keep it neutral and practical in design – and make sure the cost of the work is relative to the current value of your home. Neither a £50,000 kitchen in a £200,000 home, or an £8,000 kitchen in a £1m makes financial sense.
Potential cost: £10,000
Potential value added: 5%
5. Replacing the windows
Putting in new windows can make a house instantly smarter, warmer and quieter. But it goes without saying that the replacements should always be the same as the original to reflect the age and style of the property.
Potential cost: £5,000 to £7,000
Potential value added: 5%
Top tip! Finding out if you need planning permission for your improvement should be your first port of call. It's easy to do at this Government website.
6. Blasting the bathroom
After the kitchen, focus on the bathroom/s. However, it's not worth stretching the budget uncomfortably here as you can make a big difference just by updating details such as the taps, shower screen, cupboards and towel rails.
Potential cost: £5,000
Potential value added: 3%
7. Making the most of the garden
Installing glass bi-folding doors along a back wall not only makes for a brighter living room or kitchen, it can really bring the garden into the house. You'll need outdoor lights to ensure this at night and in winter.
Potential cost: £3,000
Potential value added: 2%
Top tip! Always keep your home improvements within the parameters of property values in your street. For example, if average values are £250,000, you won't be able to achieve £400,000 on account of even a top-notch extension.
8. Paving over the front lawn
If you live in a city or busy urban location where parking comes a premium, swapping your front lawn for a driveway can be a savvy and practical move.
Potential cost: £10,000 to £20,000
Potential value added: Up to £50,000 in some pockets of London
9. Sprucing up the front
This might mean anything from painting the house and replacing the front door, to cleaning windows and unblocking drains, to pulling up weeds from cracks in the driveway and sandblasting it clean.
Potential cost: £50 to £1,500
Potential value added: Up to £5,000 – with the bonus of getting more potential buyers through your door.
10. Hanging mirrors in the hall
A clever and cost-effective trick to give the illusion of space in your hall is to hang mirrors on each wall. But make sure it's cleared of prams, shoes and bikes first, that's the last thing you want to see double of.
Potential cost: £200-£200
Potential value added: A good impression – priceless!
You might also be interested in...
Have you made any of these home improvements yourself? Tell us by sharing a comment below...