Don't let thieves pinch your brand new Christmas present. Use the Crime Map app to check out offences in your neighbourhood – or one you are considering moving to.
Crime Map is an essential app for house hunters as well as businesses eyeing particular neighbourhoods. It allows you to sniff out crimes and anti-social behaviour across England, Wales and Northern Ireland in just a few clicks.

What is Crime Map?
The app enables you to find crime hot spots and safe neighbourhoods by letting you check out offences in any area you are keen on. It also digs up details on specific crimes. The data is provided by England, Wales and Northern Ireland's police forces.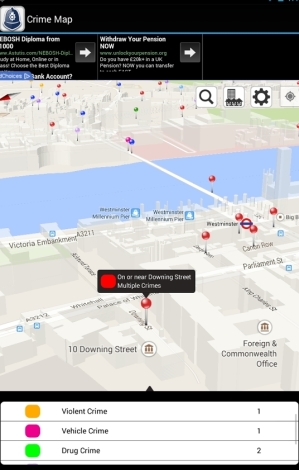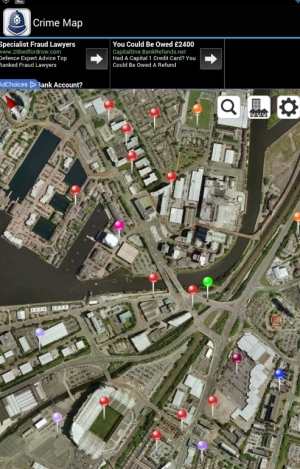 How much does Crime Map cost?
Free.
What sort of device does it work on?
It works on Apple products (iPhone, iPad and iPod touch) as well as Android devices.
How does Crime Map work?
You can browse a map – normal, satellite, terrain or hybrid - to find particular areas you are interested in. Or simply tap in the relevant postcode. The app breaks down the crimes into different categories so you can streamline the search.
The app will display a list of offences in the neighbourhood. You can zoom in to look up details of the crimes, including shoplifting, burglary, drugs, bicycle theft, violent crime, possession of weapons and arson.
There are also local neighbourhood reports, providing details on the force responsible for policing and crime prevention in your area as well as tabs to email and call the force direct.
For 79p, you can download an augmented reality mode, which provides information on crimes against a camera view.
Is it user friendly?
It is incredibly simple to use and the maps look good.
What is Crime Map's top selling point?
It displays comprehensive information on a wide range of crimes in a quick and effective way. It is the ultimate tool for house hunters and businesses interested in finding out more about their potential new neighbourhood.
Are there any catches?
Crime Map is not currently available in Scotland. However, for the latest crime statistics in your area in Scotland, as well as England, Wales and Northern Ireland, click on the 'Local info' tab on properties listed on Zoopla.
There is a striking five bedroom house for sale at 8 Belmont Drive in Edinburgh. Local information on the Zoopla listing shows that there are 33.1 incidents of physical violence per 1,000 people in the city.
It is also worth noting that the Crime Map app shows crime as soon as the police publish the details. This means that there is a time lag of up to two months between the incident occurring and it appearing on the app.
Crime Map also only allows you to search crimes within any one given month.