If you've bought a new home, or are letting it out to tenants, you may want to give it a lick of new paint. This interior design app will help you get the colour spot on.
Paint my Place is perfect for homeowners. Whether you want to give your new property a complete refurbishment, your existing home a spring look, or you are letting your house out to tenants, this interior design app will help you visualise your colour scheme without getting messy.

What is Paint my Place?
The app allows you to paint your home, or even your roof, fence or furniture, virtually.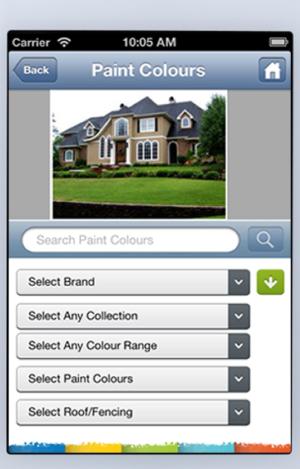 How much does then interior design app cost?
Paint my Place is free. But for £2.29, you can upgrade it to access more than 30,000 branded paint colours, and receive free updates. You can select up to four paint colours at a time. And if you fancy sharing your new 'look', you can save and distribute it to your friends, painter, or on Facebook and Twitter.
What sort of device does Paint my Place work on?
It is compatible with Apple, on its iPhone, iPad and iPod touch devices. It is optimised for iPhone 5. However, the interior design app is not available on Android devices yet. It is part of the developer's plans and will be available soon.
Who is the company behind the app?
Paint my Place was launched in May 2013 by Australian entrepreneur Daniel Plit. He holds a Bachelor of Computer Science from the University of NSW, Australia, and is a Microsoft Certified Technology Specialist.
How does Paint my Place work?
Take and upload a photo of any aspect of your property. Then simply select a colour from either the Benjamin Moore, Dulux or Farrow and Ball brands to virtually paint away. There are 15 colours and three recommended colour schemes to choose from.
The interior design app provides a paint brush tool – or you can quickly splash on paint from a 'bucket'. Plus you can undo an accidental brush stroke with an eraser.
Is it user friendly?
The interior design app is very straightforward to use. It opens with a series of options to select, gently guiding you through the virtual painting process.
What is Paint my Place's top selling points?
It is an easy and mess-free way of giving your property a new lease of life. You don't have to worry about paint samples or swatches – nor the spiralling cost of the test tins. Plus, it is quite simply far easier to get a visual of how a whole room will look with a new colour rather than relying on patch tests on walls.
Are there any catches?
The free app offers a limited selection of colours, with just one sample palette from three brands. You have to pay to access a variety of paint brands and colours.
Another drawback is that it is not available on Android devices.