Prime property season is getting well underway. And regardless of whether you're renting, buying or moving, you'll need to be sure you can comfortably afford the home you choose.
But affordability doesn't stop at the property's price tag or even the monthly rent. Household bills can vary considerably so it's wise to get to grips with these too before you commit.
Zoopla has made this easy by launching Running Costs – a clever tool which sits under each property listing and provides an estimate of how much the mortgage (or rent), council tax, energy and water would cost each month.
In my tips this month, I'll be looking at these bills and other ongoing costs in more detail so you can be sure to stay well clear of any nasty surprises.
1. Be realistic on improvement costs
One way to save cash if you are buying your home is to look for a property that needs major work. And a good estate agent will factor the cost of this work into the asking price. But even with a deep discount, you could still be financially stretched when you move in.
So before you buy, get estimates for the work (preferably from at least three different sources) and budget for between and 10% and 20% more than the average quote.
It's all too easy to underestimate the TOTAL cost of work after you've accounted for all the bells and whistles. And for the next few months – or even years – you don't want to be faced with either struggling to pay your bills or having to live among mess and disruption.
2. Check out your Council tax band
According to government figures, the collection rate of council tax in 2014/2015 was a whopping 97%. In other words, whether you rent or own your home, there's no getting out of paying it!
The cost of council tax will depend on which band the property falls into and you can check this on Zoopla's Running Costs tool or with the relevant local authority.
If you're interested to know what your council tax pays for, click here.
3. Prepare for services charges
If the property you are buying is leasehold, you'll almost certainly have to pay ongoing service charges. These cover costs such as insurance, maintenance and repairs of the building, heating, lighting and cleaning of common areas.
Annual service charges (especially in London) can run into thousands of pounds so it's imperative to know not just what they are, but if and when they could increase. Details will be set out in the lease but ask your solicitor to make it clear.
Look out also for ongoing ground rent. This is a nominal charge paid to the freeholder and usually costs between £50 and £200 a year.
If you are renting, neither service charges nor ground rent are your responsibility and the cost will be factored into the rent.
4. Know what energy costs you're in for
The cost of powering your home with gas and electricity will depend on its size and general energy efficiency. But whether you're buying or renting, the agent or landlord will, by law, need to issue you with an energy performance certificate (EPC).
An EPC provides an energy-efficiency rating for the property (on a scale of A to G) and suggests measures that would improve it – which could ultimately reduce your ongoing energy costs.
Find out more about EPCs and how to read them here.
Once you've moved in, it's a good idea to shop around for the cheapest energy deal. After all, there's no point paying over the odds for the same supply.
5. Check out the real cost of getting connected
These days, getting online can be a top priority when moving into a new place. But both broadband speeds and the range of providers available vary across the country. Type the property's postcode into an online speed checker such as this one from uSwitch so you know where you stand.
Again, make sure you compare broadband and telephone deals. The trick is to get the lowest monthly cost for a realistic usage limit – if you exceed the download cap of the one you sign up to, it will soon prove a false economy.
Mobile phone reception can also vary according to area, so check how your network fares with Ofcom's coverage map.
6. Don't forget water!
It's singularly the most important part of life – yet when it comes to household bills water tends to be most overlooked. Currently you can't 'shop around' for your water as the supplier will be determined by the property's location.
What you can do though, is be prepared and budget for the cost. Both fresh water supply and sewerage service might ring in at around £50 a month.
How clued up are you on the true costs of running a home? Find out by taking our quick quiz...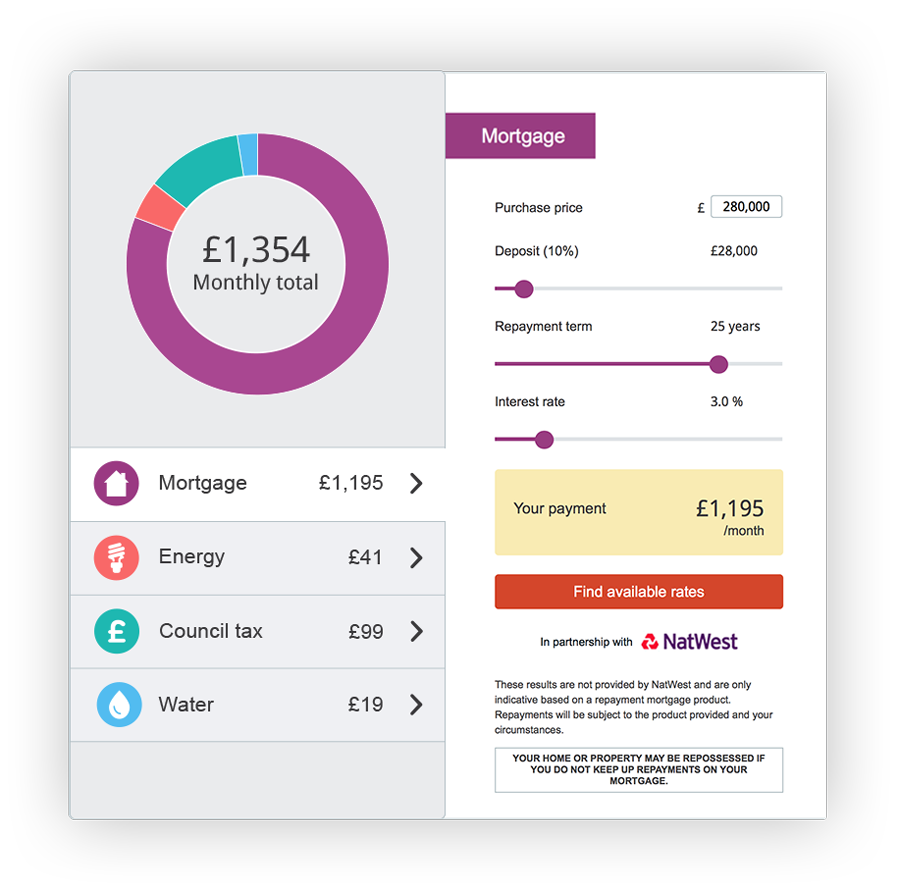 Are you ever caught out with how much it costs to run your home? Tell us by posting a comment below...