An old home full or charm and draughts? Or a new build that's cheaper to run but lacks wow factor? There are pros and cons to both options, as Phil Spencer explains.
There are many decisions to make when moving home but the thought of walking into a brand spanking new house and life quickly settling back to normal is rather tempting.
That's what a new build can offer. Clean, kitted-out and built-for-purpose, there's nothing wrong with this approach to buying… unless you have your heart set on a period property.
Because if you're all about the character and environment where, let's face it, you're going to spend a good chunk of time, then no amount of maintenance costs are likely to put you off.
So what type of property should you plump for? While much of your decision will come down to personal preference, let's see if we can clear up some confusion for those that are dithering.
Here are five advantages to each to help you make that all-important decision.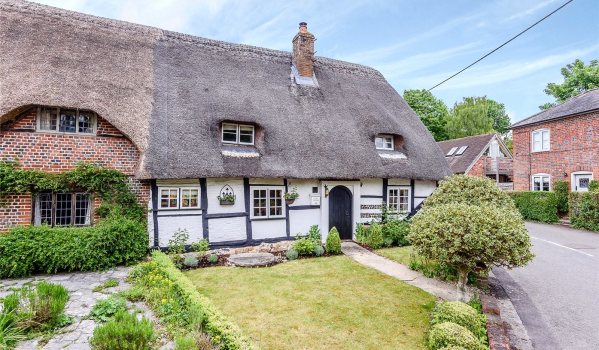 An older re-sale home
1. A ready-made, long-established community. Older properties tend to be found in areas that have already matured. In turn, this provides more peace of mind over house prices than new properties in previous uncharted areas.
2. A blooming brilliant garden. The all-important garden is also likely to be more mature – and full of colourful surprises come summer. Contrast this to new builds that often come with recently (and sometimes questionably) laid turf.
3. No endless snagging list when you move in. The property is unlikely to be without its age-old quirks, but at least these will be expected and should have come up on the pre-sale searches. If your freshly-plumbed new build springs a leak and floods the property, it is far more disappointing.
4. You can still make changes. While you will have bought the property for its character and won't want to destroy that, you can still make practical alterations to improve its aesthetics – and eco-proof it to cut your fuel bills.
5. Hassle-free services. Broadband, telephone, and electric should be straightforward to re-establish from the previous owner.
A new build home
1. Incentives and benefits. The Government sees new build property as a way of helping people on to the housing market so Help to Buy and Starter Homes schemes are in place which can mean a new build is a more viable option. These include requiring lower deposits, offering lower cost government loans and even shared ownership.
2. New homes are designed to be more energy-efficient. This makes them much cheaper to run than older property.
3. You won't be stuck in a chain. The advantages of not being reliant on another homebuyer needing to sell before you can buy save time and frustration – and also mean no wasted legal fees if the chain collapses through no fault of your own.
4. Safe and secure. All the latest safety and security measures should be in place. These typically include fire safety, locks on doors and windows, lighting and alarms. It ticks all the boxes for home insurers, protects your property and can save lives.
5. Peace of mind. Most new builds are covered by the National House Building Council's (NHBC) 10-year warranty. There is also a Consumer Code designed to protect buyers of new builders. You can read more about it here.
Read more: 8 reasons to make a new build your next home