We take a look at how housing markets in different parts of the UK are set to perform in the year ahead
The year ahead looks set to be a subdued one for the property market with growth slowing in the face of political uncertainty and stretched affordability.
While house prices are expected to remain broadly flat across the UK as a whole, there will continue to be significant regional divergence.
Many commentators are penciling in house price falls in London and the south, while northern regions are likely to see modest gains.
Even so, a raft of factors are stacked against the property market, including uncertainty over how the UK will leave the EU, the prospect of rising interest rates and the ongoing shortage of homes for sale.
We take a look at how the different regions are likely to fare next year, assuming the UK exits the EU with a deal in place.
London
The slowdown in London began in mid-2016 and this trend is expected to continue into 2019.
Hansen Lu, property economist at Capital Economics, says: "London has seen a build-up of homes that are struggling to sell and a rise in more determined sellers.
"If you look at the London market above £800,000 the time taken to sell a house is now almost a year. The higher up the market you go, the longer it is taking."
He adds that affordability in London is already stretched and the situation will only get worse if interest rates rise.
"Overall we expect house prices in London to fall by 5% during the year," he says.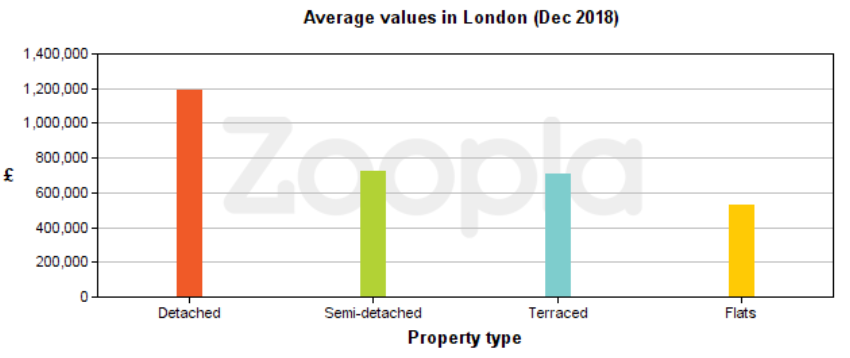 See more area stats for London.
Aneisha Beveridge, head of research, Hamptons International, is slightly less pessimistic, pencilling in a fall of 2%, due to Brexit uncertainty hitting confidence and stretched affordability limiting demand.
She says: "The wider London market is feeling the effects of stretched affordability. The more affordable outer boroughs that have led the way over the last couple of years are slowing and we expect this to continue as more buyers are pushed further outside the capital."
Hometrack, a sister company of Zoopla, is also predicting a 2% price fall in London.
Richard Donnell, insight director at Hometrack, says: "We expect prices to continue to fall in most areas of central London.
"Our projection for a 2% fall in overall London prices will reduce the earnings ratio to 12.8 times, in line with levels last recorded in mid-2015."
Southern regions
The slowdown in London has already started to ripple out to southern regions and this trend is expected to continue in 2019.
Beverage says buoyant house price growth in the east of England means affordability pressures there are now biting.
As a result, she expects property values in the region to fall by 2% during the year.
A similar trend is expected in the south east, where prices are likely to dip by 1%.
Beverage says: "Less housing wealth leaving the capital will restrain demand in the prime commuter spots in the east and south east."
But she adds that the wider spread of property types and the higher number of affordable locations in the south east means demand there will not be as hard hit as in the east.
Donnell adds that the market is the south east is still adjusting to the tax and policy changes introduced as far back as 2015, as well as changes to mortgage regulation, including tighter affordability tests.
He says: "These have combined to constrain demand in London and reduce price growth and the impact is likely to spread out into the south east in 2019."
The property market in the south west is also expected to slow down next year, although as affordability is less stretched in the region, Hamptons International is predicting a dip of just 0.5%.
Tarrant Parsons, Royal Institution of Chartered Surveyors' economist, says: "Sentiment in the south west is in a broadly neutral zone at present, consistent with a continued flattening out in prices over the next 12 months."
The market in the south west is also receives some support from demand for retirement properties and holiday homes.
Richard Speedy, head of Strutt & Parker Exeter, says: "Regardless of if prices are up or down by the time Brexit is done and dusted, most homebuyers here are looking for homes rather than investments."
He adds that demand is strongest in accessible locations, such as Exeter, which benefit from fast train links to London.
"Prices in the city have risen faster than the country and we expect this trend to continue throughout next year," he says.

Exeter's market activity over the past 12 months. More stats from the city here.
The Midlands
The East Midlands and West Midlands saw some of the strongest house price growth in 2018, while the regions are also less impacted by the dynamics of the London market.
Despite recent gains in property values, affordability constraints are still not as tight in the Midlands as in southern regions.
But Beverage points out: "There will be a point where the capacity for growth in higher loan-to-value mortgages will narrow.
"The Midlands are also particularly exposed to manufacturing, which could see job losses depending on the Brexit outcome."
As a result, she expects prices to dip by 0.5% in the West Midlands and to fall by 1% in the East Midlands.
Adam Brewster, associate director at Strutt & Parker Market Harborough, is already seeing signs of a slowdown in the market, saying house price growth has recently plateaued and reductions have become more commonplace.
But he expects the market to bounce back in the second half of the year, once uncertainty over Brexit has cleared.
The North
Property markets in the north of England are expected to be more buoyant than their southern counterparts during 2019.
House prices in the north east have only recently returned to their pre-financial crisis highs and they still have some catching up to do with the rest of the UK.
As a result, Hamptons International is expected property values in the region to rise by 1% in 2019, the highest level of growth it is predicting for any area.
But Beverage cautions that while it expects prices to rise by 7% in the coming three years, future growth will be dependent on some areas unlocking their potential through regeneration or infrastructure developments.
Price growth in other regions in northern England has been slowing in recent months.
This trend looks set to continue into next year, with Yorkshire and Humberside likely to see gains of 0.5%, while prices in the north west are expected to be flat.
Beverage says: "There is still capacity for household finances to stretch, and higher demand from landlords seeking the best yields should support demand."
Donnell says: "In northern regions the housing cycle is reasonably strong but there are pockets where local economies are weak, and this is acting as a drag on price rises."
Wales, Scotland and Northern Ireland
These regions were among the top performers in 2018 as house prices remained affordable in relation to local earnings.
Hamptons International expects Wales to see growth of 1% in 2019, while prices are expected to rise by 0.5% in Scotland.
Donnell adds that more affordable cities, such as Glasgow, could see increases in property values of 5% next year.
RICS is also expecting prices in these regions to continue increasing regions.
Parsons says: "Survey participants in Northern Ireland, Wales and Scotland continue to return firmly positive projections, implying price growth will retain solid momentum over the year ahead."
Sales are also expected to be buoyant in Northern Ireland, although they are likely to be more subdued in Scotland and Wales.
You might also be interested in...
Mortgage predictions: What does 2019 have in store for borrowers?
House price growth in cities slows to six-year low
Am I too old to get a mortgage?

Do you agree with the 2019 property forecasts? Let us know in the comments, below...