More affordable new homes, emerging hotspots, help for Londoners and more: here's what Chancellor, George Osborne has in store for you.
1. There's more help on hand to buyers and renters
Housing shortages coupled with huge demand is sending house prices soaring, especially in London and the south east. But in Osborne's words, if you 'aspire to own your own home', he's backing you. Here's how:
More affordable new homes up for grabs
In a move dubbed the "biggest house building programme by any government since the 1970s", the Chancellor revealed proposals to build 400,000 new affordable homes by 2020.
200,000 of these homes will be under the Starter Home scheme, which Osborne initially announced back in March this year. Starter Home, which is available to all first-time buyers under 40, sells properties at a minimum discount of 20%.
Property values are set at a cap of £250,000 outside London and £450,000 inside the Capital. Selected Starter Homes will have to remain at the discount for at least five years, so if buyers sell within that timeframe, they will need to pass the discount on. You can register your interest here.
A further 135,000 homes will be built under the government's brand new Help to Buy: Shared Ownership scheme. Osborne said it will remove the traditional barriers to buying shared ownership homes, including who can build them, who can purchase them and who they can be sold on to.
Shared ownership currently allows buyers to purchase between 25% and 75% of the home, paying a reasonable rent on the portion they do not own. They are then able to 'staircase up' to 100% ownership as and when they can afford it.
Up to 10,000 new-build homes will be available to rent at around 20% below market level to allow tenants to save for a deposit.
And at least 8,000 properties will be ringfenced for older people and people with disabilities.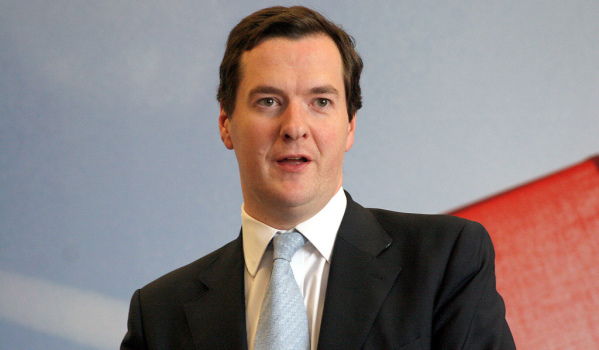 'London Help to Buy' hits the capital
If you live in London and, like thousands of others, are struggling to afford a home, you'll be pleased to hear that the Chancellor has come to your aide.
He has unveiled a Help to Buy equity loan scheme specifically for London. It will allow Londoners with a 5% deposit to apply for an interest-free loan worth up to 40% of the value of a new-build home (rather than the maximum 20% under the current scheme). It can be used hand-in-hand with the new Help to Buy ISA, which launches next Tuesday.
London Help to Buy builds on the government's existing Help to Buy schemes: the equity loan, mortgage guarantee and ISA.
Right to Buy extended to housing association tenants
Right to Buy has allowed the bulk of council tenants to buy their council home at a discount. And now, from midnight tonight, Osborne will pilot the scheme to tenants of five housing associations.
The Tories first pledged to roll out Right to Buy to housing association tenants in their manifesto. They believe that extending Right to Buy will hand 1.3million households the opportunity to get onto the property ladder.
2. New employment hotspots are emerging
If you're looking to live and work outside of the Capital, the south west is a new working hotspot, according to Osborne, as the region now boasts the highest employment rates in the country.
Also worth knowing is that jobs in the Midlands are being created three times faster than in London and the south east. As a start, check out our recent guide to Birmingham, which is undergoing massive redevelopment.
3. The country is getting 'smaller'
We can't promise on the cost, but the time it takes to get around the UK is poised to dramatically improve. With Osborne announcing an increase in capital spending on transport by 50% to £61bn, the path is clear for the start of HS2 construction, which will link the 'Northern Powerhouse' to the south. Other upgrades will include electrification of railway lines including the Trans-Pennine, Midland Main Line and Great Western.
Home hunters that depend on travelling by car will also soon see improvements with £5bn set aside for road maintenance. And if a push bike is your preferred mode of transport, the Chancellor kept his promise of a £300m commitment to cycling.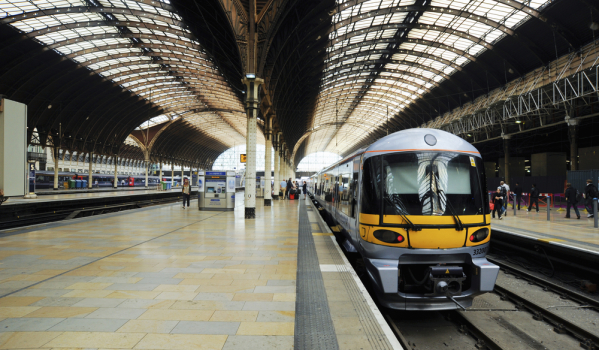 4. Second homes and buy-to-lets are getting VERY expensive
If you were considering cashing in on recent rising property values by becoming an investment landlord, you might want to take a brief step back. In his statement the Chancellor announced that anyone buying additional properties – either as a second home or as a buy-to-let – will be hit by brand new Stamp Duty rates priced 3% higher than current ones. These will kick in from 1 April 2016.
Check out our handy Stamp Duty calculator here.
Even if you make your purchase before this date, don't forget that in his July Summer Budget, Osborne turned the screws on tax relief landlords can claim. He said that, over a four-year period starting from April 2017, landlords will no longer be able to claim tax reliefs worth up to 45% of the interest payments on their buy-to-let mortgages. Instead, relief will be capped at the basic tax rate of 20%.
And, from April 2016, landlords letting furnished properties will no longer be able to claim 10% 'wear and tear' costs against their tax bill. Instead they can only claim for the actual costs of any damage or repair.
If you sell your second home in 2019 or beyond, Capital Gains Tax (charged at 18% or 28% depending on your band) will need to be paid within 30 days of completion of sale. This is in light of the new digital tax accounts which will be up and running by then.
5. Horizons on housing styles are broadening
Do you fancy living in a property with history and character? Well, here's your chance. Osborne has revealed plans to transform old Victorian prisons in cities across the country into brand new homes. Holloway Prison – the biggest women's jail in western Europe – is already chalked up for closure. Would you live on the site of a former prison? Tell us by voting in our poll.
Holloway Prison is closing to pave the way for new housing. Would you live on the site of a former prison? 👮

— Zoopla (@Zoopla) November 25, 2015
6. Your council tax payment might not be set in stone
When you are totting up the running costs of a new home, don't count on the council tax element – in his speech, the Chancellor gave powers to local authorities responsible for adult social care to raise council tax by up to 2%. The money generated will be used exclusively to plug funding gaps in that area. As an example, a Band D home paying £1,400 a year, would pay nearly £30 extra.
7. Homes next to water might not be a no-no
Osborne's pledge to better protect 300,000 existing homes from flooding with 1,500 new flood defences by 2021 could put homes next to water or in higher flood risk areas back in the running. Always do your research however (you can start with the Environment Agency's flood risk map) and make sure you fully understand home insurance implications.
Here's our word cloud on the Chancellor's speech today. The bigger the word, the more times he said it!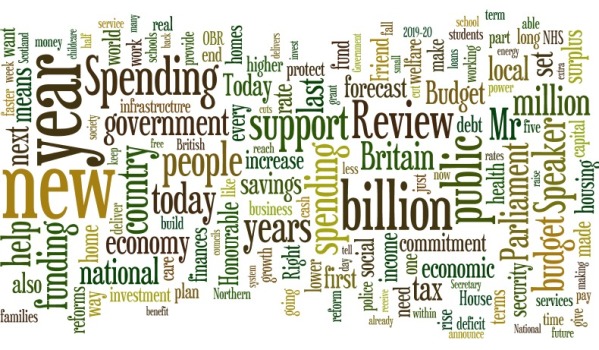 8. More scope to slash your energy bills
Bracing yourself for bigger energy bills this winter? Up to 24 million households will automatically save £30 each year on their energy bills when the current Energy Companies Obligation is replaced in April 2017. To top it off, more low income households will be able to claim a £140 one-off reduction on their electricity bills after the Chancellor extended the Warm Home Discount scheme to 2021.
What's your view? Tell us by posting a comment...