From unions for renters, to higher Stamp Duty for foreign buyers, the two political parties set out their stalls at their annual conferences.
It's that time of year again: autumn conference season. It's a flurry of speeches and announcements. So we've rounded up the Labour and Conservative parties' key housing proposals to save you sifting through the small print.
THE CONSERVATIVE PARTY
Housing and communities secretary James Brokenshire promised to "fix our broken housing market and make it work for you".
Higher rate of Stamp Duty for foreign investors
A higher rate of Stamp Duty will be introduced for foreign buyers when they purchase UK property.
The surcharge will be levied on top of existing Stamp Duty, and could reach 3%. It is expected to be paid by individuals and companies not paying tax in the UK.
A consultation will be launched to firm up the detail.
A New Homes Ombudsman
A watchdog will be created to champion homebuyers and tackle quality in the new-build homes sector.
The New Homes Ombudsman will back buyers, protect their interests and hold housebuilders and developers to account.
The Government wants to legislate to require all developers to sign up to it.
More details will be published in due course.
Flexibility to build up
A new permitted development right will be introduced to allow property owners to extend certain blocks of flats, shops and offices upwards.
Local authorities will also be given more flexibility to get rid of surplus land that could be used for housing development.
The measures are part of a package of planning reforms, which the Government will consult on.
More funding for homes in Birmingham
A £165m pot has been ringfenced to fund 5,100 new homes in Birmingham and support the wider regeneration of the Perry Barr area, which will be home to the 2022 Commonwealth Games Village.
Improved building safety
A ban on the use of combustible materials on external walls of all high-rise buildings that contain flats, as well as hospitals, residential care homes and student accommodation above 18 metres will be delivered through changes to building regulations guidance. It follows the Grenfell Tower tragedy.
Borrowing cap on local councils lifted
The cap on local authorities borrowing against their housing revenue account will be scrapped to boost housing development.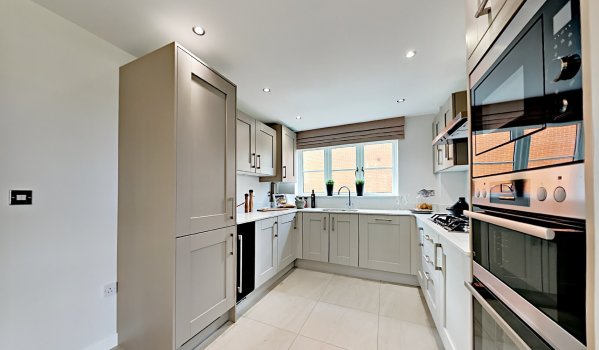 Above: one-bedroom flat for sale in Aldershot, Hampshire
THE LABOUR PARTY
Shadow housing secretary John Healey promised that the next Labour Government would be "the most radical Government on housing since that great post-war Labour Government".
New unions for renters
Government-backed unions for tenants would be set up across the country so "renters who feel helpless in the face of this housing crisis can organise and defend their rights".
The unions would fight for better conditions, increased security and controlled costs for those living in rented homes.
National levy on holiday properties
A levy on second homes used as holiday holes would be introduced. The move would see 174,000 properties in England face an annual bill of around £3,000 each.
Healey also pledged to:
Create a "fully-fledged" housing department to fix the housing crisis
Help first-time buyers on ordinary incomes get on to the housing ladder through selling low-cost homes, with mortgage repayments equivalent to a third of local pay
Introduce 'living rent' homes, with rents set at a third of average local incomes
End no-fault evictions and put a stop to rogue landlords
Build one million affordable council and housing association homes
You may also be interested in...
The key thing Phil Spencer looks for in a property:
What do you think of the proposals? Tell us by posting a comment below...