Less than 161,000 properties were started in the year to the end of June, significantly below the Government's target of 300,000.
The number of new homes being built fell to a three-year low during the second quarter of the year as housebuilding activity continued to slow.
Only 37,220 new properties were started during the three months to the end of June, 2% less than during the first quarter and 8% down on a year earlier, according to the Ministry of Housing Communities & Local Government.
In the year to the end of June, construction was started on just 160,640 homes, nearly half the Government's target for 300,000 new properties to be built per year.
But there was some good news, with the figures showing 45,190 properties were completed in the second quarter, 11% more than in the same period of 2018.
Why is this happening?
A number of factors have combined to hit housebuilding activity.
On the one hand, uncertainty over Brexit has led to weaker demand as potential buyers adopt a 'wait and see' approach.
At the same time, government plans to pare back the Help to Buy equity loan scheme, which only applies to new build properties, in 2021 and phase it out completely in 2022 is likely to be impacting the number of properties started, as new homes typically take around two years from start to competition.
Meanwhile, house building levels continue to be impacted by other issues, including a shortage of labour and building materials, and delays to obtaining planning permission.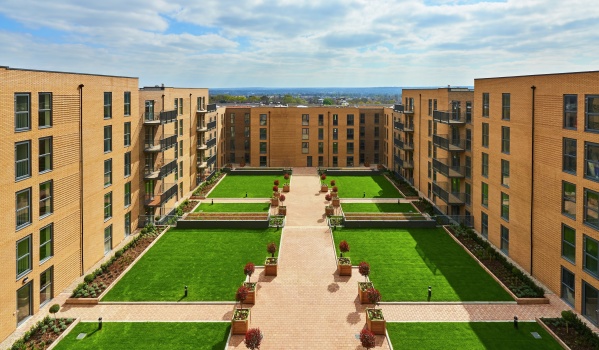 A brand new one-bedroom flat available with Help to Buy in Anerley, south London for £365,000.
Who does it affect?
The slowdown in house building is bad news for first-time buyers and those who want to trade up the property ladder.
Housing affordability has become increasingly stretched in recent years due to a mismatch between supply and demand.
Unless the rate at which homes are built is increased, the situation is likely to get worse, as new build levels fail to keep pace with population growth.
What's the background?
It is estimated that between 240,000 to 340,000 new properties need to be built each year just to keep pace with rising demand.
But, despite a range of government initiatives, the number of new homes being constructed has remained stubbornly low.
Although housing starts in the second quarter were 117% above the trough they reached during the financial crisis, they are still below their 2007 peak.
Hansen Lu, property economist at Capital Economics, said: "Housebuilders have reported softening demand conditions for some time now. Site visits and net reservations have been falling, reflecting high house prices and Brexit.
"Looking ahead, with Help to Buy set to be pared back and wider housing market activity set to stay muted, construction is unlikely to bounce back anytime soon."
Top 3 takeaways
You might also be interested in...