People leaving London to buy a property in cheaper regions has risen by more than 60% in 10 years.
What's the latest?
The number of people quitting London to move north has more than tripled during the past decade.
Nearly 30,300 people from London bought a property outside of the capital during the first six months of 2018, 16% more than a year earlier, according to Hamptons International.
Strong house price growth has contributed to a 61% increase in Londoners leaving the capital to buy a home elsewhere in the past 10 years.
The majority of leavers stay close to London, with 38% heading to the south east and 30% to the East.
But there is a growing trend for them to move further afield, with 21% moving to the North or Midlands, triple the proportion seen a decade ago.
Why is this happening?
Unsurprisingly, with the average property in the capital costing £477,000, high house prices are the main factor driving home-buyers out of London.
Nearly a third of first-time buyers living in London bought a home outside of the capital, double the number five years ago.
People also left London when they wanted to trade up the property ladder.
Aneisha Beveridge, research analyst at Hamptons International, said: "With affordability stretched, more Londoners are moving out of the capital to find their new home."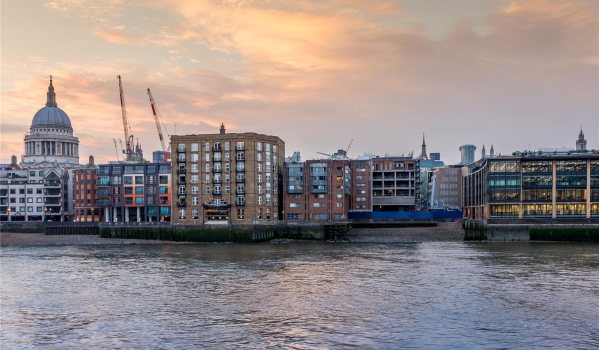 Above: This two-bedroom riverside flat has stunning views of London and is up for sale at £800,000.
Who does it affect?
While Londoners may be keen to take advantage of lower property prices in other regions, the rise in demand is likely to put upward pressure on property values in these areas.
The typical Londoner purchasing outside of the capital spent £424,610 on their new home, 1.6 times more than the average buyer from elsewhere.
One in every six homes sold in the East is currently bought by a former Londoner, and in seven local authorities which border Greater London more homes were bought by London-leavers than local residents.
Sounds interesting. What's the background?
While a third of first-time buyers head out of London to purchase a property, the figure is actually 2% lower than in 2017.
The group attributed the slight rise in people purchasing a first home in London to government initiatives, such as stamp duty relief and Help to Buy, making it easier for some to get on to the property ladder there.
There was also a trend for people leaving the capital to trade up the ladder to go further afield and buy a larger home than they could afford if they stayed close to London.
Beveridge said: "More people are making a bigger move and buying a larger home sooner to avoid having to pay stamp duty on additional moves as they trade up. But for many, this means heading further north."
Top 3 takeaways
You might also be interested in...
Have you moved out of London or a big city? Tell us why by posting a comment below...