Zoopla's latest Cities House Price Index shows large fluctuations in property growth in UK urban areas.
Zoopla's latest Cities House Price Index shows that property values in the largest urban areas of the UK are rising at an average of 2.7% annually, but that's far from the whole story.
Regional variations swing from a 6% year-on-year fall in Aberdeen to a 7% rise in Edinburgh, proving that understanding your local market is key to making the correct decisions on when and where to buy and sell.
Of the 20 biggest cities, nine have recorded double-digit growth of up to 16% since the Brexit vote of June 2016. Birmingham and Manchester lead the way, as London has slowed due to affordability issues.
The table, below, shows current average prices, and year-on-year price rises in 2018 and 2017.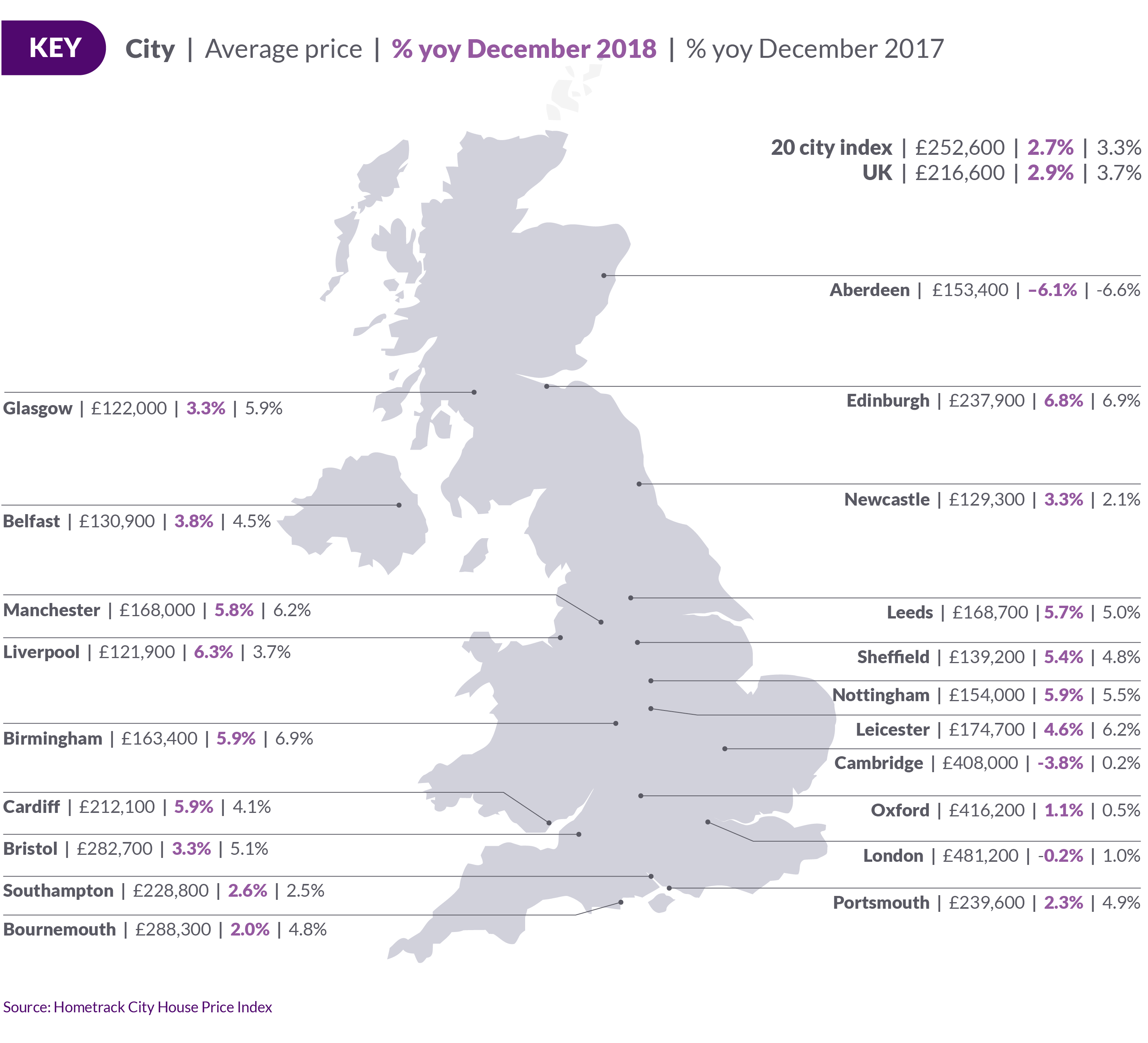 Why do prices fluctuate so much from city to city?
London led the post-recession recovery in 2009 and reached 18% annual growth in August 2014. Demand spiked again ahead of changes to stamp duty in 2016 as buyers took advantage before the increased land tax kicked in.
But then too many wannabe homeowners were priced out of buying in the capital, unable to put down a large enough deposit or secure loans based on their annual salaries.
As these affordability issues slowed the London market, the rest of the UK became more attractive and the past two years have seen an average 7% growth for regional cities outside of the South East.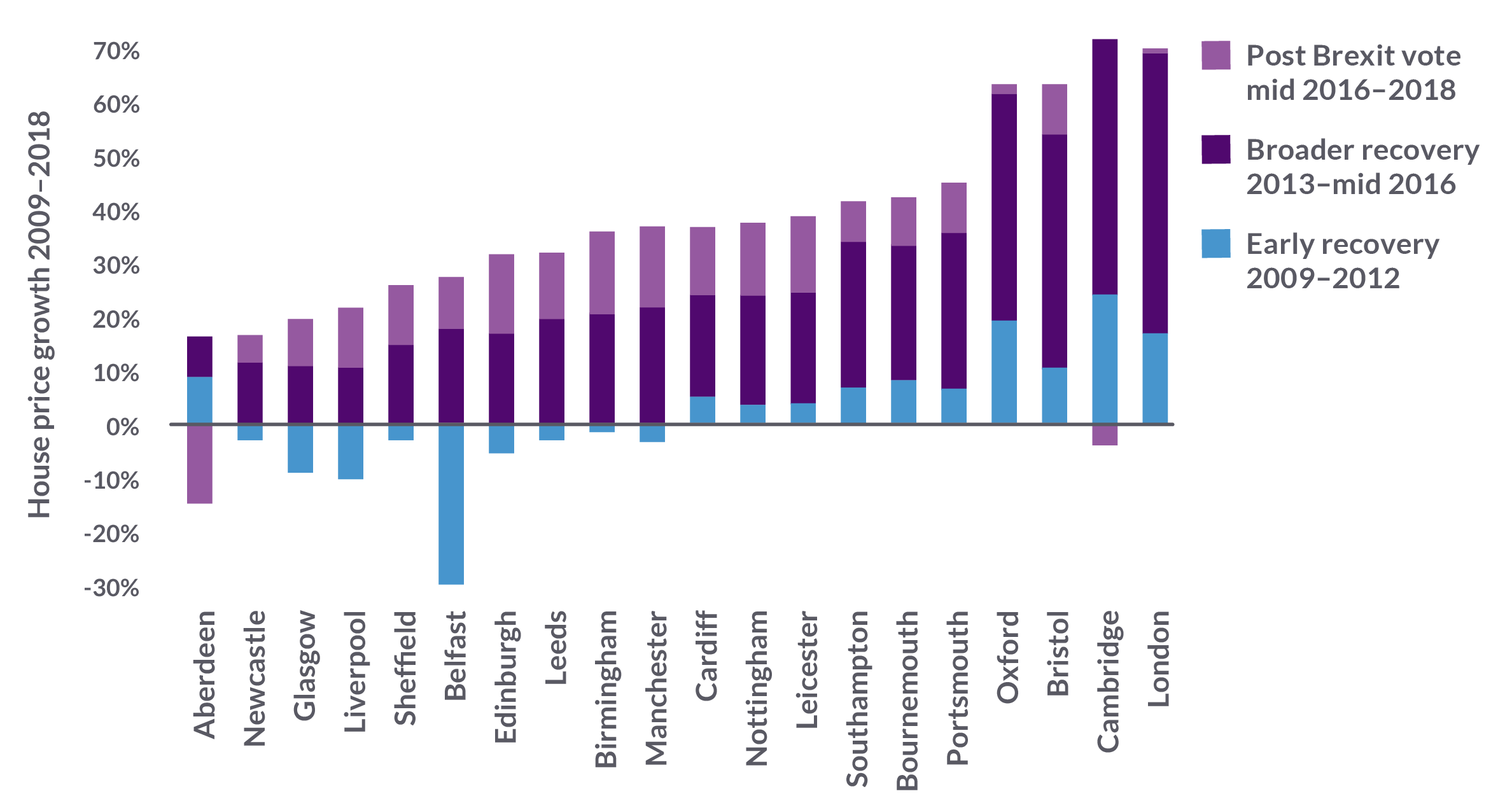 City house price growth in the past decade can be split into the recovery from the credit crunch from 2009-2012, continued recovery until mid-2016 and post-Brexit vote period through to the present day.
While price inflation in London, Oxford and Cambridge has now stalled, regional cities continue to enjoy solid growth due to rising employment and low mortgage rates.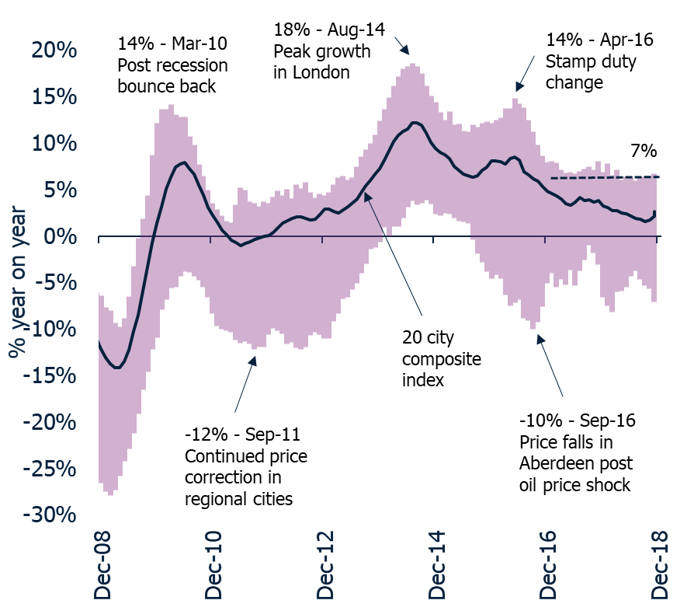 What's happening in London?
City house price growth in the UK has slowed to stand at less than half the 6% annual growth rate of the past five years, with the cooling London market a major influence.
Zoopla's London city index, which includes commuter areas around the capital, is registering falls of 0.2%. Average prices are expected to decline by 2% this year, with price falls concentrated in central London where annual growth is currently -4%.
But some areas are bucking the trend. Here are the top 10 highest performing local authorities...
But are properties still selling?
Rising and falling property prices are not as relevant if homes cannot be bought or sold.
The number of sales dipped by 2% during 2018 according to national data from HMRC, but was in line with the average of the past five years.
Bank of England data on the number of mortgage approvals for those looking to buy a home is also in line with the average over the past five years.
It's less rosy for transactions in London, where the slowdown in price growth has been accompanied by a double-digit slowdown in sales volumes. However, this is offset by regional cities experiencing an increase the number of sales.
If you're looking to sell your home, an important first step is to list it with the right estate agent. This is where Zoopla's AgentFinder tool can help.
For more support: Read our step-by-step guide to selling your home.
What about first-time buyers?
Buoyed by the Government's Help to Buy schemes, first-time buyers look set to overtake existing homeowners as the largest group of home buyers in 2018.
The group is boosting housing demand in regional cities where the job market is strong and affordability is less of a barrier to home ownership than in the South East.
First-time buyers can step on to the property ladder with as little as a 5% deposit, using the Equity Loan scheme. For more guidance: Read our first-time buyer guide.
To find out how the Zoopla Cities House Price index, powered by Hometrack, is formed click here.
You might also be interested in...
What other insight would you like from the Zoopla Cities House Price Index? Let us know in the comments, below...