Energy Performance Certificates (EPCs) are a legal requirement if you are buying or renting a home. Here's how to read yours.
Energy Performance Certificates (EPCs) were introduced in England and Wales back in August 2007 as part of the government's controversial Home Information Packs (HIPS). While, by 2010, HIPs had been scrapped, the EPC element survived – and if you are selling your home or renting it to a tenant, you'll need one of these documents by law.
The idea of an EPC is to show how much energy a home uses, how it rates in terms of energy efficiency, and what the estimated costs will be both as it stands now and after recommended 'green' improvements.
Here's what to look for to get the most out of it...
1. The primary rating graphic

The primary rating graphic shows how energy-efficient your home is on a clear coloured scale of A to G.
A, in dark green, is the most efficient and G, in red, is the least efficient.
Each letter is also assigned a group of numbers running from 1 to 100 and, the further up this scale, the better the home's efficiency. Note also the two arrows; one showing the home's current rating, and the other highlighting the property's potential rating if more energy-efficient features were to be installed.
Top takeaway: The calculation for the ratings graphic is relative to the square metre of the property. This prevents smaller homes with less space to heat being automatically rated as more 'energy-efficient'.
2. The table of estimated costs

Next is the table of estimated costs. Unlike the overall rating, this calculation does take into account the actual size of a home's floor space. In other words, two homes may have the same EPC rating but the larger one will show higher estimated energy costs.
The first column shows estimated costs for heating, lighting and hot water over a period of three years. The second shows the potential cost of improvements as specified further down the EPC. But the third is the one that's designed to inspire! This column shows the total savings you could make over the next three years if the property was upgraded according to these energy-efficiency recommendations.
Top takeaway: These figures are just an estimate and do not factor in energy use for electrical appliances such as computers, cookers and TVs. They also assume the home is heated for 9 hours a day during the week and 16 hours a day on the weekends.
3. The date it was issued

EPCs are only valid for 10 years so make sure you consider the date the certificate was issued. Right now (in 2016) it will still be in date as the first EPCs were only published in 2007 but, of course, this won't always be the case. Even so, bear in mind that energy costs may have probably rise since the assessment was first carried out.
Top takeaway: EPCs are valid for 10 years
4. Top three green wins

This table sets out the top three green wins (more formally described in the EPC as 'recommended measures') – alongside their estimated cost and potential generated savings over three years.
With many EPCs, you'll see a column noting whether or not each measure is eligible for the 'Green Deal.' Funding for this scheme was discontinued by the government in July 2015 and new applications are no longer being accepted. However, if you already have a Green Deal loan in place for home improvements, you will be able to continue with the arrangement.
Top takeaway: It might be listed on the EPC but the Green Deal is no longer available
5. Full list of recommended measures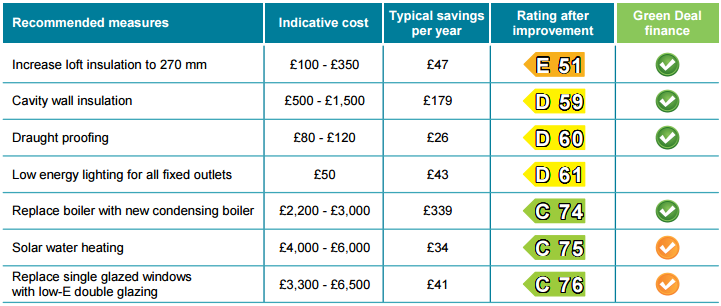 This is the extended list of 'recommended measures' – again, alongside an estimated cost and the potential generated savings – this time on an annual basis.
If you are renting your home or you have bought it under a government scheme, such as Shared Ownership, you will have to seek permission from the landlord or housing association before putting these measures into place.
Top takeaway: If you rent your home OR you have bought it under a government scheme, you'll need to seek permission before making major energy-efficient improvements
6. How the property is doing now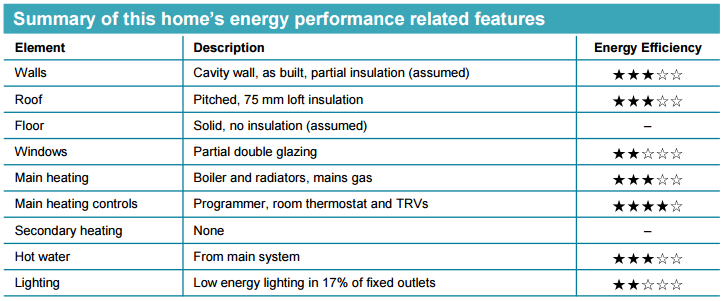 This table sets out how energy-efficient the home's current features (elements) are – on a scale of stars ranging from one to five. But a lower star rating against an 'element' doesn't mean that it's poorly constructed or installed – it just shows its energy efficiency in comparison to other materials or systems. So, for an older property with original features, you can expect lower star ratings.
The type of fuel a system uses could also impact its rating. Because electricity is a more expensive fuel source, an electric hot water system would receive a lower star rating than one which uses mains gas, regardless of performance.
Top takeaway: A lower star rating against an 'element' here doesn't mean that it's poorly constructed or installed
7. Alternative measures

If you want to save further money on your fuel bills and improve overall efficiency, take a look at the alternative energy-efficient measures listed on the EPC. Carry out some or all of these, and you'll be taking 'green' to the next level.
All measures are tailored specifically to your property. In other words, an assessor won't make any generic recommendations on the EPC unless it will make a concrete difference to your rating.
Top takeaway: Alternative green measures listed will always be relevant to your home
8. Contact information

An EPC must be drawn up by an accredited domestic energy assessor, details of whom you can find on the EPC. If you have questions or complaints about your certificate (for example, your energy bills are significantly higher than your EPC estimates, even taking rises in fuel costs into consideration), this is who to contact.
Renting your home?
It's a legal requirement to present an EPC at the initial viewing. If you bought your property at any time since August 2007, an EPC will have already been commissioned. You may well be able to retrieve it (just search by postcode) at the DCLG website.
If you need a new EPC, you'll need to use an accredited domestic energy assessor which you can search for by area on the official government register. Budget for around £65.
Did you read your EPC when you bought or rented a new home? Or did you file it in the recycling? Tell us by posting a comment below...