You don't always need mega bucks to invest in bricks and mortar – there are plenty of ways to make it more affordable. Try these three alternatives...
Millionaire tycoons are not the only ones who can reap the returns of investing in property, there are other ways to benefits.
1. Save from £100
You can open an account with Zoopla partners Bricklane.com from just £100. This offers you the chance to buy a slice of the property market in some of the UK's biggest cities – including Birmingham, Manchester, Leeds, and London.
Your cash is put in a pot with other investors' money, and used to buy properties that are then let out. Your fund is boosted by rental returns, and moves alongside changes in house prices. This means you've effectively invested in buy-to-let, without the hassle of managing a property.
If you haven't yet invested your ISA allowance, amounting to £20,000 (for the 2018/19 tax year) you could opt to invest in property through a Bricklane.com ISA. But otherwise, Bricklane.com offers a standard account which has no limit to how much you can invest.
If you've existing ISA investments elsewhere, you're also able to shift them into a Bricklane.com ISA. Or you could just move a portion of your pot, if you're keen to spread your money around. Remember, you benefit from income and equity gains free of tax within an ISA – and have until 5 April 2019 to use this year's allowance.
Bricklane.com even offers a fund you can place within your self-invested personal pension (SIPP*) – a type of DIY pension that lets you choose your own investments. So if you're looking to partly fund retirement through bricks and mortar, this may be a better option.
Read more: 3 ways to invest in property through your pension
Always remember that an investment with Bricklane.com comes with some risk. Your investments can fall as well as rise in value, so you might not get back your initial amount. There's also no guarantee that the properties invested in the fund will perform well, but over the long-term they could provide attractive returns.
2. Pool your money in property shares
You can invest from around £25 into a single property fund – but ideally, that'll be as part of a diversified investment portfolio. This way, you gain a little exposure to the property sector, without forking out a large pile of cash for physical bricks and mortar.
But if you're new to the investing game, do your research – and make sure you're comfortable with the risks involved.
Funds are simply so-called 'collective' investments. That's because they pool your money with that of other investors to buy shares in dozens of companies and spread the risk.
If you specifically choose a fund within the property sector, it'll probably focus on investing in commercial buildings. These may include office blocks or retail parks, where rents are often higher than for residential properties. After all, businesses are often willing to fork out hefty sums for the right location.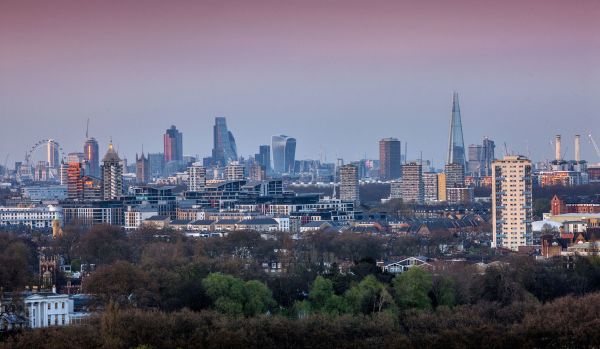 Bricklane.com invests in the property markets of the UK's biggest cities, such as London
The price you pay for a fund will depend on its performance at the time. But one of the major benefits over buying individual shares is that a fund comes with a manager. So you don't have to make any decisions on where to invest, you rely on their expertise.
It's best to focus on leaving your money invested for five years or, ideally, longer – to give your fund the chance to ride out the highs and lows of the stock market.
Property funds may focus on the UK, or a specific region such as Europe, or take a global approach.
If you want to check out charges and past performance, there are plenty of online tools. For starters, you could try Trustnet.com. But remember that past performance isn't a guide to the future. If you're unsure where to invest, remember you can seek independent financial advice.
Charges can also take a chunk out of returns. Typically, you'll pay around 1% to 1.5% a year for a management fee. But this may be slashed if, say, you choose an online investment website.
3. Peer-to-peer from £100
There's a growing number of websites that match savers and borrowers together – and offer better rates than traditional banks and building societies. Known as peer-to-peer lending, you can pick from those that focus on businesses, individuals – and even buy-to-let investors.
If you're investing in peer-to-peer, you're lending to borrowers. They pay interest on the cash, often at far higher rates than the paltry amounts on offer from standard savings accounts.
Landbay is an option for wannabe property investors with little spare cash. It facilitates lending money to property investors seeking buy-to-let mortgages. You can invest from as little as £100, which could be a way to diversify your savings.
Your money is divvied up to be used as loans on a number of properties. Similarly to choosing a fixed-rate savings account, you can opt for different terms – ranging from 12 months to three-to-five years. And as with savings accounts, the longer you're prepared to leave your money invested (and on loan), the greater the rate on offer.
Of course, there are some risks involved. After all, this isn't the traditional savings route. The good news is that peer-to-peer platforms are regulated by the Financial Conduct Authority (FCA).
It's worth noting that peer-to-peer lending is not covered by the Financial Services Compensation Scheme that protects the first £85,000 of your money saved with a bank or building society.
But there are safety nets in place. Often, it'll have some sort of 'reserve fund' in place to protect lenders from unexpected losses.
Wherever you invest, brush up on the basics and the risks involved first. Remember that if you're plumping for an ISA, tax rules apply, and these can change.
* A SIPP isn't right for everyone. Tax rules and allowances depend on individual circumstances, and may change in the future.
Zoopla Limited is an introducer appointed representative of Gallium Fund Solutions Limited (Reference number: 487176) which is authorised and regulated by the Financial Conduct Authority.