Ever wondered how you can turn bricks and mortar into an income in retirement? Here are some ideas.
Have you ever heard someone say, "my house is my pension"? It's true that paying off your mortgage during your working life could leave you with a tidy sum in bricks and mortar. But how can you turn this into pension cash?
Here are three ways.
Moving to a smaller home
As you near retirement, you may be 'asset rich, cash poor'. That is, you're living in a mortgage-free home and, if you have kids, they've fled the nest.
That said, you don't have hefty sums sitting in pension or savings accounts to provide for retirement.
If you no longer need the space you have – and much of your home is lying fallow – selling up and buying a smaller, less expensive property could free up a lump sum for retirement.
Commonly known as 'downsizing', this is a popular option to provide a financial boost.
It may be suitable if you're happy to find a property that's perhaps better suited to your needs as you age, such as a bungalow, or sheltered retirement accommodation.
Or you might want to sell up, and move to a more affordable area of the country.
If you decide to downsize, it's probably wise to make the move when you're fit and healthy, moving can be one of life's most stressful events.
And you don't want to do it in a rush if it's your last move in a lifetime.
There's a lot to consider, particularly if you're leaving a home you've lived in for decades. For example, you'll probably want to ensure there are friends and family nearby, or a welcoming local community.
Moving to a smaller property also inevitably means parting with possessions, which can be a wrench for some.
You'll also need to do your sums. If you're moving to a retirement complex, there are likely to be service and maintenance charges for its upkeep.
Remember you could be in your new home for decades, so make sure it's the right one for you.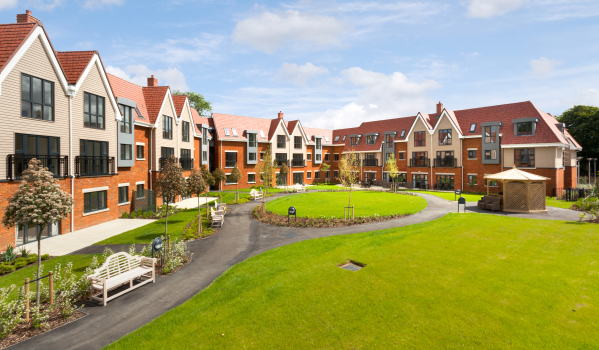 Releasing a lump sum from your home
If you don't want to downsize, but need cash, an equity release scheme could be an option. This is a way to spend your home's value while still living there, although you'll need to be at least age 55 to apply.
You get a loan that's repaid from the sale of your home but only once you die, or move into care.
Of course, if you sell up before then, you'll also need to settle the debt. Bear in mind that the younger you are, the less you can usually borrow.
Rates for equity release plans are fixed for the life of the loan, though they are higher than even the highest standard mortgage rates on the market.
Equity release isn't suitable for everyone – it's vital to check out the pros and cons, and take specialist independent financial advice.
Money taken out of your home will reduce the value of your estate, so they'll be less to leave any dependents after you've gone. Equity release could also impact on your benefit entitlements, such as Pension Credit.
And, of course, there's interest that could rack up to an eye-watering sum. You're not making monthly repayments to gradually reduce the debt, so it's vital to do the maths first.
For example, let's say you borrow £20,000 aged 65 at a typical equity release loan rate of around 5.5%, on a £120,000 home.
If you live for another 25 years, when you die a hefty £76,000 will need repaying. So, while the loan may seem small you risk sacrificing a large stake of your property. Then again, house prices are likely to have risen over this period, so this could offset some of the debt.
If you want to go down the equity release route, check out all the options. There are a growing number of equity release plans on offer. Some providers allow you to take a lump sum and make monthly interest repayments, helping to safeguard your home's value.
Make sure to check the equity release provider's credentials. It should be a member of the equity Release Council - equityreleasecouncil.com. This means a plan will come with certain standards, such as guaranteeing that your estate won't owe more than your home is worth.
Investing in property through your pension
Cash in a property may be tapped into to boost retirement income. But remember that you can also slot property into your pension. This way, you aren't relying on your home to fund retirement – or putting your eggs in one basket.
Through Zoopla partner, Bricklane.com, you can place residential property into your pension.
Experts do the hard work for you, choosing a range of buy-to-let properties in some of the UK's most lucrative cities. You can invest in these through a special fund, without having to take on the responsibility that comes with being a landlord.
Find out more about the Bricklane.com SIPP
You invest via a self-invested personal pension (SIPP) – a type of pension where you take control of your investments, so you choose where may offer the best returns.*
You can invest from £10,000 – and you don't face set up or pension administration costs for investments above £25,000.
Investments generate returns from rental income and capital value changes. You can pick from two funds – a Regional Capitals fund, investing in properties in Leeds, Manchester and Birmingham – and a London fund.
And don't forget tax relief. You automatically get a 20% tax boost from the Government on pension contributions. If you're a basic-rate taxpayer and slot £20,000 into a pension, this is boosted to £25,000. If you're a higher-rate taxpayer, you can add a further £3,000 via your tax return.
As with any investment, your capital is at risk. So, your investment may rise as well as fall, and you could get back less than you put in.
* A SIPP isn't right for everyone. Tax rules and allowances apply, depend on individual circumstances, and may change in the future.
Zoopla Limited is an introducer appointed representative of Gallium Fund Solutions Limited (Reference number: 487176) which is authorised and regulated by the Financial Conduct Authority.