The earlier you start being savvy with your retirement pot, the better because returns stack up over time.
Saving for retirement is always a good idea, and there are some straightforward steps you can take to maximise those returns. Here are five to consider...
1. Go it alone
It's up to you what you put in your pension. You can stick to traditional stocks and shares in UK and global companies, or even slot other assets, such as property funds into the mix.
That's if you've got a SIPP, which stands for self-invested personal pension. This is a particular type of pension that lets you pick your own investments.*
And what's more, you have greater choice when it comes to property funds these days. HMRC rules had previously restricted these to investing in commercial property, such as shops and offices.
But you can now opt to invest in residential bricks and mortar, through a Bricklane.com fund. Your investment moves in line with the value of properties bought by the fund, and receives rental income on top.
You can invest from £10,000 in a Bricklane.com fund within your SIPP, adding more over time if you wish. Choose from a fund investing in properties in Leeds, Manchester and Birmingham, or opt for one that focuses solely on London.
Pondering your pension? Now you can invest it in residential bricks and mortar

You can now invest in the London property market with Bricklane.com.
2. Start saving early
The earlier you start saving towards retirement, the more time your pot has to grow. The old investment adage "time in the market is more important than timing the market" applies to whatever investment you choose for your pension pot.
If you start saving decades before you hang up your boots, the idea is that your pot has time to ride out the peaks and troughs of the market. It also benefits from something called 'compounding'. This is simply the process of generating returns on your investment's profits.
For younger investors, compounding is a vital building block. Your money grows faster because you benefit from returns on the money you originally invested, alongside returns on any profits, which stacks up over time.
Once you've chosen a pot of pension investments, stick with them, and, whenever possible, carry on making regular contributions. This should help set you on the path to a comfortable retirement.
3. Consider your attitude to risk
When you're saving for long-term goals - such as retirement - you may feel that you can afford to take some risk. This means investing in stocks and shares, and other assets such as property, rather than sticking to cash. Essentially, the greater the time span, the more risk you can take in the hope of juicy returns over the long-term.
It's generally considered wise to ignore any current economic or political jitters when investing. While it may be tempting to take a low-risk approach, this could mean missing out on some of the best returns over time.
No-one knows what's going to happen in the future, and the world has suffered wars, recessions and financial crisis – but the stock market and property prices have kept on rising for those who held their nerve.
And while the property market has wobbled since the Brexit vote, it hasn't crashed, as some commentators predicted.
But don't risk property underpinning all your retirement plans. Ideally, you want to have a mix of investments to balance risk, including stocks and shares, cash, and bonds.
4. Max pension tax benefits
You can pay in as much as £40,000 a year into your pension, or up to £1.03m over a lifetime. That's the 'annual' and 'lifetime' allowance respectively – and up to this amount, you benefit from hefty tax relief.
You automatically get a 20% boost from the Government on the sum you invest. This could be placed into property funds, or any others of your choosing.
Here's how it works.
If you're a basic-rate taxpayer and invest £20,000 in your pension, this sum is bumped up to £25,000. And that's before returns from any underlying investments.
You can add up to another £5,000 to this as a higher-rate taxpayer, through your tax return. That's a whopping 40% boost.
So it's worth maxing tax relief and paying as much as you can afford into your retirement pot. It could make a massive difference to the sum you end up with at retirement.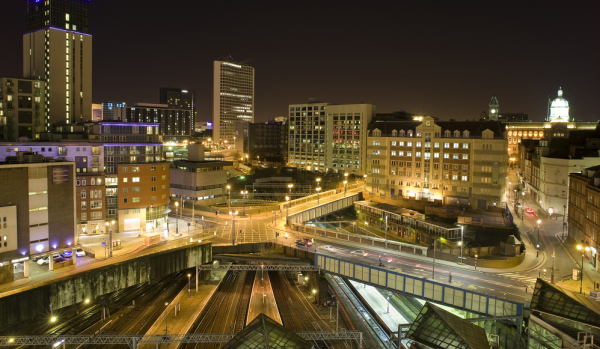 Birmingham is among the cities you can invest in with Bricklane.com.
5. Check charges
If you're choosing a personal pension, do your homework. You can simply choose a well-known pension provider, but this may not be the cheapest option.
There are specialist pension discount brokers out there that rebate some charges back into your pension pot – slashing the charges you pay compared to going direct to a pension provider.
This can make a big difference. Over time, the effect of charges can eat up a chunk of your pension pot. The higher a retirement pot's fees, the greater the impact, so check you're not forking out too much.
Annual fees of around 0.5% to 1% are typically charged by pension providers, and that's alongside one-off set up fees, so check the detail carefully.
Remember there are deals to be had. If you invest more than £25,000 into a Bricklane.com fund with Hartley Pensions, for example, all the standard admin fees are waived.
This includes a 0.85% annual charge (Ongoing Charges Figure, or OCF) and one-off 1.25% fee. Over time, that's a hefty saving.
Remember that investments can go down as well as up, and you might get back less than you originally invested.
This article does not constitute financial advice. If you're unsure where to invest, seek professional financial advice.
*A SIPP may not be right for everyone. Tax rules and allowances depend on individual circumstances, and may change in the future.
Zoopla Limited is an introducer appointed representative of Gallium Fund Solutions Limited (Reference number: 487176) which is authorised and regulated by the Financial Conduct Authority.