Can't seem to save fast enough to raise a deposit on your first home? Here are 5 alternative ways to boost your chances of getting on the property ladder.
Buying your first home may seem a distant dream, without a hefty sum in savings or wealthy parents to stump up the deposit. But there might be some ways you haven't yet thought of to get a leg-up onto the property ladder.
Try these five.
1. Move back in with your parents
The cost of renting has rocketed to around £904 a month, while tenants in London pay an average of £1,519, according to latest figures from the HomeLet Rental Index. This takes a massive chunk out of any would-be first-time buyer's salary.
But there are ways to beat the cost of rent in the short term. While living with your parents may be far from ideal, moving back home for a couple of years could represent the difference between buying your own home and renting long-term.
Saving just the average cost of rent would add an extra £21,696 on your bank balance in the space of just two years – a substantial sum to put towards any first home.
If living back with your folks is too difficult, make sure you don't let the goal of home ownership out of your sight.
As well as saving what you can, use your time as a tenant to do your sums, research carefully where you want to buy and keep an eye on movements in the property market. That way you'll be extra prepared when you're ready to buy.
This time next year, UK house prices will be...

— Zoopla (@Zoopla) May 17, 2017
2. Grow the money you have faster
You don't have to struggle with paltry rates on cash savings accounts. There are plenty of other options for your cash, including a growing range of tax-free ISAs.
However, before investing your cash, make sure you know what you're doing and that you understand the risks involved.
One option that enables you to keep pace with the property market and receive rental income is a Property ISA, for instance with Bricklane.com.
This gives you exposure to the UK property market by pooling your cash in a fund alongside other investors, which is used to purchase buy-to-let properties in some of the UK's biggest cities.
You can open an account with just £100, and invest up to your annual ISA allowance of £20,000 for 2017/18. Your investment will receive rental income, alongside tracking movements in the underlying property values.
If you invested £10,000 in a Property ISA five years ago, for example, this would be worth £13,713 today – or £2,797 more than if you held the sum in a cash ISA, paying 1.8%.
This return of 6.5% a year is based on average house price growth and rental income, after costs, across Manchester, Leeds and Birmingham.*
A Property ISA comes with a greater risk than just stashing your cash in a savings account. If your chosen investments perform badly, you could lose some or all of your capital. But your cash has more chance of growing over the long-term.
3. Improve your credit score
Even if you've been saving for years, a poor credit score could prevent you from being able to get a mortgage at all. This is one of the factors considered by lenders, as it gives them a snapshot of your financial history and helps them work out whether you are a reliable person to issue a loan to.
Obvious reasons your credit score may be tarnished include missed debt repayments or dipping into an unauthorised overdraft.
But there are some more surprising ones, too. If you've been financially linked to someone – you have a joint bank account with your flatmates for example – and they have poor credit score, this could damage your record too.
If you find it's less than squeaky clean, there are simple ways to improve your score, such as getting on the electoral roll. Be disciplined with your finances – keep your debt down, and, ideally, pay off credit card debts in full at the end of each month.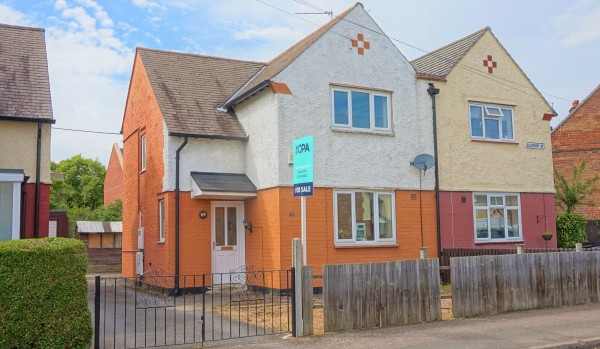 Ideal first home?: A three-bedroom semi-detached in Derby for sale on Zoopla at £105,000
4. Get a bonus from the Government
Don't forget there are specific government schemes to help first-time homebuyers.
One example is the Lifetime ISA which the Government introduced in April 2017.
Savers aged between 18 and 40 can slot away up to £4,000 each year, and get a £1,000 top up from the government. Since you can save a maximum £128,000, you could bag an extra £32,000 in total. This money can be put towards a deposit for your first home.
Alternatively, Help to Buy is an equity loan which slashes the deposit you need to 5%, and offers an interest-free loan of a further 20% from the Government. Now armed with a 25% deposit, you can apply for for a 75% loan-to-value mortgage deals. The scheme applies to new-build properties worth up to £600,000.
Shared ownership schemes may be another option to make buying more affordable. You can buy between 25% and 75% of a property, and pay rent on the remainder, which is owned by a local housing association. Shared-ownership properties are typically new-build.
5. Buy with a friend
Depending on the lender you choose, you may be able to register up to four people as legal co-owners of a property. This significantly boosts your purchasing power, and can be a great way to tackle high property prices. However, you must consider the legal implications because there are pitfalls.
Buying a property with other people makes things more complicated from a financial perspective, and your circumstances could change.
Remember that you also would be liable if they miss repayments on their share of the mortgage – or vice versa.
Take professional advice to discuss the various implications, such as how best to structure the purchase and how you will split the proceeds of any future sale.
This is particularly important if you are contributing different amounts of cash to the purchase.
* This calculation is a simulated historical performance. Past performance is not a reliable indicator of future performance.
Zoopla Limited is an introducer appointed representative of Gallium Fund Solutions Limited (Reference number: 487176) which is authorised and regulated by the Financial Conduct Authority.
Trying to make the first rung of the ladder and got any other ideas? Share them in the comments section below...
You might also be interested in...