By

property news team

May 30, 2018
When it comes to moving house, preparation is key. But just how much can you save by booking your removals service in advance rather than leaving it until the last minute?
Saving money when moving house may sound like an oxymoron, but when it comes to organising your removals service, a little forward planning will go a long way.
Even though everything might be hanging in the balance until the last minute when you are buying a new home, put the wheels in motion for your removals service as soon as your Move day is confirmed.
If you are moving into a rental property, you may well have more certainty over your Move day, making it easier to plan ahead.
The key is take action and get booking, as this could make for some decent savings.
Booking early should mean a discount
The quote from your removals firm will depend on a number of factors, such as the date you want to move, the distance you want to move, and the size of your current home.
While you might not have control over everything, you can dictate the timing of your booking.
By booking your removals firm early, you may be able to secure a discount, which could be a big help for your bank balance at a time when payments are going out left, right and centre.
Booking early gives you more time to get organised
Booking early means you have more time to stay on top of things, which will lessen the risk of you running into last-minute, unexpected costs.
By contrast, if you leave things until the eleventh hour, you could end up paying way over the odds or be forced into taking a less preferable time slot.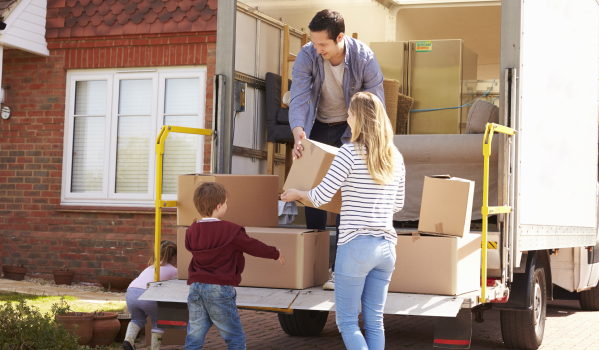 It's beneficial to rope in some willing helpers when you move
What do the experts say?
We quizzed three removals firms to see what sort of savings could be up for grabs by booking ahead…
How much more could you end up paying by booking last-minute?
Regan McMillan, director of Kiwi Movers, based in West London, said:
"The rates charged reflect the firm's capacity. For jobs that are billed hourly, late bookings can cost up to £5-£15 per hour more than advance bookings. We charge 5% less on Monday to Wednesday, but you need to book in advance to get these slots."
Angus Elphinstone, founder of Zoopla partners AnyVan, said:
"We have a full availability policy, meaning we can offer 100% availability for all removals for a cost which is only a fraction more expensive than booking in advance. We only charge 10% extra due to the fact our network of removal drivers is so large and covers the whole of the UK."
Charles Rickards, director of removals firm, Aussie Man & Van:
"It costs the same price to move – no matter whether you book weeks in advance or the day before. We charge an hourly rate for the duration of the move, rather than a fixed price. We do not reduce our prices for people who are organised and book well in advance."
How far in advance do you need to book to make saving?
Kiwi Movers: "Our advice is to arrange your removals as soon as you confirm your Move day. Even if you can't confirm, we can often pencil you in with an advance booking – and honour the original rate when you confirm. In terms of timings, booking four or more weeks in advance is enough to ensure you get the best price.
"Avoiding Bank Holidays and school holidays can also often get you a cheaper rate because demand is lower. Fridays tend to be the busiest day for removals firms, as customers want the weekend to get unpacked, so they're typically more expensive."
AnyVan: "We recommend that customers book two days in advance."
Aussie Man&Van: "The issue is that the removals business is seasonal, and our busy periods tend to be in the spring, summer and autumn, towards the end of the week – especially Fridays and weekends – and towards the end of the month, as lettings often have a calendar month.
"The danger of leaving it too late is not that it will cost you more to move, but that you may not be able to secure a booking at all with your preferred removals firm if you are moving during one of these periods."
Get your free removals quote
Start with the AnyVan online tool which provides an estimated cost based on factors such as move date, distance and the size of your current property.
How would costs compare for a family of four – currently living in a four-bedroom house – relocating from London to Bristol?
Kiwi Movers: "They could expect to pay £130 per hour by booking four weeks in advance. That price might be more like £150 per hour if they manage to find a reputable firm a few days before the move."
AnyVan: "They could expect to pay £729 if they booked in advance on our standard package. They would pay an extra £30 if they left it until the last minute."
Aussie Man&Van: "For an average family of four moving moving to Bristol and packing and unpacking themselves, it would cost around £2,400. We would expect to provide four guys and a large truck for the day. For a single person living in a one-bed flat Aussie would charge £80 an hour and provide a Luton Box van and two guys."
Tips to help you save on the cost of your removals service
Set your Move day for a week day as weekend rates are usually higher than weekdays. But note that Fridays can come at a premium, as they are a popular day to move.


Avoid moving on a Bank Holiday or during a holiday period such as Christmas. Also, be aware that the spring, summer and autumn are the busiest seasons for removals, so may be more costly.


Opt for a basics removals service rather than getting the professionals to pack for you as well. You could end up paying twice as much for a 'bells-and-whistles' service.


Reduce the amount of stuff you need to shift by decluttering. The less stuff you have, the lower the cost of your removals service.


See if you can get away with just one removal man, as if you end up needing two or more, you are going to have to pay for extra manpower.


Dismantle furniture in advance, as you could end up paying more if it delays your removals team being able to just pick up boxes and go.
You might also be interested in...