Within easy reach of London, Brighton offers a Bohemian way of life by the sea. Find out more about the town in Zoopla's essential guide.
With its abundance of beachfront Regency properties, busy nightlife and extensive shopping facilities, Brighton is a favourite among those looking for a vibrant place to live. The East Sussex venue, which is nestled between the South Downs and the English Channel, has a distinctly Bohemian feel, with sea-facing yoga classes and flea markets in abundance. It also has a large gay population as well as a tendency for alternative free-thinking.
However, the town - which is the largest part of the city of Brighton & Hove - welcomes everyone with opening arms, whether you are seeking to saunter through its pretty narrow streets of jewellery and antique stores or indulge in sleek bars and restaurants.
It has long had a collection of celebrity residents, including DJ Fatboy Slim, journalist Julie Burchill and the actor who played the drug dealer in the film Withnail and I.
More recently, it has attracted a host of YouTube stars to move to the area, including Zoella and PewDiePie - something that has helped to make this popular location even more fashionable. The area is often referred to as London-by-the-sea and the arrival of the YouTube set has added to its level of London sophistication.
But it is not just a place where you may bump into your favourite YouTubers. Other attractions for visitors include the stunning Royal Pavilion, Brighton Pier and the Lanes shopping area. And there are more than five miles of shingle beach along the city's seafront.
Buying in Brighton
Houses for sale in Brighton
Houses for sale in Brighton are in high demand, for families as well as professionals who are commuting to London. The majority of properties stem from the Regency era and have been either maintained as family homes or converted into separate flats. However, there are relatively new developments, such as Marlborough Mews, in the centre of the town that have been sympathetically built and designed to blend into the surrounding area. They include light coloured rendering and bay windows that are popular in the area. Larger detached properties can be found in one of Brighton's best addresses - Roedean. These properties have every modern convenience at your fingertips, from Lutron lighting systems and whole of house audio systems to swimming pools and electronically operated driveway gates.
Flats for sale in Brighton
There are plenty of flats for sale in Brighton, meaning those with a lower budget can still afford to buy into this enviable seafront lifestyle. That said, expect to pay north of £1m for a luxury flat if it is spacious and has stunning sea views from a balcony. Modern developments, such as those designed by Conran and Partners, do not come cheap either. But residents believe that such luxury living in this buzzing city is worth the price.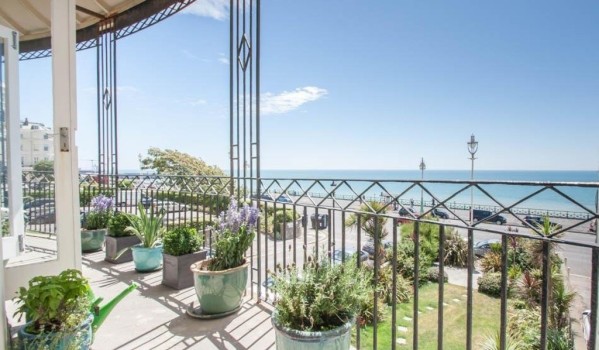 Areas of Brighton
One of the largest parks in Brighton is Preston Park, covering more than 60 acres of lawns and formal gardens. It is also one of the busiest, hosting a wide variety of events from the festival at the end of the Brighton & Hove Pride parade, the start of the Brighton Marathon and a circus during the Brighton Festival. The park includes what is thought to be the oldest velodrome in Britain. It was built in 1877 and is in the north-east corner of the park. The area as somewhere to live is less convenient for the centre of Brighton, but it is popular among families who are looking for homes with larger gardens for their children to play in.
Once attracting less than flattering descriptions - such as 'rundown' - Kemptown has undergone a huge transformation and is now more attractively known as 'the village', populated with boutiques and trendy bars. It attracts a younger crowd as well as a sizeable gay community. Many houses are still of the Regency era, but there are also Victorian properties and modern properties in this eastern part of the city.
The Lanes in Brighton are a collection of pretty, narrow streets and alleyways that are just a stone's throw from the beach. They are home to various jewellery, antique and design shops, as well as cafes and the occasional busker. They are a welcome break from the many clone high streets that occupy Britain's main shopping precincts and are a major contributor towards Brighton's distinctively Bohemian feel.
North of the Lanes is the North Laines, which is where most of the city's independent shops are located. It is here that The Body Shop opened its first branch. And boarding these areas is North Street, which is the main high street that runs through the centre of Brighton.
Jobs in Brighton
One of the biggest employers in Brighton is financial services group American Express. But small firms also play their role in the city, with tourism and retail being a major source of employment.
A growing industry is digital media, with Brighton being the home to some of the world's most popular YouTubers. These include Felix Kjellberg who runs the PewDiePie YouTube channel with a staggering 38 million subscribers, Alfie Deyes who runs Pointlessblog with almost five million subscribers and Zoe Sugg who runs Zoella with almost nine million subscribers. The town and its beachfront are frequently showcased in their videos.
Brighton prides itself on being creative and entrepreneurial, particularly in media and design, so expect to find job openings in these sectors from PR and publishing to designers and developers.
Brighton council tax
The amount of council tax residents pay in Brighton depends on which valuation band a property is in. In Brighton, council tax currently ranges from £870.92 to £3,135 for the financial year ending March 2016. The higher amount is paid on properties worth more than £320,000, while the smaller amount is paid on properties valued up £40,000, which are owned by those entitled to disabled relief. There are areas where residents will pay a different amount - for example, those living in Hanover Crescent, Marine Square and Royal Crescent are charged an additional amount for the funding of the gardens in those areas.
Transport in Brighton
One of the main attractions of Brighton is its proximity to London. It means commuters can benefit from all of the work opportunities available in the capital, while at the same time enjoying the lifestyle offered by living on the south coast.
Trains from Brighton to London take about an hour, making a daily commute challenging but none-the-less viable. As such, it is of no surprise that properties near the station are highly sought after and command a premium in terms of price, including addresses such as West Hill Road and Alexandra Villas.
Trains from Brighton arrive at London Victoria station as well as London Bridge, giving residents greater access to the capital. The popular area of Preston Park also has a train station, which has regular trains into London.
Sussex University
The University of Sussex is based on the edge of the city on the South Downs. It is ranked among the top 15 universities in the country and counts well-known names such as the author Ian McEwan among its alumni. It maintains links with numerous universities abroad, such as Harvard, Yale and the Sorbonne. It has 12 subjects ranked in the top 10, including American studies, anatomy and physiology, anthropology, drama, German, history of art, Italian, media and communications, physics and astronomy, psychology, social work and sociology.
There is a second - and separate - university in the area: the University of Brighton, which is based on five campuses in Brighton, Eastbourne and Hastings. The majority of degrees awarded by this university are in the areas of pharmacy, engineering and information technology. The designer Julien Macdonald attended the university.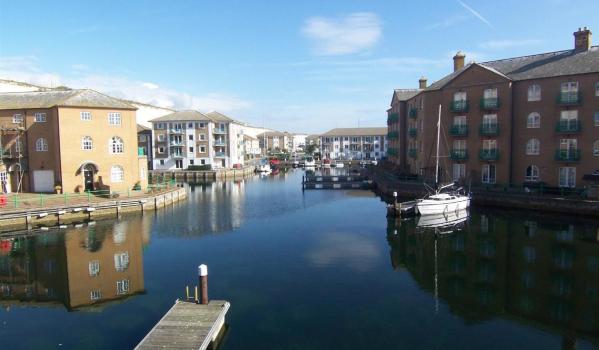 Things to do in Brighton
One of the main attractions in Brighton is the seafront - more than five miles of it. Visitors can stroll along the promenade and stop at any one of the cafes, restaurants and bars along the way. There is also a host of activities to try your hand at, including sailing, boules, and kitesurfing. It makes it an appealing destination for families as sociable singles. However, it is obviously a popular - and crowded - place to be during high season and so a less crowded option is along the road at Hove seafront. You'd be mistaken if you think it quietens down in the evenings, with the nightclubs based underneath the Victorian beachfront arches being widely considered some of the best in the country.
Another side of Brighton is the Marina where yachts, shopping and entertainment combine. It is the latest marina complex in Europe with hundreds of homes, a hotel and restaurants with stunning views out to sea. There are gift, home and fashion shops as well as an ASDA superstore. One of the big attractions for shoppers is the free parking that is available, alongside the 24 hour public transport links to the area - ideal given the marina's position one and a half miles east of the centre of Brighton. For those looking for entertainment, there is an eight-screen cinema, a bowling alley, a casino and a fitness club. Brighton Marina also hosts a variety of events, including bungee jumping, dragon boat racing and cinema clubs. It is one and a half miles east of the centre of Brighton
Brighton Pier dates back to 1899 and was formerly known as the Palace Pier. Today, it has shops as well as traditional fairground rides, such as the dodgems, a ghost train and a carousel. It is open every day except for Christmas Day. However, all opening time are ultimately weather dependent.
Apart from the beachfront, many people associate Brighton with the Royal Pavilion - a wildly extravagant summer palace that was built for George IV in the early 19th century. He started visiting the town with his mistress and in doing so, set a precedent for the term "dirty weekend". This association with the town has long since disappeared and the palace today is a work of art, with visitors able to enjoy interiors that include everything from carved palm trees in the Great Kitchen to dragons painted on the walls in the music room. With its mix of Regency grandeur and a style perhaps best associated with India or China, the Pavilion is hard to miss on entering the city. For those looking for a property overlooking the Royal Pavilion, try the apartments in Glass Pavilion on Princes Street with sun terraces that offer magnificent views.
Brighton's nightlife is already off to a promising start with DJ Fatboy Slim as a resident. And it doesn't disappoint, with some of its nightclubs considered the best in the country. There are venues nestled in the beachfront arches as well as in the centre of town. And if it's live music you're after, you're on an equally good footing with everything from dance and hard house to Latin beats on offer. Brighton Music Hall spans eight of the arches and plays live music on its heated beach terrace until 10pm, after which there are live music and entertainment theme nights.
Weather in Brighton
The winter months from November until March are the coldest, but this does not mean that it is unbearable as the sea means temperatures only just dip into negative figures. The warmest months of the year are during the summer between June to September, when temperatures step into the 20s degrees celsius territory. The area is subject to flood warnings with stormy weather this summer leading to reports of roads being submerged.
Estate agents in Brighton
Brighton is well served by estate agents, whether you're focusing on the east of the city at the Marina or to the west towards Hove. As always, searching for a new home will be made a much more efficient process if you make friends with your estate agents as you'll be at the top of the list to find out when new homes come onto the market.
You might also be interested in...