The well-heeled town of Cheltenham - famous for its Regency architecture - has plenty to offer buyers.
What does Gustav Holst, arts and crafts and horseracing have in common? The answer, of course, is Cheltenham – a very English spa town in Gloucestershire, which is either the birthplace or home to all three. But what can you expect if you are house hunting in Cheltenham? Read on to find out…
Cheltenham and what to expect
If you're looking for houses for sale in Cheltenham, one of the biggest risks you'll face is that you could soon start to feel spoilt. After all, as well as being rich in culture and heritage, Cheltenham has been voted as the best place to raise a family, the safest place for students to attend university – and having the most desirable housing in the whole of Britain.
The last of these accolades is evident from just a quick Zoopla search of property for sale in Cheltenham. Cheltenham is famous for its Regency architecture, which dates back to between 1800 and 1830 when King George IV was Prince Regent, and is a continuation of the predating neo-classical Georgian style of housing.
Notable features of Regency architecture include symmetrical (often cream or white) facades; iron railings and smart hedges, large sash windows and steps leading up to (often black) front doors flanked by stone columns. Rooms are grand and large and ceilings are high. In short, it doesn't take an expert to realise that much of this property is listed – and expensive.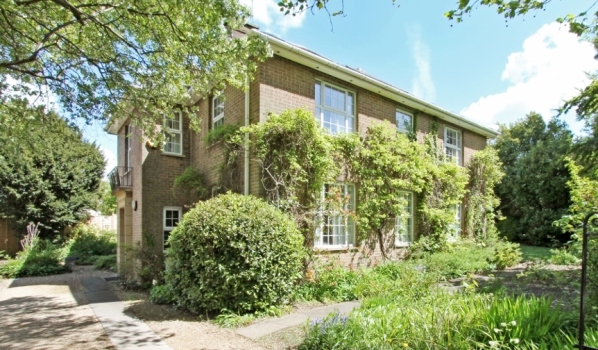 Period houses for sale in Cheltenham
If you want to get your hands on a period property like this in Cheltenham, naturally you'll pay a premium. And the size of the premium will depend on the area of Cheltenham it's in.
The real cream of Cheltenham is probably Montpellier, which is right next to Cheltenham town centre. Its affluent grand squares, crescents and streets are brimming full of Regency-style homes – some terracing entire streets. As well as the famed Cheltenham Ladies College, Montpelier is also home to two beautiful gardens and some highly-acclaimed boutique shopping.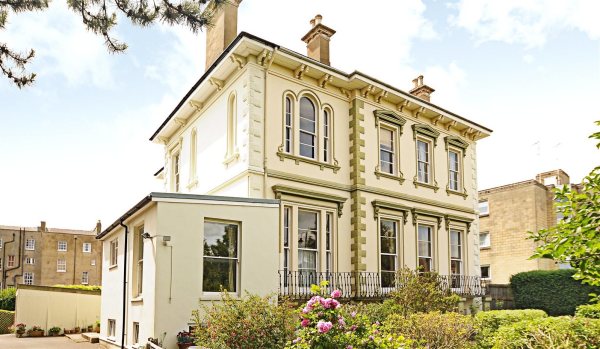 It's for this reason that a two-bedroom flat on a sought-after square or crescent in Montpellier might set you back the same as a two-bedroom flat in a fairly decent area of London. The difference here is that you will be buying a beautiful slice of English architectural heritage and more space within those rooms than you'd know what to do with.
Pittville, on the other side of the town centre, is another flagship example of a Regency-style housing and an affluent neighbourhood of the town. Top of the address list here is Pittville Lawn, a street which is lined with imposing detached period houses overlooking Pittville Park. The good news is several have been converted to flats making the area that little bit more accessible.
Among the cultural treasures you'll find in this area, is the Holst Birthplace Museum – that's Gustav Holst, The Planets composer – and the Pittville Pump Room which is a venue for concerts, shows, dances and other events.
Still at the centre of town, Battledown is another good bet if you value a good dose of English elegance in your property. Well-documented as one of the richest areas of the town, Battledown is built around charming narrow streets that pre-date the motor car. Here you'll find late Victorian and Edwardian detached and semi-detached homes, which are likely to offer more bedrooms for your money than Montpellier. There's also a range of more modern houses – usually designed in architectural sympathy – which expand to less generous budgets.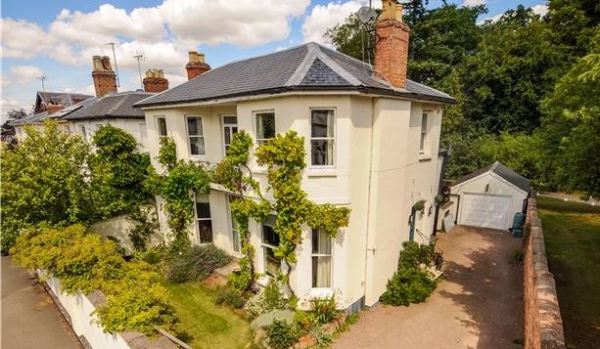 Like Montpellier, Battledown is a micro-area in its own right. You will feel as though you've stepped back in time with its independent butcher, grocer and host of quirky antique shops and cafes. But then again, if you venture just up the road towards Whaddon, there's a big Sainsbury's too which can often come in handier.
Also within a stone's throw of Cheltenham town centre and Cheltenham Spa train station, is the residential area of St Mark's. This isn't first choice for Regency-style homes, but you'll find a diverse range of property here; detached, semi-detached and terraced, much of which was built between the two great wars. Those with a keen eye might spot references to Cheltenham's Arts and Crafts movement with the quirky design details in the gables or roofs.
With the range of homes built along these wide tree-lined streets, many with generous gardens, St Mark's, as well as St Peter's just further up towards the River Chelt, is a popular choice among growing families.
Those needing a little less space might try St Paul's, which borders Pittville Park. Housing here tends to comprise mainly red brick or white terraces – again, often with a touch of artisan detail. St Paul's is also home to the University of Gloucestershire, which opened its doors very recently by Cheltenham standards in 2001.
Outer Cheltenham
The villages to the north of Cheltenham, most notably Prestbury and Swindon Village, offer the chance to buy even older property than the Regency-style homes – so long as you are willing to travel the two miles into Cheltenham town centre. Here you'll find a picturesque thatched cottages, little shops and centuries-old churches all set in agricultural land dating back to the Doomsday Book. Prestbury is also home to the Cheltenham Racecourse.
Up Hatherley on the opposite side of Cheltenham has seen considerable housing redevelopment from the post second world war years and up to the late 1990s. The result is a wide choice of affordable homes but still set within a village environment, close to the town centre – and with breathtaking views of Leckhampton Hill.
The Reddings is Cheltenham's newest and probably most affordable suburb. Having been developed by George Wimpey in the early 1950s, the area is mainly comprised of modern redbrick family homes, but is still surrounded by the greenery of the pasture farmland on which it was built. The Reddings is home to a number of mobile home sites, allotments, a large children's play centre and the Benhall retail shopping park.
Many of these outer suburbs and villages only came under the borough of Cheltenham in the early 1990s as the town expanded.
For modern new-build homes head north of the town to the village of Bishop's Cleeve, where you'll find Taylor Wimpey's Abode development.
A short drive to the south of Cheltenham is the market town of Cirencester, where you can also find a variety of commercial properties available.
Things to do in Cheltenham
There's no shortage of things do on the Cheltenham calendar. For a start, you have the famous Cheltenham Races and the Cheltenham Gold Cup, home to some of the best horseracing in the world. Between October and April, Cheltenham plays host to several racing fixtures ranging in duration from one to four days. So, there's still plenty of opportunity to avoid the tourists.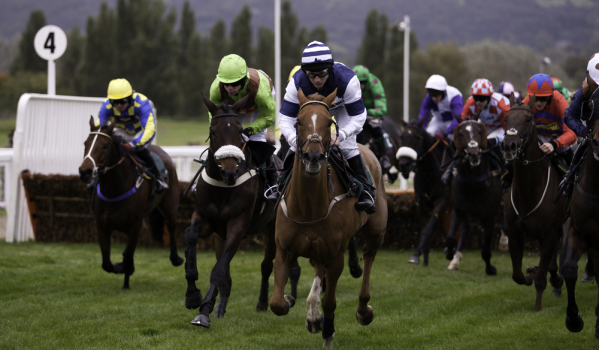 Still on the theme of very British sports, Cheltenham is home to Gloucestershire's County Cricket Club, which represents Gloucestershire within England and Wales – and even to one of the largest croquet clubs in the country.
An integral part of Cheltenham's entertainment is its annual music and jazz festivals. Having been in full swing since 1945 these festivals are among the oldest in Britain but, as is typical of Cheltenham, haven't yet been spoiled by the hand of commercialism. The same can be said for Cheltenham's Walk the Line festival, a much more recent event which celebrates traditional and contemporary poetry at various venues across the town.
There's plenty to do in Cheltenham in the rain too, such as a mooch around the Art Gallery and Museum – home to many relics from Cheltenham's Arts and Crafts movement at the turn of the last century. There's always some music or comedy to see at the architecturally-renowned Cheltenham Town Hall and Pittville Pump Room. And if it's drama you're after, Cheltenham has no less than four theatres. Cheltenham Leisure centre in Pittville Park is also has three swimming pools and a gym.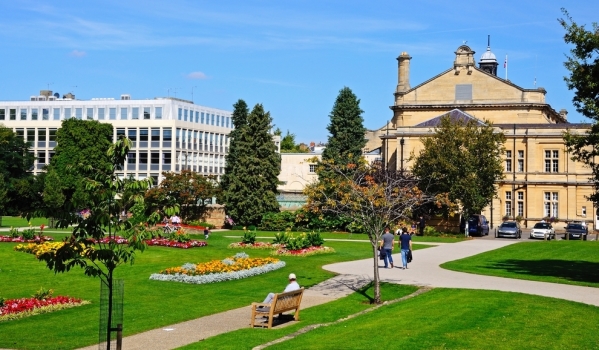 Jobs in Cheltenham
Kraft Food used to be a major employer in Cheltenham but closed down in 2011. Industry such electronics, engineering, science and food tourism continues to thrive in the town though. There are different types of job opportunities too – the headquarters of Super Group, owners of popular clothing label Superdry, is based in Cheltenham for example.
Travel in Cheltenham
While set out in the beautiful countryside of Gloucestershire, a fast train to London is only just over two hours from Cheltenham Spa train station, passing through Swindon, Reading and arriving at London Paddington. If that's too long a commute, trains to Bristol are just over 45 minutes.
With everything it has to offer, it's easy to forget that Cheltenham is actually a town and not a city and many areas are therefore accessible by foot or bicycle. But in terms of public transport, the town centre and its outskirts are well-serviced by various bus routes.
By road, the M5 motorway is easy to pick up from Cheltenham and takes you direct to Birmingham or Bristol. If you are driving to London, you can take the A436/A40 straight out of Cheltenham to Oxford, where you can meet the M40, taking you right into the west of the capital. As you might expect there is no airport in Cheltenham, although nearby Bristol offers international flights.
Weather in Cheltenham
Nestling on the west and west coast of Britain, Cheltenham has what's known as an oceanic – or 'maritime' – climate. This features a generally narrow range of temperatures, so summers will be warm, but not hot, and winters cool, but not cold. Rainfall is average for the British Isles.
You might also be interested in...