Pretty stone cottages and easy access to both London and the Cotswolds mean many house hunters fall for the charms of Banbury. Will you be one of them?
The historic town of Banbury sits in the Cherwell Valley in Oxfordshire, not far from the scenic countryside of the Cotswolds.
Much of Banbury is on a slope. At its centre is a historic core, peppered with medieval alleyways and lined with period cottages.
House prices in Banbury are also appealing compared to the rest of Oxfordshire. The current average is £318,000, well below the prices seen across the rest of the county and in Oxford itself. You can check up-to-date prices here.
Learn all about the 'City of Spires' with our essential guide to Oxford.
Living in Banbury: what to expect
The town centre is completely pedestrianised, which means you can happily meander around the streets to admire the historic architecture and take a break at one of the many pavement cafés.
Regency and Victorian cottages and houses line the streets in the heart of the town, some of which are cut from the iconic gingerbread-coloured local stone. Further out, grand Victorian terraces give way to modern housing developments.
Several parks are scattered throughout Banbury. The River Cherwell and the Oxford Canal both lie to the east of the town, offering miles of paths and trails for walking and cycling. And of course, the Cotswolds Area of Outstanding Natural Beauty is nearby.
If you do feel the need for a big city, Oxford is only a short train ride away, and London can be reached in just one hour from the local train station.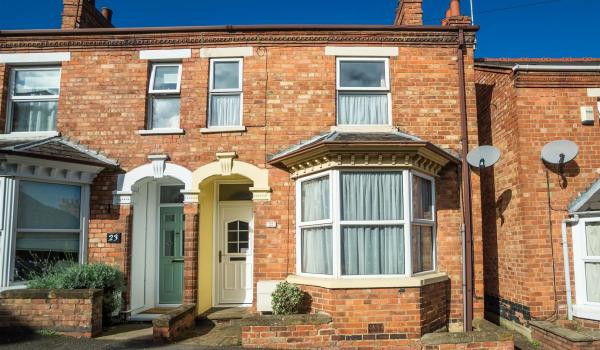 Where to start your property search
Town living: Search Queens Road for shoulder-to-shoulder terraces with arched doorways and easy access to People's Park, and Bath Road for houses with big driveways and large bay windows.
For a more substantial home, turn your attention to areas such as Newland Road and Hightown Road. Newland Road in particular has very striking Victorian properties with stucco detailing and gabled roofs.
Elegant period semis with ample gardens are available on streets such as Bloxham Road. The semi-detached homes are set back from the road offering a little more privacy.
Comfortable 20th-century houses can also be found in the town. Look to roads like Balmoral Avenue for a sizeable family home with a decent garden.
For more modern homes, opt for the south western suburbs. In Poets Corner, you'll find quiet residential streets with roomy semis and family-sized detached homes.
If you want a home that's never been lived in before, try Hanwell View, an eye-catching estate of three-, four- and five-bedroom properties by developer Bellway, just three miles from the centre of town.
If you want to be closer to the countryside, why not consider the town of Chipping Norton in the Cotswold Hills? As well as traditional country homes and cottages, there's plenty of new-build underway in the area too. Look for example at Bellway's new Cotswold Gate development. Here you'll find a range of handsome detached family homes with generous front and back gardens priced between £400,000 and £500,000.
Just across the border in Northamptonshire is the town of Brackley, where you'll find a mixture of period properties and new homes. If you're looking for something brand new, take a look at Earls Manor and Chestnut Grove at Radstone Fields.
Village living: Banbury's neighbouring villages are sought-after locations and feature Victorian cottages and Georgian houses made from the local ironstone.
The village of Adderbury also boasts honey-coloured cottages and larger homes – some with thatched roofs.
In Bloxham, which sits on the edge of the Cotswolds, there are listed cottages on Church Street and terraced Victorian town houses on Banbury Road.
And for a larger village, Deddington is a very worthwhile option, with its busy local shops and a regular farmers' market. If you want a traditional period property, look at the terraced stone cottages on Philcote Street or Market Place.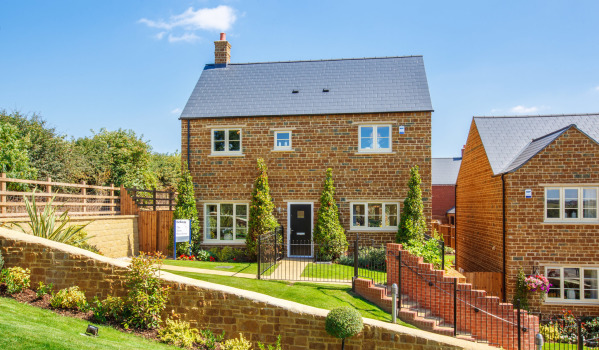 Getting around Banbury
By rail: Trains from Banbury to Oxford and London Marylebone take 20 minutes and an hour respectively.
There are also direct train services to Birmingham, Bournemouth, Edinburgh, Manchester Piccadilly, Newcastle, Oxford and Reading.
By car: Banbury is close to the M40, which connects London to Birmingham. You can reach Oxford in 40 minutes using this route.
The nearby A423 tracks north towards Coventry. Meanwhile, the A422 heads south west to Brackley and then links to the A43, in the direction of Northampton.
By air: You can catch a flight at Birmingham International Airport to more than 110 destinations. Heathrow Airport is also only an hour away by car.
Things to do in Banbury
History: Banbury has had a tumultuous history, all of which is charted at Banbury Museum. Its displays show how it developed as a market town and what impact the Oxford Canal has had on it. Exhibitions change regularly, so repeated visits are a must.
Tooley's Boatyard is the oldest working dry dock on the inland waterways and has been in use since 1790. There's a 200-year-old forge and blacksmith courses on offer too.
A short drive from the town is Broughton Castle. Most of it dates back to the 1550s but the core of the house was built in 1306. King James I and his wife Queen Anne once stayed there and it was later besieged during the Civil War.
Cultural: Banbury boasts plenty of options for a night out. You'll find venues such as The Sound Exchange and Venus Night Club along Broad Street and High Street. Another popular option is The Chapel in Horse Fair, a 19th-century former Methodist Church-turned-contemporary club with light shows, club nights and an extensive bar.
The arts are also catered for at the converted water mill The Mill Arts Centre. This 200-seat centre shows films and hosts arts, crafts, dance and music workshops.
And every June, the Banbury & District Show offers a funfair, inflatables, dog show and beer tent.
Outdoors: There's a range of green spaces in and around the town centre. The ornamental People's Park has a community garden, sensory garden, rose garden and an aviary filled with birds.
And Spiceball Country Park has play and picnic areas and plenty of wildflower meadows and woodland to explore. Nearby is a leisure centre, which has a gym, swimming pool, spin studio and squash courts.
Shopping: There is a good selection of independent shops in the centre of Banbury, and high street favourites can be found at Banbury Gateway Shopping Park or Castle Quay Shopping Centre. Both have popular stores such as Next, Marks & Spencer, Debenhams and New Look.
The traditional Banbury Market sets up its stalls in the centre of the town twice a week to sell fruit, veg, clothes, flowers and pictures. There's also an antiques market held twice a month.
Food and drink: Ye Olde Reinedeer Inn has both history and good food and drink. This traditional English pub serves real ales, bottled beer and wine as well as the famous Banbury cake (which is a little like an Eccles cake). Its Globe Room is believed to have been used by Oliver Cromwell as his headquarters during the Civil War.
The Wine Vaults is one of the many places offering refreshment with nearly 100 spirits, in addition to coffee, wine and beer. It hosts regular quiz nights, live music and DJs, and also serves up customisable 'dirty dogs' (a hot dog with all the trimmings).
Banbury also has a host of more exotic eateries. Zushi Japanese restaurant serves up traditional Asian dishes as well as nigiri, sashimi and hosomaki sushi dishes.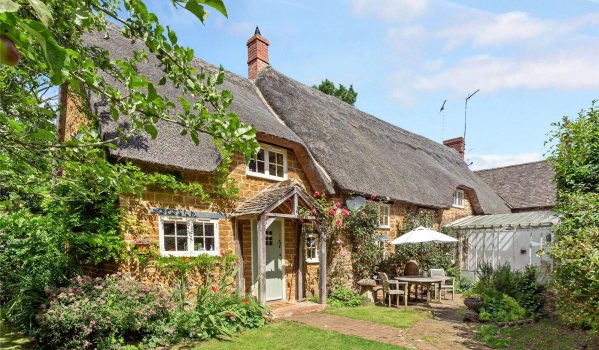 Hidden Banbury
In springtime, wander down White Lion Walk to see the wisteria in bloom. The plants are 400 years old and fill the walkway with colour when they flower.
5 reasons to live in Banbury
Good commuting to both London and Oxford

Historic town centre filled with independent shops and eateries

New housing developments

Picturesque stone cottages

Easy access to the Cotswolds
You might also be interested in...
Have you fallen under the spell of Banbury? Let us know in the comments below...