Bedford's diverse community, excellent commuting connections and Victorian influence have made it a property hotspot. Is it time you made the move?
The historic town of Bedford is one of the largest urban areas in the county of Bedfordshire. It's home to a colourful cosmopolitan community – you can find restaurants and shops inspired by cultures from all over the world, which give the town a truly international flavour.
But it still has a traditional heart. Victorian influences are most noticeable along The Embankment or in Bedford Park, the town's largest park.
Bedford sits just 50 miles north of the capital and is ideal for city workers looking to escape London expenses. So, it's no surprise that the town made its way on to our property hotspot list with one of the top 10 biggest property price increases in Britain in 2016.
The average value for a property in Bedford stands at a fraction over £300,000, although this is still considerably less than nearby Cambridge. You can use up-to-date Zoopla data to check current prices.
Want to find out more about Bedfordshire? We have a guide that can help!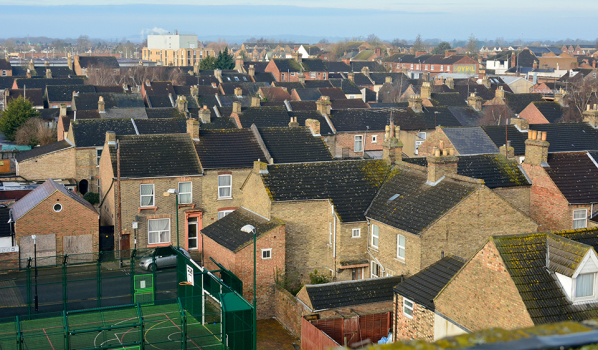 Living in Bedford: what to expect
In the heart of the town you'll find the River Great Ouse, which offers its residents the opportunity to explore by boat, kayak or canoe. In the summer, rowing regattas and the biennial River Festival draw large crowds.
Twice a week, market traders set up shop in the town centre to sell everything from Turkish pastries to toys and games. Monthly gourmet food and farmers' markets, as well as home and garden and 'handmade in Bedford' markets, also pack the centre with stalls.
You can eat out in a different country every night without ever leaving town. Indian, Italian, Thai, Greek and Cantonese food, among others, are all available – and that's just on Tavistock Street. Traditional real ale pubs are also tucked away on narrow streets or hidden in residential areas.
Queens Park is home to the Guru Nanak Gurdwara. It's the largest Sikh temple in the UK outside London and the impressive building dominates the local skyline.
The town is also scrubbing up its image. The bus station has recently been renovated thanks to a multi-million-pound investment, and the High Street is being restored with new cafés, shops and drinking holes.
Construction on Riverside North is also under way. This development will introduce new restaurants, a hotel, cinema and public square to the town.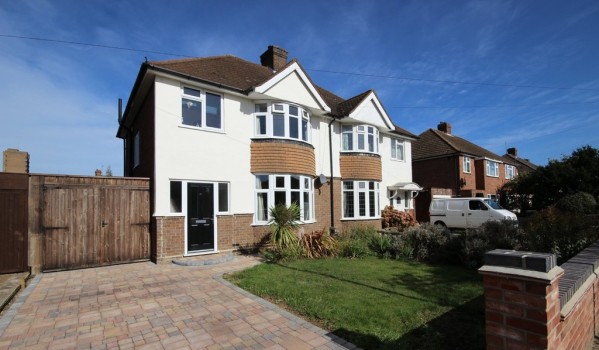 Where to start your property search
Urban: Goldington is a sought-after residential area to the east of the town centre. It's close to Waitrose and gives residents easy access to the A421, as well as the town centre. Spacious Victorian semis can be found on Goldington Road or Chapel Close, and more modest flats in purpose-built blocks are available on Goldington Green.
If you want to live on a leafy road in a sizeable Victorian property, take a look around the Poets area. Away from Shakespeare Road, the area is surprisingly quiet and contains elegant Victorian houses, some of which have been converted into one- and two-bedroom flats.
Enjoy a close-knit community in the Castle area. It has its own bookshop and gallery, while Castle Road is lined with shops and independent businesses. Turn down one of the side roads for a peaceful Victorian terrace with an arched doorway.
The Black Tom area is the place to look for 19th century terraced houses. Look on roads such as Gladstone Street for modest homes that enjoy easy access to Bedford Park.
For 60s built housing, search the Brickhill area. Roads such as Severn Way and Avon Drive have comfortable semis that are near local shops and several schools.
Pricier properties are available in the Bedford Park area and along The Embankment. Look on Pemberley Avenue for imposing Georgian and Victorian homes with big gardens, grand staircases and bay windows, or search along the river for period properties with gabled roofs and generous gardens.
New-build houses are also appearing on the market. Have a look at the new estates off Norse Road for modern two-, three- and four-bed homes.
Rural: The villages surrounding Bedford are highly popular, particularly ones to the north of the town.
Oakley sits to the north west and has old brick farmworkers' cottages along its high street. More contemporary properties are also available along roads such as Hunts Path and Grenidge Way.
The village of Bromham sits beside the river. In the centre you can find limestone cottages, but 20th century semis are available on Stagsden road.
To the west is Biddenham This is a prized area among London commuters thanks to its short walk to Bedford station. Prices are at a premium, but if you have the money you can snap up a 17th century thatched cottage or a 1930s home.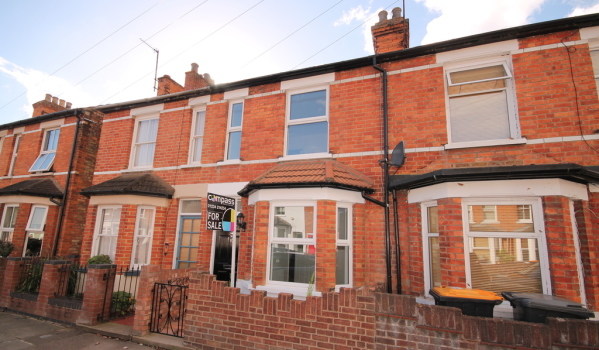 Getting around Bedford
By rail: Bedford train station offers direct services to Bletchley, Brighton, London St Pancras International, Nottingham and Three Bridges.
It takes residents an hour to reach London via the Thameslink service. However, a faster service is also available from East Midlands Trains, which can take commuters to the capital in just 30 minutes.
By car: The area is well-served by the A6, which runs from Carlisle to London. To the east is the A1, which is accessed via the Black Cat roundabout, and to the west lies the M1.
Cambridge can be reached in 40 minutes via the A428/A45, whereas the A428/A421 can take you to Milton Keynes, Buckingham and Oxford. For Hitchin, take the A600.
By air: London Luton Airport is just 45 minutes away by car. Fly to destinations such as Copenhagen, Rome, Belfast and Madrid with operators like Ryanair and easyJet.
For more destinations, Stansted can be reached in 80 minutes, while it's a 90-minute journey to Heathrow.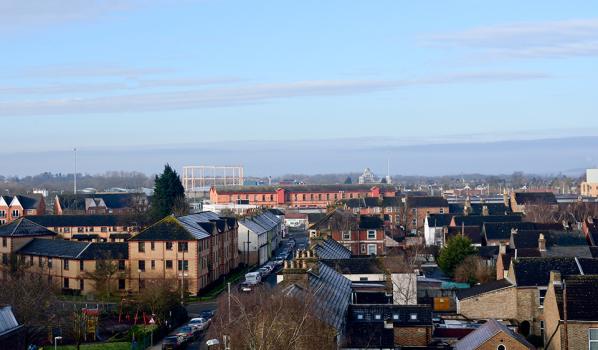 Things to do in Bedford
History: Bedford is home to the John Bunyan Museum and Library, where visitors can learn about the author and preacher, as well as discover what life was like in the 17th century. Bunyan became famous for writing The Pilgrim's Progress, which he wrote in the 1660s while he was imprisoned in Bedford jail after refusing to stop his non-conformist preaching.
The Higgins Art Gallery and Museum has recently been refurbished with modern interactive exhibits. It offers the opportunity to admire the art of the Cecil Higgins Collection before studying the archaeology and social history of Bedford in the museum.
Cultural: The Eagle Gallery is filled with the work of dedicated local artists. Here you can see pottery, stained glass and collage work. Exhibitions change monthly, and you can even become a member and have your own art displayed.
For entertainment, check the calendar of the Bedford Corn Exchange. It's Bedford's largest entertainment venue and hosts regular comedy, theatre and musical acts. It's also one of only two UK residencies of the London Philharmonic Orchestra outside of the capital.
You can show your support for local theatre at The Place. This intimate theatre is entirely run by volunteers and showcases the work of local theatre groups. You can also catch a show or exhibition at the new Quarry Theatre.
Sing along with your favourite bands at Esquires, an independent music venue. The main stage only has capacity for 250 people but notable bands such as Muse and Coldplay have performed here.
Outdoors: By day you can admire the floral displays on The Embankment along the River Great Ouse, but at night you can admire the lights on Town Bridge.
Bedford Park is the perfect spot for feeding the ducks or walking the dog. This Victorian park has a large pond with fountains as well as tennis courts and a cricket pitch. If you need a break, you can enjoy a coffee and a slice of cake at The Pavillion. Make sure you check out the art exhibition while you're there.
Enjoy a quiet walk and some bird watching at Priory Country Park. It holds a Green Flag and is the perfect setting for a stroll. You can also fish and boat in the marina – keep an eye out for the large pikes that patrol the water.
Shopping: There's no shortage of independent and mainstream shops in both the High Street and Silver Street, but Bedford's three shopping arcades hold plenty of variety as well.
The Harpur Centre is the largest with 36 stores. It's all undercover so you can shop your way through New Look, Argos, Boots and Primark without having to brave the weather. Alternatively, have a browse through the independent shops in The Arcade or Church Arcade. Don't miss the samosas and parathas sold by Baker's Best.
Markets are a central part of local Bedford. Alongside its regular stalls, it plays host to annual events such as the Christmas Victorian Market which occupies the whole of the town centre.
Festivals: If you're a fan of the big screen, catch a film shown during Bedford Film Festival. Alongside mainstream films are screenings of work made by fledgling film-makers, so you could be seeing the work of future stars.
The town also plays host to an International Kite Festival, a free event that showcases kites from all over the world and offers workshops for both children and adults. The biennial River Festival is also a highlight of the Bedford calendar. A carnival parade, boat races, food stalls, live music and a firework display are just some of the features of the free festival.
Food and drink:
If you wander down the spiral slope in the middle of the Harpur Centre you'll come across The Harpur Coffee Co, a hidden gem with plenty of tantalising treats.
The luxurious surrounds of The Swan Hotel offer a sophisticated setting for afternoon tea at £19.95. Ask for a table near the window to enjoy views over the river.
For pre-dinner drinks, meander down to The Flute, a cosy wine bar tucked down an alley off the high street. Here you can enjoy a glass of wine or a cocktail, but you'll need to be over 21 to gain entry.
Top of the restaurant rankings is St Helena, which serves a British and European menu in a beautiful country house just outside the town centre. For Thai food, try Rice Thai Restaurant. Their specials are particularly appetising – try tamarind duck or, if you're feeling brave, opt for 'weeping tiger'.
For a pub with an ever-changing selection of real ale and cider, try The Wellington Arms. It's affectionately known as 'The Welly' by locals, and is tucked away in Bedford's backstreets.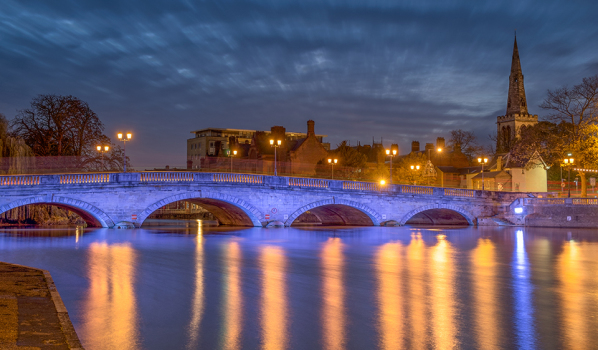 Hidden Bedford
The Cardington sheds are two enormous former RAF hangers with a history of airship manufacturing.
More recently they have been used for various film and television productions, including Christopher Nolan's Batman trilogy, Top Gear and Rogue One: A Star Wars Story.
4 reasons to live in Bedford
Excellent commuter links to London, Cambridge and Oxford
New regeneration projects
Wide variety of old and new property
A great choice of theatres, real ale pubs and independent live music venues
Why are you looking for a home in Bedford? Share your reasons with us in the comments below.