The sought-after flat and green county of Cambridgeshire offers country living, plenty of culture and fast access to London.
Cambridgeshire combines ancient architecture and culture with a penchant for scientific and cutting-edge technology – all with a good helping of countryside on its doorstep. And with the county town of Cambridge only an hour away to London by train, it's no wonder the area is often ranked as one of the best places to live in the UK.
Living in Cambridgeshire: what to expect
With the internationally-renowned university city of Cambridge at the heart of the county and two cathedral cities of Peterborough and Ely to the north, Cambridgeshire is brimming with history and culture.
The draw of Cambridge as a business, research and cultural centre has had a ripple effect on demand for houses all over the county. Faster trains into London now within the 'magic' one-hour commute time have also pushed house prices in Cambridgeshire well above the national average.
On the downside, if you're driving, bear in mind that even the trunk roads around Cambridge can grind to near standstill at peak times. But if you don't have to commute by car, or only have to go short distances, the area is very cycle-friendly.
Away from the urban centres, in the Fens around Ely, which were drained for agriculture and building, you'll still find the occasional windmill and a food and farming culture.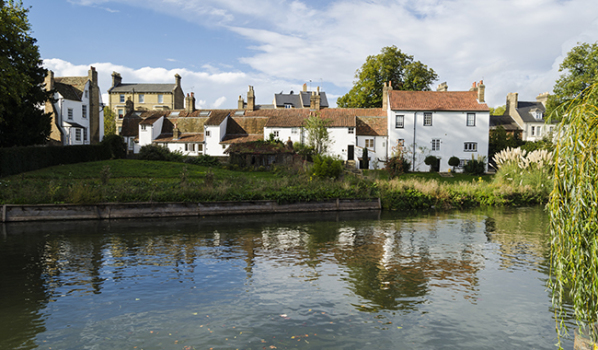 Where to start your property search
Cambridge itself is a property hotspot, thanks to the university, two world-class hospitals – Papworth and Addenbrooke's – and the science parks and research centres that draw in companies like AstraZeneca.
Set on the River Cam, Cambridge was ranked in the top 10 best cities to live in the UK by readers of The Daily Telegraph and the suburb of Newnham regularly ranks highly in The Times' annual 'best place to live' polls too, thanks to its local butcher, baker, village store and post office.
But property in Cambridge sells at a premium – especially the well-heeled period homes in pockets such as De Freville Avenue, Chaucer Road and Latham Road. None of these are on the market for long.
But you don't have to opt for a period home to live close in to Cambridge city centre. New apartments and modern villas have been built in Glebe Road, Long Road and Babraham Road, among others. But you'll still need deep pockets to meet asking prices.
The medieval city of Ely is another of Cambridgeshire's gems. It's also fast expanding to accommodate demand to live in the region. Like Cambridge, one of the city's most attractive natural features is its riverside location. Another is the cathedral, known as the Ship of the Fens, as it appears to rise from the flat land and can be seen for miles.
If you need quick access to the region's roads, look to the outskirts of Ely at new developments including Cam Drive or in and among the established homes of Downham Road. Both areas offer easy access to the A10.
Ely also offers some developments brownfield sites within the city centre. Cardinals Way for example, offers a range of modern homes within walking distance of shops and the train station. For traditional terraces, check out Cromwell Road and Waterside.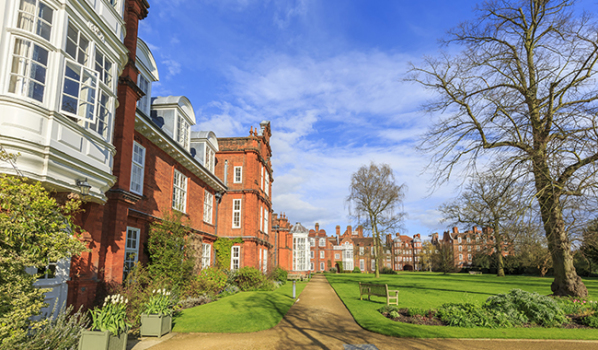 Peterborough, once part of Northamptonshire, is another option within Cambridgeshire. It's a fast-expanding but still affordable city with a wide choice traditional homes situated a stone's throw from the train station.
For bay-front terraces, consider areas such as West Town and the streets around Aldermans Drive. If you have a larger budget, Thorpe Avenue is full of established estates of larger family homes.
There's plenty more house building going on throughout Peterborough though which is always worth considering. Some of the newest homes can be found on the old Peterborough District Hospital site on Thorpe Road.
Newly-built Cambourne, nine miles east of Cambridge, is a particularly suitable option for families. Built around 10 years ago and still under development, it comprises three villages; Great, Lower and Upper Cambourne. Taylor Wimpey's latest devlopment in Upper Cambourne offers two, three, four and five bedroom homes. By the time it's complete, 4,000 new homes will have been built in Cambourne, alongside its own schools, business parks, shops and leisure facilities.
In the west of the Cambridgeshire, you'll find the medieval town of St Neots, which is one of the fastest-growing towns in England. For brand new homes take a look at the Papermill Lock development in Little Paxton, which sits just to the north of St Neots. Its proximity to the A1 makes it popular for commuters to London and to Peterborough, while Milton Keynes and Bedford are also easy to access from here.
The village of Melbourn, 10 miles south of Cambridge, with its own large science park is another pin to put on the Cambridgeshire map. Once known for its huge number of thatched cottages, the village has now expanded to include modern developments such as Armingford Crescent. The area is popular with families, thanks to its good schools and facilities.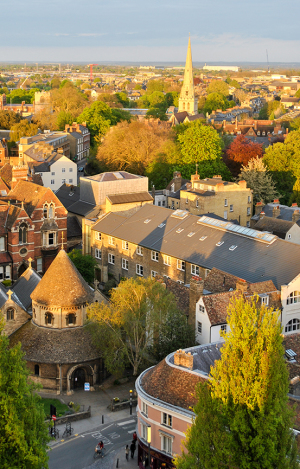 Getting around Cambridgeshire:
By air: The international airport at Stansted is within an hour's train journey of Cambridge. Luton, Heathrow and Gatwick airports are two hours away by train.
By road: The A1(M), M11, A11 and A10 are the main routes into London and the Midlands from the Cambridgeshire. East to west, the A14 links Cambridge, Kettering, Ipswich and the port of Felixstowe.
By train: Fast services from both Cambridge and Peterborough direct into London Kings Cross take an hour – as do services from Cambridge to London Liverpool Street. Peterborough to Edinburgh Waverley by train will take four hours and Ely to Birmingham New Street, two hours 30 minutes.
Things to do in Cambridgeshire
Culture: With their fine gothic architecture, the colleges of the University of Cambridge dominate the city centre, but some of the newest buildings win design awards too. The 'Backs' of the colleges, along the River Cam are as spectacular as their city facades. Take a punt along the river to enjoy them at their best.
The exhibits at the Fitzwilliam Museum rival many of London's collections and the city's public art is also uplifting. Look out for the giant grasshopper devouring time; officially known as the Corpus Clock, it's on Trumpington Street.
Cambridge Corn Exchange is one of the UK's top live venues, drawing in bands such as the Stereophonics, well-known comedians including Bill Bailey and putting on classical concerts with the likes of the Royal Philharmonic Orchestra.
Ely's astonishing cathedral draws thousands of visitors into the city each year. The building hosts the only stained glass museum of its kind in the country. If you're a fan of Civil War history, Oliver Cromwell's Ely home, which is open to the public, is a must-see. From the house, take a walk along the Ely Eel Trail (how the city got its name) across Jubilee Gardens and Cherry Hill Park.
Tudor history lovers can pay a visit to Peterborough Cathedral where both Catherine of Aragon (the first wife and queen of Henry VIII) and Mary Queen of Scots are buried.
There are many grand houses within Cambridgeshire that open to the public. The National Trust property of Anglesey Abbey has a spectacular collection of clocks, sculpture and art, including a Canaletto.
As you might expect given the region's academic connections, Cambridgeshire has been home to a number of poets and writers. Visit John Clare's cottage in the village of Helpston, where you can read his poetry before settling down with a pint of beer in the nearby Exeter Arms pub.
One of Huntingdon's most famous sons is diarist, Samuel Pepys. Grantchester on the River Cam, is famous for its Old Vicarage. Once home to poet Rupert Brooke, it's now owned by novelist Jeffrey Archer.
The historic Duxford airfield, now part of the Imperial War Museum, exhibits Concorde, Lancaster and Spitfire aircraft among many others. The museum puts on regular air shows and flying displays featuring some of the rarest planes in the world.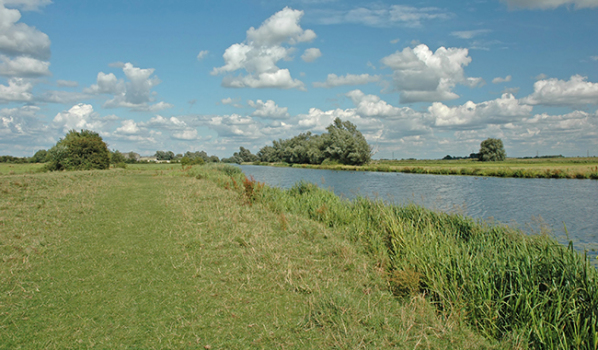 Shopping: Shopping in Cambridge itself takes some beating. Much of the city centre is car-free, though not all streets are pedestrianised. But by far the best way to get around is to park and ride and bus services, or to cycle (bikes are super-easy to hire) or simply go on foot.
At the heart of the city, the market is a great place to source vintage clothing, quirky gifts and pop-up street food stalls. Three big shopping centres and broad streets draw in the crowds, but if you step down a side alley or get away from the main thoroughfares you'll find specialist shops such as artisan leather maker Ian Stevens, record shop Lost in Vinyl and Bridge Cycles.
In Ely, the markets are a feature of the city's shopping experience. Besides a general market on Thursdays, there's a twice-monthly farmers' market and a Saturday craft and collectibles market. Watch out for specialist markets held on other days.
The more mainstream Queensgate shopping centre in Peterborough houses around 90 stores with enough parking for more than 2,000 cars. For independent stores head for the Rivergate shopping centre.
Food and drink: You can still buy smoked eels at Ely – pick some up at the farmers' market or order eel pie or eel stew at one of the city restaurants.
In Cambridge, Fitzbillies is THE place to go for buns, cake and coffee or afternoon tea. Head there on Thursday, Friday and Saturday evenings from 6pm for the restaurant menu.
For gourmet dining, Alimentum, Cotto and Midsummer House Restaurant all have a coveted Michelin star rating.
Track down the Michaelhouse Café, set within St Michael's church on Trinity Street, to enjoy a peaceful lunch or morning coffee away from the hustle and bustle of Cambridge's streets.
Hidden Cambridgeshire
Wicken Fen nature reserve is home to some of the rarest species of wildlife and plants in the UK. An estimated 700 different types of butterflies and moths live at the site.
5 reasons to live in Cambridgeshire
Live among the academic elite

Fine architecture – from ancient to modern

Fast connections to London by road and rail

Flat for cycling

Lots of new-build homes to choose from
You might also be interested in...