Situated on the edge of the Cotswolds, the charming town of Cirencester boasts period properties galore, boutique shops and manicured gardens.
Cirencester is a bustling market town in Gloucestershire. Dubbed the 'Capital of the Cotswolds', it sits on the edge of the Cotswolds Area of Outstanding Natural Beauty.
This quintessentially English corner of the country is known for its genteel way of rural life, with its lively markets, boutique shops and cafes, charming greens as well as its honey-coloured cottages and townhouses.
The cost of a home here can be high. The current average house price is £389,000, a cut above the average for Gloucestershire as a whole. You can take a look at the latest data here.
Living in Cirencester: what to expect
Traces of Cirencester's history in textile production can still be seen in the weavers' cottages scattered around the town centre – but its older origins as a major Roman town have not been forgotten. Ruins and earthworks dating back to the Roman occupation lie on the outskirts of the town.
At the heart of Cirencester is its historic market place, which is flanked by houses and shops cut from the iconic golden-coloured stone. The market, which was mentioned in the Domesday Book, continues to trade every Friday.
There is a mixture of independent shops and cafes and high street favourites tucked away on the town's narrow, winding streets. But if it's big city entertainment you're after, Bristol, Bath and Oxford can all be reached in less than 90 minutes by car.
The schools in the area come with good ratings. Powell's Church of England Primary School and Stratton Church of England Primary School were both 'outstanding' at their last Ofsted inspections.
Meanwhile, the Cotswolds covers 800 square miles and is renowned for its wildflower meadows, historic buildings and attractive hamlets.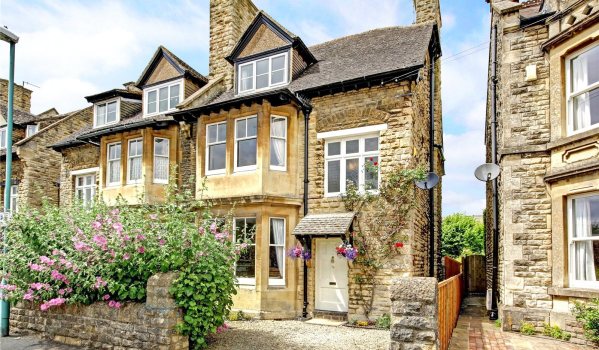 Where to start your property search
Town centre: Take your pick from bijou cottages, converted barns and elegant Victorian townhouses, many of which are made out of the coveted amber-hued stone.
If your heart is set on a stone-built Victorian townhouse, take a look at the terraced ones close to the market place. They boast bay windows and high ceilings (but also have high price tags). Alternatively, visit Chester Street, where listed houses have generous gardens and views over St Michael's Park.
More modest Victorian properties, with two bedrooms, open fireplaces and long narrow gardens, line streets such as Purley Road. And three-bedroom terraced houses, fronted by traditional stone walls, are on Cheltenham Road.
Former weavers' cottages are fairly easy to find. And some have been knocked together to form more luxurious homes, such as those on Gloucester Street. They often boast period features, including exposed beams, large fireplaces and high ceilings.
If you are looking for a more modern property, substantial family homes are available on Abbey Way. These properties have generous gardens and many overlook the green in front of the River Churn.
Chesterton Lane is also home to sizeable detached homes. Although pricey, these homes have spacious living areas and decent gardens. Similar 20th-century homes can be found on Cranhams Lane and Blue Quarry Road.
There are new housing developments coming out of the ground too. Pembroke Park on the outskirts of town has a selection of three- to five-bedroom properties, many double-fronted, and all of which have stone exteriors and open-plan living.
If your budget is less flexible, consider an apartment at Rivercourt or The Walled Gardens in West Way.
Suburbs: The suburbs of Stratton and Watermoor are both sought-after residential areas a short distance from the town centre where you can find a variety of housing. You may also want to take a look at The Beeches and New Mills, as well as the village of Siddington for more options.
Looking for commercial property in Cirencester? Start your search here.
Getting around Cirencester
By rail: Despite its size, Cirencester does not have its own train station. But you can travel to the nearby station of Kemble, which has services to Cheltenham Spa, Swindon and London Paddington. Trains to London run hourly and take 90 minutes.
By car: Living in Cirencester puts you within reach of several 'A' roads. The A417 takes you to Gloucester, while the A435 and A429 connect you to Cheltenham and Warwick respectively. To reach Bristol and Bath, you can follow the A433, and to reach Stroud you can take the A419.
By air: Bristol Airport is the closest airport and can be reached in one hour and 15 minutes by car. From here, you can access both domestic and international flights to destinations including Aberdeen, Jersey, Innsbruck and Berlin. Alternatively, you can drive to Birmingham Airport, which is just 90 minutes away.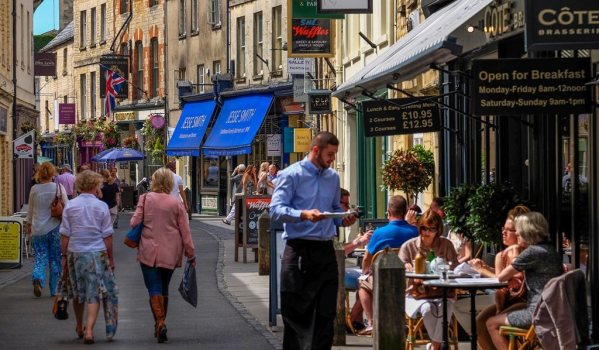 Things to do in Cirencester
History: The Corinium Museum is home to an extensive collection of Roman artefacts. The museum delves into the town's past as the second largest Roman town outside of London and follows its development to the present day. Civil war coin hoards and prehistoric tools are also on display.
The ruins of a Roman villa from the fourth century have been preserved in nearby Chedworth and you can now see its mosaics by following a state-of-the-art walkway. You can also head to the outskirts of Cirencester to see the earthwork remains of an amphitheatre, one of the largest in Britain. It was built in the early second century and could hold 8,000 spectators.
The Abbey Grounds mark the site of St Mary's Abbey, an Augustinian institution that was demolished during the Dissolution of the Monasteries. You can walk around the wooded grounds and admire the Norman arch, which is the last remaining part of the abbey.
Cultural: The Sundial Theatre can seat up to 275 people for a comedy act, musical performance or film, but the real art hub is found at New Brewery Arts. This centre has a theatre, craft shop and art gallery as well as 12 on-site crafters, including a book binder and glass blower. You can watch the artists at work or take part in a course or workshop.
Outdoors: Explore the Cotswolds' woods, meadows and gardens as well as its hidden hamlets and towns on foot, by bicycle or on horseback.
Cirencester Park covers 3,000 acres and is the home of the Earl of Bathurst. This landscaped park was designed by the first earl and his friend, the poet Alexander Pope, and features forested avenues and Gothic-style follies. If you like polo, make sure you book tickets to see one of the matches held on the park's famous polo fields.
Shopping: The town's main shopping areas include Dyer Street, Cricklade Street, Castle Street and the market place, where you can find a mix of boutiques and popular national stores, such as Boots.
There's also Bishops Walk, the only covered shopping centre in the town, which has independent shops such as Cotswold Artisan Coffee and Bramleys the greengrocer.
And the Corn Hall hosts regular craft fairs and food markets. You can buy anything from plants to wicker baskets and outdoor furniture at the weekly market on Friday.
Food and drink: Indian Rasoi serves contemporary and traditional Indian cuisine. Try chef specialties such as green coriander chicken and honey-roasted spicy lamb, or opt for a British favourite such as chicken tikka massala.
Take your pick from a menu of Cotswold lamb, Broadway ham hock terrine and Devon crab (and an extensive wine list) at Jesse's Bistro.
And if you're fond of traditional pub food and ale, head for The Crown of Crucis. The pub always has a range of local cask ales, ciders and lagers and a menu that includes rustic favourites such as pot-roasted pheasant.
Hidden Cirencester
Venture into the grounds of the Cotswold District Council offices to see the Cirencester Lock-up. This small two-cell building was built to house criminals and was then moved to its current position to form part of a Victorian workhouse.
5 reasons to live in Cirencester
Proximity to the rolling hills of the Cotswolds, an Area of Outstanding Natural Beauty

Honey-coloured period cottages and townhouses

A wealth of independent shops

Country pubs

Good road connections
You might also be interested in...
Have you been charmed by Cirencester? Let us know what appeals most to you in the comments below.