Steeped in history and culture, Edinburgh is at the top of the list when it comes to quality of life.
The perfect location for history buffs, golf enthusiasts, culture seekers, adventurers and explorers, Scotland's resplendent capital is a hub of heritage. And its within easy reach of countryside, hills and coastline. If you're thinking of buying property in the area, read on to find out more...
What to expect when living in Edinburgh
Claiming the number one spot in the 2015 Quality of Life Index from uSwitch, Edinburgh is widely recognised as the UK's best city to live in.
Reasons for its first place ranking included low petrol and energy prices, affordable living costs versus high average salaries (£29,588 a year in 2015). It also has the lowest recorded crime rates in the UK – and even faster-than-average broadband speeds.
Edinburgh's Old and New towns are UNESCO-listed with awe-inspiring architecture and beautiful surrounding natural landscape. All good news for anyone considering relocating to the area.
Exploring houses for sale in Edinburgh
There is a wide range of property styles and prices in and around Edinburgh. The neoclassical 18th-century terraces of the New Town, now mostly converted to flats, duplexes, maisonettes and townhouses, are generally the most sought-after.
Unsurprisingly, Heriot Row, the Royal Circus and Moray Place, among other areas to the north of the main shopping streets of Edinburgh, command high prices, but offer a location and a level of luxury that's second to none.
The city centre – primarily the Old Town – is also popular with students, as well as areas surrounding Edinburgh's many universities, which enjoy good transport links, plenty of amenities and a lively atmosphere.
Meanwhile, the spacious Victorian and Edwardian villas and flats of suburban areas such as Morningside, Inverleith and Cramond, and the many modern developments that can be found in the city and springing up around its outskirts (especially to the east), are a popular choice for families.
New-build homes are also up for grabs in Edinburgh, although if you're looking for new houses you will probably have to look towards the fringes of the city. Try the Ashgrove Fields development in Loanhead for four and five-bedroom detached homes.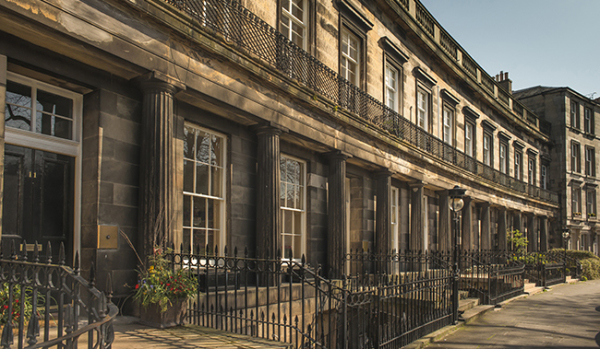 Property investment in Edinburgh
Those looking for a buy-to-let investment would be well advised to consider the city centre, as there is no shortage of students and professionals seeking accommodation in the vicinity of the universities and financial district.
Similarly, nearby Newington, with its Georgian townhouses, and the affluent Marchmont, which boasts a range of 19th-century buildings with fine period features, are both desirable areas for rental property, and are well-served by cafés, bars, restaurants and transport links.
A village atmosphere in the city
Despite being located within the city limits, Bruntsfield has a distinctly village-like feel. A thriving community with an abundance of independent, locally-managed shops. These include a barbers, butchers, fishmongers, greengrocers, jewellers, restaurants and several coffee shops.
The area also boasts striking architecture, leafy streets and plenty of green spaces. This includes the famous Bruntsfield Links – now one of Scotland's few remaining free public golf courses.
Being just a 20-minute walk from the city centre, Bruntsfield is also remarkably well situated, whether you prefer to travel on foot or by public transport. It's also worth bearing in mind that some of the properties in the area offer magnificent views of Arthur's Seat, the main peak of the group of hills that soar above the city.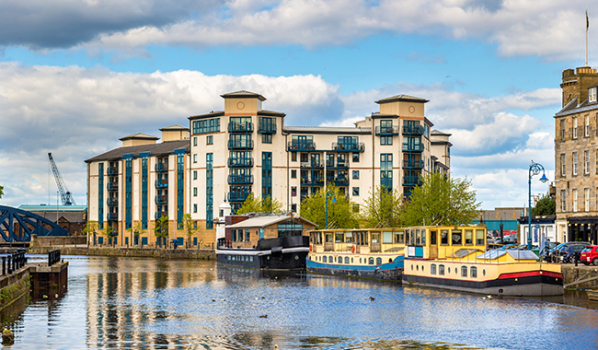 Things to do in Edinburgh
As an Edinburgh inhabitant, you're unlikely to ever be short of diversions. Historical attractions of the city centre include the Palace of Holyroodhouse, Her Majesty the Queen's official Scottish residence; the imposing edifice of Edinburgh Castle; and the Old Town's labyrinth of cobbled lanes, underground streets and tunnels, and unexpected nooks and crannies.
There are also plenty of art institutions and museums, such as the Scottish National Gallery, the Scottish National Gallery of Modern Art, the Museum on the Mound, the National War Museum and the Museum of Edinburgh. Other attractions include Edinburgh Zoo, the Royal Botanic Garden, and the many theatres and concert venues.
A city of culture, Edinburgh is also known for events such as its Fringe Festival, Film Festival, Jazz & Blues Festival, International Festival and Hogmanay celebrations.
The city centre has a fantastic retail offering, with luxury brands, high-street stores, independent shops and market stalls all within walking distance. Princes Street, St James Shopping Centre, the Royal Mile, Victoria Street and George Street are among the most popular shopping destinations, as well as suburban retail areas such as Morningside.
Golf enthusiasts will find themselves within easy reach of more than 50 courses in the south east of Scotland, including Muirfield, Gullane No 1 and Craigielaw, and those seeking to escape for some peace and quiet, some sea air, a leisurely ramble or something more adventurous will find inspiration in the nearby Lothians.
Finding jobs in Edinburgh
Edinburgh is best known for its financial centre, with the largest employers including the Royal Bank of Scotland, Standard Life, Virgin Money and Lloyds Banking Group.
But there's also a thriving technology sector – Amazon chose the city for its first European software development centre, and other international companies such as Dell and Adobe have a presence there.
Oil and gas is one of Scotland's biggest industries, and Cairn Energy has its headquarters in Edinburgh. The city is also well known for its educational establishments, and as a holiday destination with thriving hospitality, retail and tourism sectors.
There is also a growing list of home-grown start-ups seeing success – some on an international level. The flight, hotel and car hire comparison site Skyscanner, for example, was co-founded by Gareth Williams in the city, and owes much of its growth to its links with the computer science department at Edinburgh University.
Bruno Coelho / Thinkstock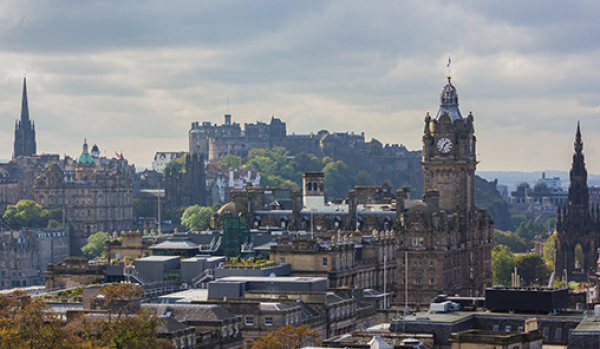 The infrastructure in Edinburgh
A compact city where everything is within walking or cycling distance, there is relatively little need for transportation if you are living in the centre. However, there is a well-developed bus service for suburban dwellers and people with limited mobility, while commuting by train is a popular option for those living further afield. There is also a high-speed rail service between Edinburgh and London.
By road, aside from a series of motorways, the A1 links Edinburgh directly with London. The city is connected with Perth via the M90, and with Dundee and Aberdeen via the A90.
Unfortunately, Edinburgh is ranked as the fourth most congested city in the UK according to the TomTom Traffic Index 2015, but work is being carried out to help ease the strain on the roads, including the construction of a new tram line.
Edinburgh Airport was ranked the busiest airport in Scotland and the sixth busiest in the UK in 2015, handling 11.1 million passengers during that year. Offering flights to destinations in the UK, Europe and beyond, major airlines include Flybe, EasyJet, Ryanair, British Airways and Thomson Airways.
Finding the best schools in Edinburgh
A university city, Edinburgh is renowned for the quality of its educational institutions. It has four universities, the longest-established being the University of Edinburgh. Founded in 1582, it's the sixth oldest university in the English-speaking world and it owns many of the buildings in the Old Town.
Meanwhile, Edinburgh's Royal College of Surgeons is one of the world's oldest medical professional institutions.
Overall, Edinburgh's universities and colleges offer a wide variety of further education opportunities across key industry sectors and a vibrant environment in which to spend student years.
There are also plenty of excellent primary and secondary schools to pick from. Try visiting the Education Scotland website, which allows you to search by school type, funding type and location. It also provides lots of useful information about the education system in Scotland.
Best kept secrets in Edinburgh
The surprisingly little-known Water of Leith river that winds through Edinburgh offers a secret escape from the hustle and bustle of the city.
The Water of Leith Walkway runs alongside the river from Balerno to Leith, with beautiful scenery to explore along the way.
It also passes through the picturesque Dean Village, a five-minute walk from Princes Street, which, for more than 800 years, was a major grain-milling area.
Best pubs for Sunday lunch in Edinburgh city centre
For a hearty roast meal, why not head to one of Edinburgh's many hidden gems?
The Antiquary on St Stephen Street, the Sheep Heid Inn on The Causeway, and The Queens Arms on Frederick Street are all off the beaten track. And each have a cosy atmosphere and mouthwatering menus. Enjoy!
You might also be interested in...