Commuter connections, historical towns and villages and open countryside have put Huntingdonshire on the house-hunting map.
Huntingdonshire is a now-defunct historic English county best known as the birthplace of Oliver Cromwell. Its key towns include Huntingdon, St Ives, Godmanchester, St Neots and Ramsey.
Where is Huntingdonshire?
The former county of Huntingdonshire is now a district of Cambridgeshire on the borders of Bedfordshire and Northamptonshire. Its county town is Huntingdon, which sits on the crucial link between the A1 and the A14.
These roads connect the county to Peterborough, Cambridge, Ely and London, which is why it's become a particular favourite of commuters. It also has great train connections with Huntingdon to London taking just one hour.
Having such high commuter interest has made Huntingdonshire a good place to invest in property. As a result, prices have been pushed up, with the average in towns such as Huntingdon hovering at £300,000. Still, this is a saving from London, which has average house prices in the region of £656,000. You can check the latest prices here.
Want to learn more about the area? Take a look at our guide on Cambridgeshire.
Living in Huntingdonshire: what to expect
Huntingdonshire is packed with historic towns and characterful villages, particularly in the south of the county. Country houses, thatched cottages and Victorian architecture are easily found on main roads and high streets are bursting with boutiques.
Weekly markets and farmers' markets are also held in historic marketplaces. For more shopping, residents can make an easy car or train journey to retail hotspots such as Cambridge.
Outdoor activities are well within reach. Rivers such as the Great Ouse provide locals with riverside walks and canoeing and kayaking trips. Large lakes such as Grafham Water also offer a choice of watersports.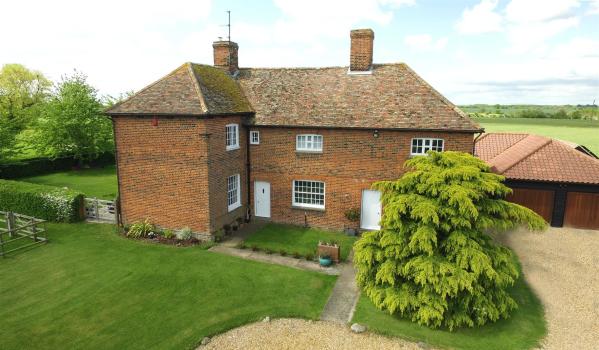 Top places to start your property search
Towns: Houses for sale in Huntingdon are snapped up quickly thanks to its excellent road and rail links to London. Close to Huntingdon station are new estates with brand new executive homes with attached garages. Take a look at roads such as Scholars Avenue and Christie Drive for examples.
Closer to Huntingdon town centre are Victorian houses. You can find two up, two down Victorian terraces with small bay windows on streets such as Euston Street, Victoria Square and Hartford Road.
Alternatively, look to the area of Hartford. This village has now been absorbed by Huntingdon but has some desirable historic houses on streets such as Sapley Road and Main Street.
St Neots is a good area to invest thanks to its train station. St Neots properties include post-war houses and new developments. Take a look at Manor Park in Eynesbury and Love's Farm for contemporary family homes tucked down quiet cul-de-sacs.
Plenty of post-war homes are also available in Eaton Ford, which is now part of St Neots. Pricy period properties with exposed oak beams and large gardens can also be found down streets such as St Neots Road.
Ramsey is a quintessential market town. Its centre is largely unaltered from the 1900s, which gives homebuyers and renters a good choice of properties from the 1920-30s. Plenty of attractive inter-war houses can be found on Whytefield Road and Hollow Lane, some of which have eye-catching mock-Tudor details and stained-glass windows.
Ramsey's Church Green has some of the most alluring historical homes, including Victorian cottages decorated with ivy. Grander detached Victorian homes can be found hidden behind the trees of streets such as Bury Road.
If you'd prefer a smaller, quieter town, take a look at houses for sale in St Ives. The town offers good road links to the north, south, east and west towards the likes of Huntingdon and St Neots, but its sought-after period homes and smaller size have increased its house prices.
If you have the budget, take a look at former coach houses and town houses on The Broadway. Several were built in the 18th century and some properties have their own moorings. For Victorian town houses with arched doorways, open fireplaces and high ceilings, look around the Old Riverport area.
Villages: Just across the River Great Ouse from Huntingdon is Godmanchester. Houses for sale in Godmanchester include striking pastel-coloured cottages built in the 16th and 18th centuries.
A large part of the village is covered by a conservation area, which means you can find many fine houses on roads such as Post Street, Earning Street and Causeway. Many of these homes have extensive gardens that run down to the river.
Brampton is popular thanks to its proximity to Grafham Water. It has a village green at its heart but its housing market tends to be dominated by new developments. You can pick up a large family home on roads such as Riddiford Crescent.
One of the best places to live is Hemingford Abbots. This desirable village is characterised by its thatched cottages – Royal Oak Lane is a great place to look for examples. For something more substantial, search along Common Lane for grand homes with river frontages.
Best ways to get around Huntingdonshire
By rail: Huntingdon and St Neots train stations run regular services to the capital and Peterborough. Huntingdon to London King's Cross takes an hour, whereas Peterborough can be reached in less than 20 minutes.
By car: Huntingdonshire is well connected by road. The A1/A1(M) runs north to south through the county. Following the road north takes drivers to Grantham and Newton-on-Trent; follow it south to reach London. Huntingdon to London by road takes 75 minutes.
The A14 connects the county to Cambridge. The A14 can also be used to link to the M11 to the south, which is London-bound. Bedford can be reached via the A1 and then the A421.
By air: Huntingdon to Stansted Airport takes just over an hour by car. Operators include easyJet, flybe and Ryanair, which fly to locations all over Europe. Alternatively, residents can drive to London Luton Airport, which is also around an hour away.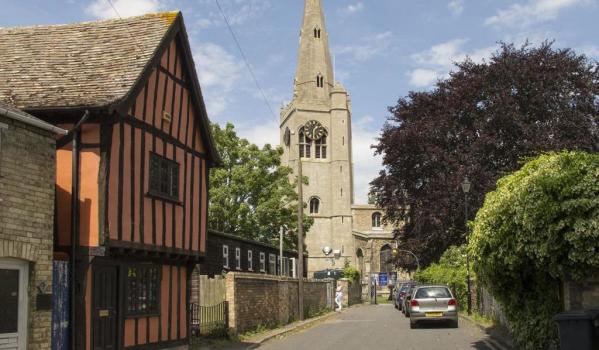 Best things to do in Huntingdonshire
History: You can see a working 18th-century watermill at Houghton Mill and Waterclose Meadows. The mill runs every Sunday from March to October but its riverside and meadow walks can be enjoyed year-round.
Learn about one of Huntingdonshire's most famous sons at The Cromwell Museum in Huntingdon town centre. Oliver Cromwell was a key figure during and after the English Civil War and contributed to the downfall of Charles I. Visitors can see nearly 700 items linked to the controversial Lord Protector, including portraits, clothing, arms and historical documents.
Cultural: Key events on the cultural calendar include the Secret Garden Party music festival. This large outdoor festival is held at Abbots Ripton near Huntingdon and has multiple stages for musical acts. Past performers include Lilly Allen, Blondie, Grace Jones and Gorillaz.
Music is also celebrated at the Jazz & Blues Festival in St Ives. It's held every autumn over four days and showcases both contemporary and classic jazz. All performances are free to attend and appear in pubs, restaurants, cafés and in the open air.
Outdoors: The River Great Ouse provides residents with miles of attractive walks. Waterway trails can be followed at Ramsey or locals can rent a boat to take a leisurely tour around the county.
Watersports are enjoyed at Grafham Water. This outdoor and water centre is set in 2,400 acres of countryside, a Site of Special Scientific Interest. Outdoor activities such as sailing, windsurfing, canoeing and kayaking are all offered. Alternatively, visitors can follow some of the 10 miles of cycle tracks.
Huntingdon residents can easily escape to Hitchingbrooke Country Park. It covers 170 acres of open grassland, mature woodland and lakes – a perfect place for dog-walking and wildlife-spotting.
Shopping: Huntingdon market is held every Wednesday and Saturday in the pedestrianised town centre. Regular farmers' markets are also held here, as well as a weekly craft and collectables market in the Commemoration Hall.
For national and independent shops, you can head to the High Street, St Benedicts Court and Chequers Court in Huntingdon town centre. Shopping in Huntingdon also includes Chequers Shopping Centre, which is being redeveloped and will have three large anchor stores, including M&S Simply Food.
Ramsey is the place to go for vintage shops. More than 85 independent retailers and restaurants can be found here, including retro clothing stores and antiques shops.
Food and drink: One of the best pubs in Ramsey is the Jolly Sailor. It's more than 400 years old and its interior is dominated by oak beams and wood panelling. It serves real ale beside crackling fires and runs various theme nights.
Places to eat in Ramsey also include the Milkshake Junction. This American-themed eatery has a menu of thick milkshakes as well as cookies and American sweets. In winter, you can pick up a cup of homemade hot soup.
Favourite restaurants in Huntingdonshire include Bohemia. This St Neots restaurant prides itself on contemporary, seasonal food. A world tapas menu and tempting breakfasts are served in its industrial-styled dining room for a cool and chic atmosphere.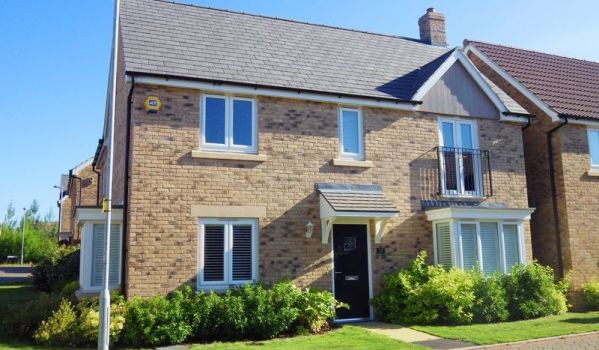 Hidden Huntingdonshire
The 14th-century town bridge in Huntingdon features a mixture of architectural styles. It was jointly constructed by Huntingdon and Godmanchester but each side had a different opinion on how to complete it, giving it an unusual final appearance.
5 reasons to live in Huntingdonshire
Huntingdon to London in one hour by train
Easy road connections to London, Cambridge, Ely and Peterborough
Good place to invest due to a strong property market
Green outdoor spaces such as Grafham water
Mix of old and new properties
You might also be interested in...
Are you planning to make a home in the historic county of Huntingdonshire? Share your thoughts in the comments below…