House-hunters looking for a home in a small town with convenient amenities are turning their attention to Ipswich.
Ipswich, situated on the estuary of the River Orwell, is the county town of Suffolk.
It is a convenient and affordable base for those working in either Norwich or London. You can find out more about nearby Norwich with our guide.
The town's property values currently stand at £239,900 - comfortably below the average in the east of England as a whole. You can check up-to-date prices here.
Ipswich also has an enviable coastal location near two Areas of Outstanding Natural Beauty.
Living in Ipswich: what to expect
Ipswich is a compact town with plenty of local amenities. There's also a range of rural and coastal retreats on its doorstep.
As one of England's oldest towns, history is ever-present in Ipswich and its architecture – take the impressive Ancient House for example, a Grade I-listed building in the Buttermarket area that dates from the 15th century.
But conversely, Ipswich has also benefited from extensive redevelopment. The waterfront is now a thriving residential and commercial centre, presenting plenty of opportunities for property buyers.
Ipswich port is still fully operational and is the UK's largest agri-port.
House-hunters with families can take advantage of the schools in the area. Many have been rated as 'good' by Ofsted. Some, such as Castle Hill Infant School, received the top rating of 'outstanding' at the last inspection.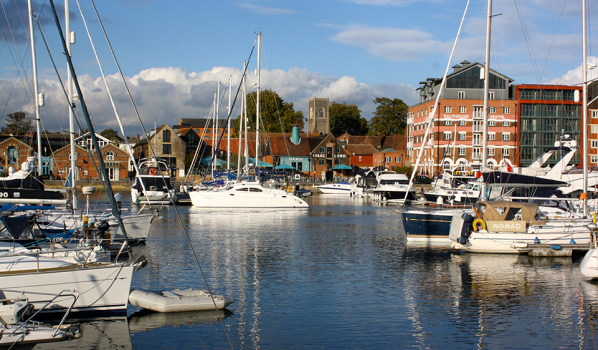 Where to start your property search
Urban living: The desirable Christchurch Park area is the place to look if you want a spacious detached character property or flat in a period conversion.
But if you're after a modern one- or two-bedroom apartment, or a luxury duplex penthouse, try the waterfront development of Neptune Marina.
The marina is less than a mile away from Ipswich and Derby Road train stations and within walking distance of the town centre. The area boasts plenty of amenities, including coffee shops, bars, bistros, restaurants and a gallery.
Terraced houses are readily available in Ipswich too. You'll find larger Victorian properties throughout the town centre, and smaller terraces on the likes of Derby Road, York Road and Boston Road.
The most inexpensive housing in Ipswich tends to be in the Chantry district. Look here for flats, bungalows and modern terraces.
Rural living: The villages surrounding Ipswich are particularly picturesque.
For substantial family homes, look out for streets such as Ashbocking Road in Henley. You'll also find barn conversions on the fringe of the village.
Semis and detached homes dating back to the 20th century are available on roads such as Hardwick Close and Chatsworth Drive in Rushmere St Andrew. The Bixley Farm Development also offers comfortable modern homes.
For family homes, turn your attention to pleasant cul-de-sacs, such as Cedar Avenue in Kesgrave. You can find townhouses on Hares Close or bungalows on Deben Avenue too.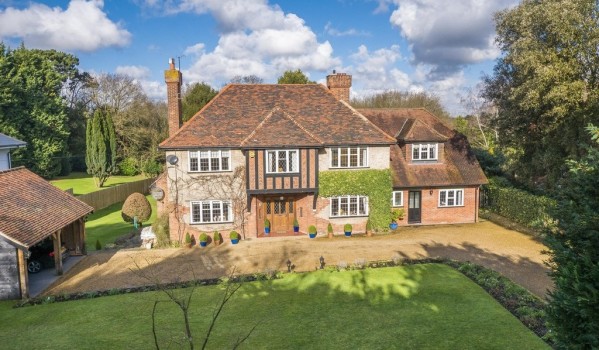 Getting around Ipswich
By rail: The town has two train stations: Ipswich and Derby Road.
Ipswich station is on the main Norwich to London Liverpool Street line, with travel times of just under an hour to the former and just over an hour to the latter. There are also direct services to Peterborough, Cambridge, Felixstowe and Lowestoft.
Derby Road station is on the Ipswich to Felixstowe route.
By road: Ipswich sits just above the convergence of the A14, from Cambridge to Felixstowe, and the A12, from Great Yarmouth to Colchester, Chelmsford and London.
Journey times to central London, Cambridge and Felixstowe are two and a half hours, an hour, and 30 minutes respectively.
Norwich is just 45 miles away via the A14 and A140, although the journey can be slow as only a few small sections of the route are dual carriageway.
By air: The closest airport is London Stansted, which is just an hour and a quarter away by car. From here, you can access domestic, European and international flights.
Norwich International Airport is an hour and a half away. Most international destinations are reached via Amsterdam.
Things to do in Ipswich
Outdoors: Explore the coast by heading out to one of the nearby seaside towns, such as Aldeburgh.
Alternatively, check out the two Areas of Outstanding Natural Beauty that sandwich Ipswich: Suffolk Coast and Heaths and Dedham Vale.
Suffolk Coast and Heaths is home to wildlife-rich estuaries, shingle beaches, ancient heaths and historic villages. It's perfect if you enjoy walking, cycling, sailing, windsurfing and bird-spotting.
For unspoiled farmland, meadows and woodland, head for Dedham Vale on the Suffolk-Essex border. If you're feeling very energetic, follow the 60-mile Stour Valley Path. You can also cycle on the National Cycle Route 1, Cycle South Suffolk route or Painters Trail.
Explore Ipswich's 500 hectares of green space too. Some of the town's historic parks, such as Chantry, Christchurch and Holywells, are registered parks of national importance. They all have play areas and outdoor events to enjoy.
History: If you want to explore a historic house, take a look at Christchurch Mansion. It boasts more than 500 years of history, with a Tudor kitchen, Georgian saloon, Victorian wing and a large collection of work by Suffolk artists.
Discover more of the area's history at the Ipswich Museum. There's a life-sized model of a woolly mammoth to be found alongside a geology gallery and displays of British and exotic birds and mammals.
The 12th-century St Peter's by the Waterfront, a former church that has since been converted into a music and art centre, was once the chapel of Ipswich born Cardinal Thomas Wolsey's proposed college. Visit it today to browse among its many artifacts, which include a rare marble font.
A stroll through the town centre will also give you an insight into Ipswich's rich heritage. Many timber-framed buildings can be found, as well as the Grade I-listed Ancient House in the Buttermarket. Dating from the 15th century, it boasts detailed wood carvings and decorative plasterwork.
Culture: If you love art, visit the Waterfront Gallery, Ipswich Town Hall and Christchurch Mansion.
Soak up some culture at the town's 400-seat Wolsey Theatre. It has been recognised as a national leader in performing arts, and is situated at the heart of a proposed regeneration project in the Westgate area.
And visit dance agency DanceEast, a 200-seat studio theatre, café, seminar room and resource room located at the waterfront development. Go here to see professional dance companies or local community projects.
Shopping: For boutiques, beauty spas, coffee shops and eateries, head to Blackfriars and the Saints, situated between the town centre and the waterfront. Major high street brands can be found in the town centre, especially in Westgate and Tavern streets, as well as at the Sailmakers and Buttermarket shopping centres.
You can also buy food and gifts from monthly pop-up markets and the regular Cornhill Market, which is open four days a week.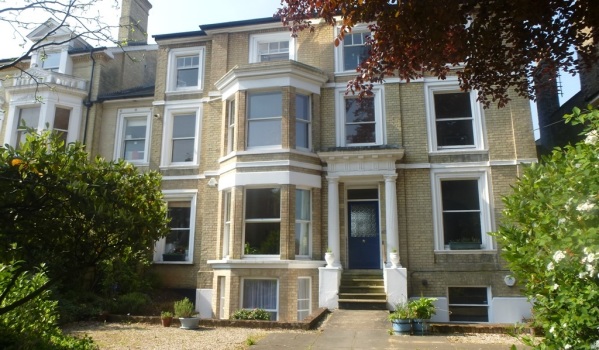 Hidden Ipswich
Visit the Ipswich Transport Museum, which has the largest collection of transport items devoted to just one town. All its exhibits have been made or used in and around Ipswich. It also houses the Ipswich Engineering Collection.
5 reasons to live in Ipswich
Easy commute to Norwich or London by train

Affordable property prices

Significant regeneration projects underway

A compact town centre with all the essential amenities

Direct access to the Suffolk coastline and two Areas of Outstanding Natural Beauty
You might also be interested in...
Thinking of moving to Ipswich? Tell us why it's attracting you by posting a comment below...