Craggy cliffs, wide beaches and a laid-back way of life mean that the Isle of Wight is a tempting destination for those looking to escape the rat race.
Where is the Isle of Wight?
The Isle of Wight lies in the English Channel, just off the coast of Hampshire.
Its dramatic coastline, abundant wildlife and bucket-and-spade beaches have made it a popular holiday location since the Victorian period, but residents are the ones who truly reap its rewards.
It's a pint-sized paradise, measuring only 23 miles by 13 miles, but more than half of it is now recognised as an Area of Outstanding Natural Beauty. Its urban centres may be small, but they are packed with shops and attractions.
A life of island bliss doesn't come cheap, however. The current average house price is £238,000, but the prized period cottages and villas with sea views can command much higher values. You can take a look at the latest averages here.
Searching for an island home? Why not compare the Isle of Wight with Jersey?
Living in the Isle of Wight: what to expect
The Isle of Wight's coastline is characterised by dramatic chalk cliffs, which offer miles of stunning coastal walks. Wide beaches also lend themselves to watersports, swimming and sandcastles, and make excellent viewing platforms for the island's famous sailing regattas.
Most towns and villages boast their own pubs and boutiques and are scattered with quaint thatched cottages and Georgian and Victorian architecture. Newport, the island's capital, is the go-to place for shopping and entertainment.
The island offers a relaxed way of life thanks to the absence of any motorways and major airports. However, it's not too isolated, as a crossing to the mainland from the north of the island can take as little as 10 minutes.
Top places to start your property search
The most prized, and most expensive, properties tend to be the attractive thatched cottages or grand Victorian villas that can be found throughout the island.
An excellent mix is available in Newport. On its outskirts, tucked down narrow roads, are grand period properties with high ceilings and extensive gardens. Try Burnt House Lane for some Georgian examples. For a more modest, quaint property, roads such as Royal Exchange and South View have a collection of Victorian cottages.
Towards Carisbrooke yet more period properties are available – check out the Victorian semis on Heytesbury Road or High Street for listed cottages, some of whichhave views of the castle.
If you want to live in a larger urban centre, take a look at Ryde. It's the largest town on the island and has a distinct Victorian flavour. Handsome properties such as Brigstocke Terrace have been converted into desirable flats with panoramic sea views.
Others have remained intact as town houses – take a look at The Strand for six-bedroom white stucco or stone villas. Humbler terraces with arched doorways can be found on streets such as Upper Highland Road.
Ventnor and Shanklin also boast plenty of attractive property. The former has coloured villas with views of the harbour and beach, such as those on Mitchell Avenue, as well as stone town houses with large bay windows on Dudley Road.
The Old Village is the most desirable area in Shanklin. Here you can find thatched cottages lining leafy streets. Spring Gardens has elegant bay-windowed Victorian semis, whereas a double-fronted Georgian property can be picked up on Grange Road.
Of the island's villages, St Helens is one of the most popular. It's characterised by its picture postcard cottages that surround a large village green. The village also has plenty of substantial Victorian and post-war semis on Station Road as well as modern marina homes on riverside streets such as Latimer Road.
Bembridge village has a small but busy harbour and lots of tree-lined avenues of large family homes. Modern executive properties can be found on Preston Road and five-bedroom Victorian semis line streets such as Foreland Road.
Godshill is another picturesque village filled with thatched cottages. Look along High Street for some of the most eye-catching period homes or head deeper into the village for estates of comfortable post-war semis and bungalows.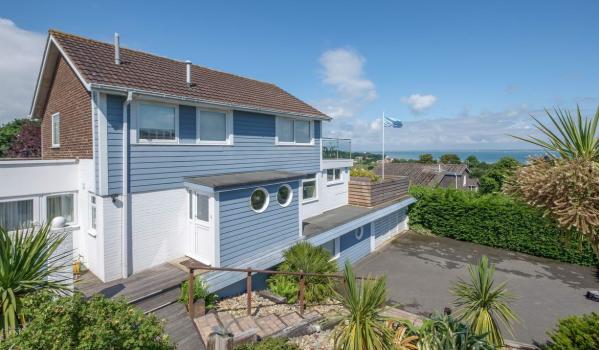 Best ways to get around the Isle of Wight
By rail: The island only has one train line, which runs from Shanklin to Ryde Pier Head. Passengers can then hop onto Ryde's ferry services and connect to the mainland rail service to travel on to destinations such as London Waterloo.
By car: There are no motorways and few major roads on the Isle of Wight. One of the few key roads is the A3020, which connects Newport to Cowes in the north and Shanklin in the east. Another important road is the A3054, which links Ryde in the east to Yarmouth in the west.
By air: The island has two airports but neither offers public services. For international travel, you'll have to head across the sea to Southampton Airport. From here they can fly to numerous European and domestic locations, including Glasgow, Corsica, Majorca and Munich.
By sea: The mainland can be reached in as little as 10 minutes, depending on the choice of transport.
The fastest way is via hovercraft. The Isle of Wight has the last remaining scheduled passenger service in the world and offers regular flights between Ryde and Southsea in Portsmouth.
If travelling by car, you can cross to the mainland with the island's ferry services. Vehicle-carrying ferries run between Lymington and Yarmouth, Southampton and East Cowes and Portsmouth and Fishbourne. Passenger-only ferries also operate between Southampton and Cowes and Portsmouth and Ryde.
Journeys by ferry typically take less than 30 minutes.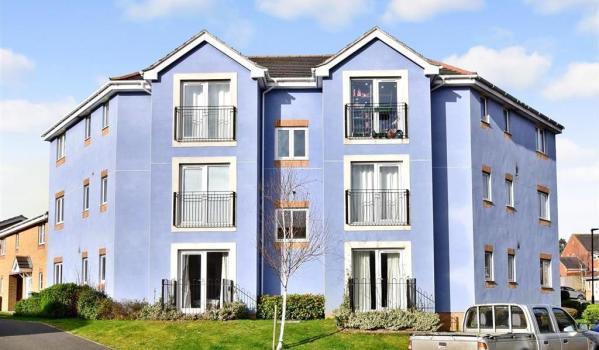 Best things to do in the Isle of Wight
History: The imposing fortress of Carisbrooke Castle features a Norman keep and wall as well as a museum charting its history. Visitors can walk the battlements and discover the rooms where King Charles I was imprisoned in the 17th century.
Near to the castle is Carisbrooke Priory, a gothic-style religious centre built in the 19th century. You can visit the house and gardens every weekday and explore its peaceful orchards and allotments.
Cultural: One of the biggest events on the island's calendar is Cowes Week. This sailing regatta runs over eight days in August and typically features up to 1,000 boats in 40 races.
Thousands visit the island for the annual Isle of Wight Festival. The four-day music festival is held in June in Newport and features legendary artists as well as up-and-coming performers. Past acts have included David Bowie and Iggy Pop.
Outdoors: The Isle of Wight's natural landscape includes the Shanklin Chine. The chine is a wooded coastal ravine featuring a series of spectacular waterfalls. Visitors can follow in the footsteps of historical tourists such as Jane Austen by wandering along its walks. At night, the chine is illuminated to offer visitors an even more special experience.
Another natural highlight is the Needles. These three distinctive rocks are best seen via boat, but visitors can also take a chairlift down to the multi-coloured sands of Alum Bay and observe the Needles from a distance. The Old and New Batteries atop the cliffs are also worth investigating for their roles in the defence of the English Channel.
With 57 miles of coastline, seaside activities are easily accessible. Popular beaches for families include Shanklin, Sandown and Ventnor, although hidden coves are also easy to find for extra seclusion.
Shopping: The island's town centres are ideal for perusing independent shops. Boutiques, antiques shops and vintage outlets sit alongside traditional butchers, bakers and grocers.
For larger big-name stores, people typically head to Newport. As the main shopping hub, the town is home to well-known names such as New Look and H&M. High Street, Pyle Street and South Street also have banks, chain cafés and restaurants.
Farmers' markets are regular features. Newport's market is held every Friday in St Thomas' Square and showcases the wares of local farmers and producers.
Food and drink: The Isle of Wight is famed for its local produce – try smoked garlic from The Garlic Farm or fresh crab from Catch.
You can also enjoy local ingredients in Isle of Wight restaurants such as Thompson's. Its contemporary British menu features an eight-course tasting menu as well as an a la carte option. Dishes include crispy pork cheeks, roasted cod and burnt butter treacle tart.
The island's traditional pubs provide hearty fare. The Pointer Inn runs an exchange service with local gardeners and growers, who get free food and beer in return for their fruits and vegetables. From these ingredients, the chefs prepare daily 'specials' alongside their usual menu of plates such as Newchurch pie.
Tearooms are a prominent fixture in many villages and towns. One of the island's award winning tearooms is the Old Thatch Teashop, which is based in a Grade II-listed property in Shanklin. Guests can enjoy the café's own tea blend with a cream tea before exploring the secret tunnel underneath the property historically used by fishermen and smugglers.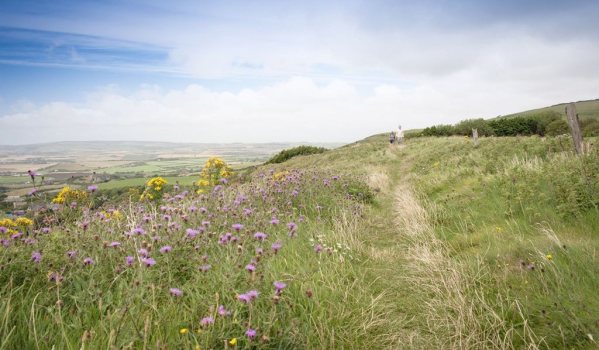 Hidden Isle of Wight
Walk to the highest point of Tennyson Down to see the grand memorial built in recognition of poet Lord Alfred Tennyson. Poems such as 'The Charge of the Light Brigade' are thought to have been inspired by the rugged beauty of the Downs.
6 reasons to live in the Isle of Wight
Relaxed pace of life
Surrounded by vast beaches and rugged coastline
A large Area of Outstanding Natural Beauty
Choice of thatched cottages and period villas
Thriving villages and town centres
Lively cultural calendar
You might also be interested in...
Are you thinking of moving off the mainland and onto the Isle of Wight? Tell us why in the comments below...