Golden beaches and grand houses make Jersey an idyllic island if you're looking for a bit of seclusion.
Jersey sits off the coast of Normandy, France, and is the largest of the Channel Islands.
It may only measure 45 square miles, but this small island offers the best of rural and coastal living.
Jersey is a Crown Dependency, which means that while it's under the sovereignty of the British Crown, it does not actually form part of the UK. Immigration is tightly controlled and the island tends to attract those with higher incomes.
Its exclusivity means house prices are high. If you're interested in living in the Channel Islands, take a look at the homes available in Guernsey too.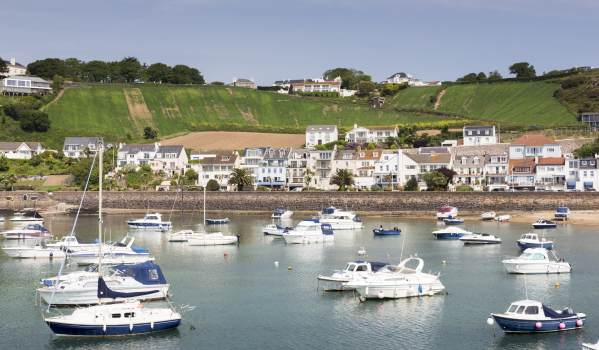 Living in Jersey: what to expect?
Island life means that you are never far from the sea. Fill your spare hours discovering hidden coves, perfecting your surfing skills, or following one of the many walks across the island.
You can also trek along the coastline to discover old historical sites. Jersey's strategic position between England and France means that it has many castles and forts to explore.
You can also take advantage of the island's famous produce. Tuck into a Jersey cream tea after working up an appetite bodyboarding, or opt for an ice cream on a hot summer day. Cider is also a celebrated product – locals gather each autumn for the Cider Festival, which involves plenty of tasting.
An island community spirit is kept alive with other festivals. La Fête de Noué is held every Christmas and includes parades, street theatre and Christmas markets. There is also a live music festival and a film festival in the summer.
Island life doesn't necessarily mean fewer shopping opportunities. Most shops are located in the capital St Helier, where you can find high street shops such as Marks & Spencer and Topshop. There are also two Victorian markets.
Jersey also boasts a number of schools, both state and private. There are currently 22 non-fee primary schools and five state secondary schools to choose from, which will appeal to parents.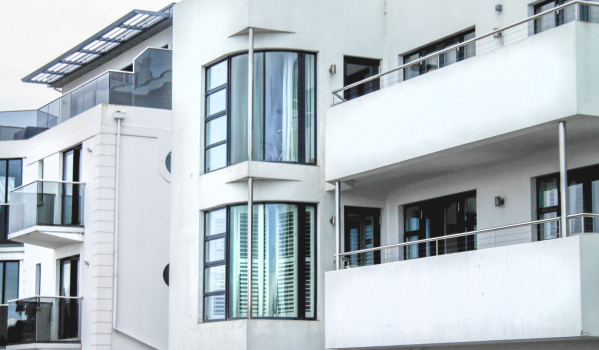 Where to start your property search
Homes in Jersey can often be spacious and boast three or more bedrooms. Look out for period homes made from granite stone or listed properties with open fireplaces and bay windows.
To stay close to the island's main amenities, hunt for a home in St Helier, the capital. Townhouses over two or more floors can be found in and around Devonshire Lane, while terraced homes can be seen down Clairvale Road.
Period terraced homes line Royal Crescent, many of which have now been converted into modern flats. Studio flats and purpose-built apartments are on the market on Poonah Lane and Grosvenor Road.
If you want a home that sits on the seafront, look for apartments like those at La Greve D'Azette. Penthouses are sought-after and sometimes have rooftop terraces that command panoramic views.
For listed buildings and granite cottages, look to areas such as Grouville. The village of Gorey has listed homes as well as granite cottages. Substantial stone farmhouses can also be found in St Clément. Search roads such as La Rue Du Hocq for homes with exposed beams and converted outbuildings.
If you'd prefer a more exclusive location, look to gated communities such as Princes Tower Road in St Saviour. Substantial detached townhouses in this community are just a short drive from nearby schools and shops.
Large Victorian homes, some of which have been converted into flats, can be found in St Peter and St Saviour. Look along Stopford Road for converted flats.
St Ouen has sand dunes, wetlands and salt marshes. Look around this area for mansion-style homes that have around 10 bedrooms.
For new homes, try developments like Centre Ville in St Martin. This new estate has one- and two-bedroom apartments and two- and three-bedroom houses. Haute Croix Farm in St John also has contemporary homes for young professionals and families.
A new apartment complex has also been built at Westmount in the capital. Choose between a balcony or terrace and one, two or three bedrooms.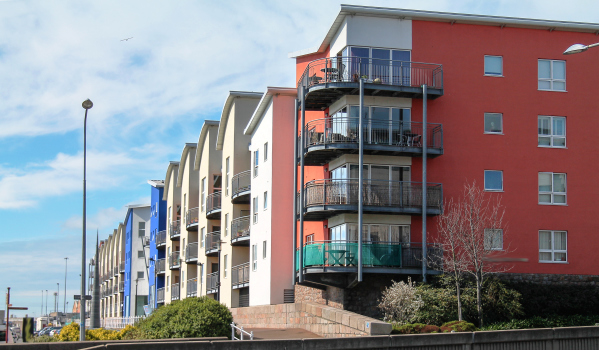 Getting around Jersey
By car: Jersey has 350 miles of roads but no motorways and only a small stretch of dual carriageway.
Main roads are 'A' roads, but can sometimes be narrow and winding. Traffic jams can be common so you may want to opt for a bus instead. You should be aware that the top speed limit is 40mph.
By air: Jersey Airport has flights to both domestic and international destinations via operators including easyJet and Flybe. The summer timetable has more frequent flights to more destinations, whereas the winter timetable has less choice.
By sea: Jersey Harbour port has ferries to Portsmouth, Saint-Malo, Guernsey, Poole, Sark, Carteret and Granville. Winter timetables can be more restricted.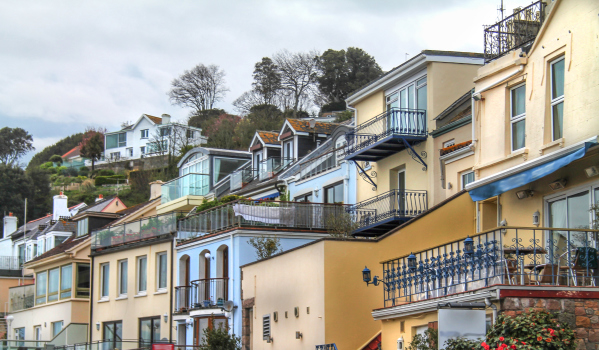 Things to do in Jersey
Outdoor activities: Take advantage of living on an island by making sandcastles on beaches such St Brelade's Bay. This stretch of sand has shallow water, which makes it perfect for a leisurely swim too.
Or, find a secluded spot in a sheltered cove such as Beauport or Portelet to do a spot of sunbathing.
If you're feeling more active, try coasteering – exploring by climbing, swimming and jumping – along the island's rocky coastline or kayak on the sea to some of the smaller islands.
Hire a boat to search for grey seals or dolphins. You can also travel out to Les Écréhous Reef, which sits about six miles off the coast of St Catherine's. From here you will get a great view of Jersey and France.
Take a more unconventional tour around the island's coast by hiring a Harley-Davidson to show you the sites. A driver will whizz you along the coastline so that you can sit back and enjoy the scenery.
The coast isn't the only area of natural beauty to admire. Visit Samarès Manor to see the newly-restored botanic gardens. You can also wander round the manor house and museum on less sunny days.
In spring, don't miss the blooming of the wild orchids. Go to Le Noir Pre and Clos de Seigneur for the best sights – they're known as the 'Orchid Fields'.
History: Brush up on your knowledge of the island by visiting Mont Orgueil Castle, which protected islanders from the French 600 years ago. See if you can find the secret rooms and climb the turrets for views over Jersey.
Elizabeth Castle is another fortification to explore. Walk along the causeway at low tide or take the amphibious ferry. Stick around to watch the live demonstrations of the castle's cannons.
Take a trip to the parish church of St Brelade to find the Fishermen's Chapel. This small chapel was built during the Norman period and has murals from the 14th century.
The paintings were white-washed during the Protestant Reformation but have now been restored to their former glory for you to admire.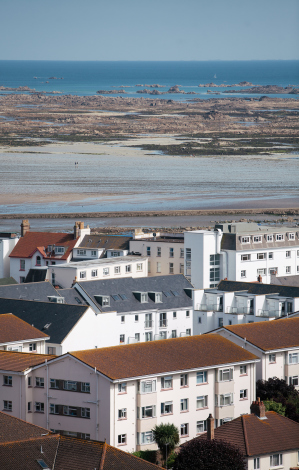 Food & drink: If you love wine, book a guided tour around La Mare Wine Estate. A walk around the vineyards is followed by some samples of the wine produced. Make sure you try the Jersey apple brandy cream and Black Butter preserve served up in its café.
If relaxing on the beach has made you hungry, head over to the Jersey Crab Shack. This informal restaurant boasts sea views and large terraces and dishes up local seafood. Try the fish and chips to complete your seaside experience.
For some of the best Jersey cream teas, take a seat in Rozel Tea Rooms. Sip a brew from a china cup and saucer and enjoy this rich treat.
Seafood and other tasty food is served up at the Oyster Box. Admire the views over the bay while you tuck into Jersey rock oysters that are either grilled or served on ice.
For fine dining, book a table at Bohemia. It holds a Michelin star and was named the second best restaurant in the UK by the 2016 Good Food Guide. It serves lunch, dinner and afternoon tea.
Start a night out at Mimosa. This bar in the capital has a terrace and al fresco eating area. Sip a classic cocktail or opt for a quirky alternative such as the Brassmonkey.
Hidden Jersey
Literally hidden from view are the tunnels built by the Germans during their occupation of Jersey in the Second World War. These tunnels stretch over 1km into a hillside in St Lawrence and were initially used as a barracks. Explore the eerie tunnels to learn the history behind them or attempt the escape tunnel – you have one hour to solve the puzzles and escape.
6. reasons to live in Jersey
Coastal and rural living

Lots of outdoor activities

Granite cottages and farmhouses

Golden sandy beaches

State and private schools

Lots of bars, restaurants and cafés
You might also be interested in...
Are you looking to buy in Jersey? Share your reasons for choosing this location in the comments below.