A 20-year regeneration programme is pushing Middlesbrough into the 21st century. But house prices are still some of the most competitive in the UK.
Middlesbrough is one of the primary towns in Teesside, which traces the path of the winding River Tees.
The town may have lost its buzz for a while after the decline of the British coal and steel industry, but today marks a different story again.
Teesside University has brought a new wave of residents to the area and the town is now halfway through a 20-year regeneration scheme.
And the good news is that you'll also get a lot for your money. The average house price in the area is a cost-effective £140,000, although prices in desirable suburbs can be much higher. You can check the most up-to-date prices here.
Find out more about the area of Teesside with our detailed guide.
Living in Middlesbrough: what to expect
As a major industrial town, Middlesbrough was badly bombed in World War Two – but some impressive Victorian architecture survived, and this can be seen most notably in the Albert Park and Linthorpe Conservation Areas.
From the centre, orderly rows of shoulder-to-shoulder Victorian terraces span outwards, eventually giving way to more modern semis. On the outskirts you'll find more affluent suburbs filled with a mix of 20th-century and period housing.
The docklands at Middlehaven have been the focus of much of Middlesbrough's regeneration efforts. A staggering £25.5 million has been spent so far, which has introduced new businesses, creative centres and a facility for Middlesbrough College.
Residents are also enjoying the benefits of improvements in shopping and nightlife – both Baker Street and Bedford Street are hubs for shops, micropubs and cosmopolitan restaurants.
Urban benefits like these are tempered with more rural charms. The town itself is home to two elegant parks. On its southern outskirts you'll find Flatts Lane Woodland Country Park – and the North York Moors National Park is less than an hour's drive away.
You can learn more about North Yorkshire with our dedicated guide.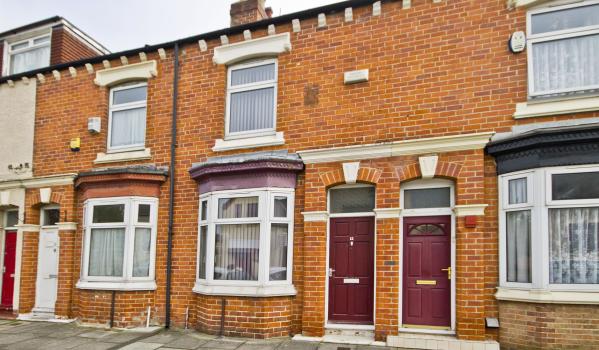 Where to start your property search
Town centre: Middlesbrough town centre mainly comprises humble Victorian terraces. Flat-fronted versions with two to three bedrooms can be found on roads such as Falmouth Street and Worcester Street, whereas houses with attractive bay windows are available on Beaumont Road and Crescent Road.
Further out, you can find more modern semi-detached properties. Homerton Road has spacious four-bedroom family homes with long gardens, whereas Brigham Road offers slightly smaller semis.
For a more contemporary home, look to the dockside development. On Quay Street in Middlehaven you can find eco-apartments in a new block aptly named Community in a Cube. The eco-apartments are well insulated and heated by a woodchip biomass boiler.
Suburbs: If you have a slightly larger budget, you may want to check out Middlesbrough's suburbs. Acklam, Marton-in-Cleveland, Linthorpe and Nunthorpe are particularly sought after.
Look to Acklam for traditional semis with bay windows, such as those on Stoneleigh Avenue and Highbury Avenue. If you like 20th-century design, keep an eye out for the occasional Arts & Crafts-style home, such as the ones on Cowley Road.
One of the most desirable roads in Marton-in-Cleveland is The Grove. Hunt along this road for eye-catching detached and semi-detached properties that sit alongside generous gardens.
You may also be able to find the occasional converted barn around the outskirts of the area. For other houses with period features, look to areas such as South Drive – semis with white render can be found here, many of which have high ceilings and bay windows.
Linthorpe sits to the south of Middlesbrough's town centre. The traditional terrace can be found along roads such as Oliver Street and Haymore Street, but there is also a good selection of larger Victorian and Edwardian homes. Search along Claude Avenue for large five-bedroom semis, or hunt Cambridge Road for a grand detached or semi-detached Edwardian home.
Nunthorpe is the place to look for an imposing and pricey property. Character detached homes with five or more bedrooms are available on Guisborough Road, whereas period semis that are nicely set back from the road can be discovered on Connaught Road. For a new-build, look at the detached and semi-detached homes in Nunthorpe Gardens.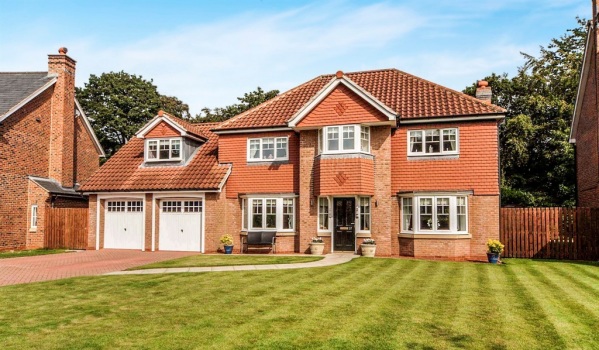 Satellite towns: Some of the towns surrounding Middlesbrough offer exciting new housing developments that could equally appeal if you're looking for a contemporary property.
Guisborough with its cobbled high street, for example is a 20-minute drive from Middlesbrough. Its new Pine Walk development from Bellway has a selection of two, three- and four-bedroom family homes that are terraced, semi-detached or detached.
The homes have a fresh design with open-plan kitchen and dining areas. Larger properties come with en suites and internal garages.
For another new development, check out The Woodlands in Newton Aycliffe. A total of 175 modern two-, three- and four-bedroom homes are available here. Choose from two-storey terraces with gardens or larger detached homes with internal garages.
Getting around Middlesbrough
By rail: Middlesbrough station is served by Northern and TransPennine Express. Direct services to Bishop Auckland, Carlisle, Darlington, Manchester Airport, Manchester Piccadilly, Newcastle, Nunthorpe, Saltburn-by-the-Sea and Whitby are available.
A journey to Newcastle takes 80 minutes whereas a trip to Manchester Piccadilly takes two hours, 15 minutes.
The Metro station in Middlesbrough Quayside also offers local and suburban routes to Bishop Auckland, Darlington, Hartlepool, Newcastle, Redcar, Saltburn, Sunderland and Whitby.
By car: Middlesbrough is well connected by road. The A19 starts on the western edge of the town and then heads north towards Sunderland and south to York.
Meanwhile the A66 tacks west towards the A1(M) and the A172 heads south before following the outskirts of the North York Moors National Park. The A174 also skirts around the south of the town before heading east towards the coast.
By air: Durham Tees Valley International Airport, which has 30 airlines that fly to 80 destinations, is a 20- to 25-minute drive away. Manchester Airport is also convenient and has flight operators such as easyJet and Ryanair.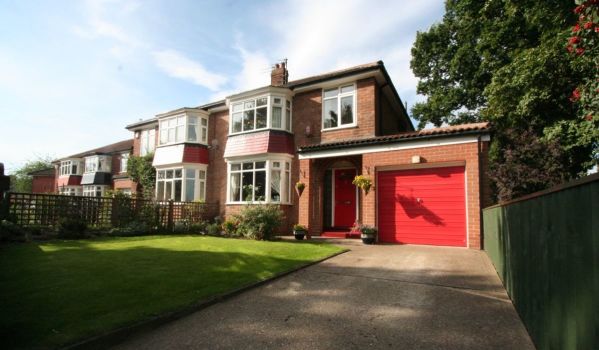 Things to do in Middlesbrough
History: One of Middlesbrough's most famous personages is Captain Cook, who circumnavigated the globe by sea.
You can learn about his life and travels at the Captain Cook Birthplace Museum, which displays his personal possessions, published accounts and artefacts. You can also make a trip to the Captain Cook Schoolroom Museum and the Captain Cook Memorial Museum.
The Dorman Museum has eight permanent exhibitions, but its original focus on natural history has now broadened to more diverse collections of cultural objects and domestic items.
Cultural: A mix of current releases and independent film is shown at the Teesside University cinema, but if you prefer theatre, the Middlesbrough Theatre has a packed calendar of tribute bands, drama and dance.
Live music and entertainment can also be found at Middlesbrough Town Hall. It's currently undergoing refurbishment, but venues such as Mink Bar are filling the gap. This bar stages live bands, acoustic sessions, burlesque acts or comedy shows every week.
The state-of-the-art Middlesbrough Institute of Modern Art (also known as mima) showcases contemporary arts and crafts with a view to using art as a tool for social change. As well as exhibitions, it also hosts activities and workshops.
Outdoors: Stewart Park provides residents with a peaceful haven of historic parkland and lakes that spans 120 acres. Albert Park is also a place of respite and it has its own roller-skating rink.
Middlesbrough residents are proud of their premiership football team, Middlesbrough F.C. To join in, book tickets to see a match at the Riverside Stadium or hop on a behind-the-scenes stadium tour.
A 15-minute drive will bring you to RSPB Saltholme. This bird sanctuary has wildlife viewing hides to spot bird species such as the Great Crested Grebe and the Lapwing. An adventure playground and walled garden are also open for exploration.
The Tees Transporter Bridge is a relic of Middlesbrough's history as an industrial town, but today it is also a hot-spot for the adventurous. Abseiling, bungee jumping and ziplining are all available from this iconic structure.
Shopping: Four shopping centres cater for Middlesbrough residents. The Cleveland Centre, Hillstreet Centre, Capitan Cook Square and Dundas shopping malls contain high-street favourites, but if you want something more upmarket, wander into the designer quarter along Linthorpe Road.
There's more shopping on Baker Street. The town hosts the Orange Pip Market, an artisan street food market, here on the last Saturday of every month.
The market offers visitors a host of stalls selling local produce as well as music, arts and performance. When the market is not in residence, you can stroll past a growing number of independent retailers, eateries and microbreweries.
Food and drink: Live music and gourmet pies are served at Sticky Fingers Café and Rock Bar. Try a Hotshot Parm for a twist on the classic 'chicken parmo' (a chicken and cheese dish), which also contains jalapenos and pepperoni, and choose from a long list of cocktails.
Traditional Turkish food can be found in the Meze Lounge. This restaurant has a wide selection of kebabs and a laid-back dining style. Alternatively, cruise along to the eateries on Baker Street to find a tasty meal.
For beer, settle down among the quirky features and stuffed animals in The Twisted Lip. Take your pick of American, Belgian, Chinese or German beers as well as UK craft beers. Live music and open mic nights provide the entertainment.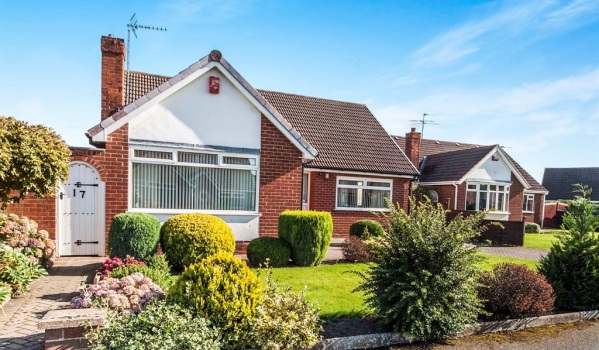 Hidden Middlesbrough
Find the Dock Clock Tower in Middlehaven Dock and look up. The tower has four sides but only three faces. It was built that way to deter dock workers from stopping their work to clock-watch.
5 reasons to live in Middlesbrough
Very appealing house prices

Long-term regeneration projects

New restaurants, galleries and bars

Rich and interesting history

Short drive to the countryside
You might also be interested in...
Have we captured all of Middlesbrough's appeal? Let us know what you think in the comments below…