Nottingham is a vibrant city that promises opportunity, an ever-evolving choice of restaurants and affordable housing options.
Ancient caves, lace-making, rock music venues and Sherwood Forest – Britain's ninth largest city is one of many surprises – including its enviable, high quality of living. With vibrant neighbourhoods, friendly locals, a thriving job market, international cuisine and reasonable property prices – it's not difficult to see Nottingham's major appeal. If you're thinking of buying property in Nottingham, read on to find out more.
How much will it cost to buy?
For buyers, the current average asking price is £246,920. The table, below, shows how many properties have sold in Nottingham over the past 12 months, the average sale price and the current average value based on Zoopla's data.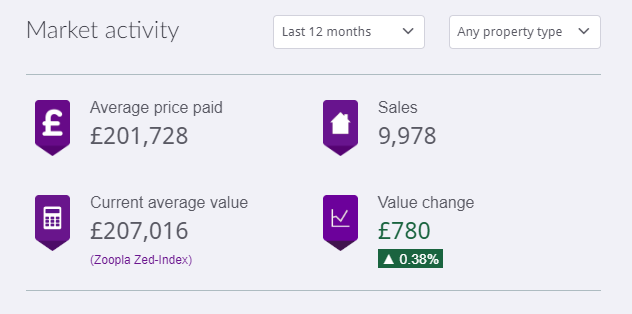 What about renters?
Average asking rents in Nottingham currently stand at £877 per month. Renters will need to budget around £805 a month for a two-bedroom flat or £1,183 a month for a four-bedroom house.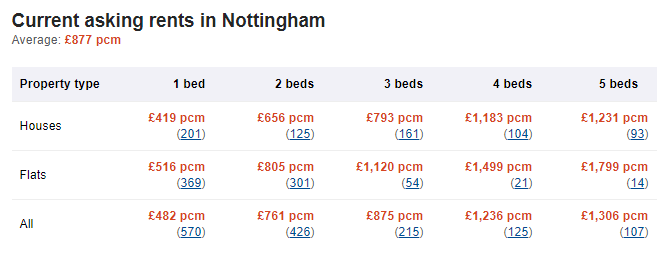 Finding an estate agent
Whether you're buying or renting, you can choose the right agent with our handy AgentFinder tool. It allows you to compare the number of listings and time it takes to sell from local agents. There's a total of 178 sales and letting agents in Nottingham listed on Zoopla.
What to expect living in Nottingham
Like any large city, Nottingham has a bustling, metropolitan feel. Attracting residents from all over the world, the community is diverse, resulting in a wide range of shops and restaurants that cater to all tastes and spending habits.
Among its benefits, Nottingham's convenient location on the map continues to attract both homebuyers and businesses. London St Pancras can be reached within 90 minutes and the city is within a four hour drive of 89% of the rest of the country - a massive draw for long-distance commuters and businesses operating on a national scale.
But it will come as a relief to those looking to get onto (or up) the property ladder, that homes here remain largely affordable. House prices in Nottingham are significantly lower than the UK average while salaries sit above the national average.
Nottingham is thriving within the creative and digital industries. The organisation, Tech Nottingham, is spearheading a campaign to promote the city's tech industries, through supporting new businesses and holding regular meet-ups. Located in the city, The Creative Quarter is home to many digital startups providing co-working hubs and sought-after business space.
The city attracts a large student population, owing to its two universities: the University of Nottingham and Nottingham Trent University. More than 60,000 students study here every year, providing a welcome youthful (and optimistic) atmosphere and also a pool of potential talent for the city's thriving industries.
There are also a wealth of popular schools in Nottingham. In a one mile radius of the city, primary schools rated 'Outstanding' by Ofsted include Welbeck Primary School, Sneinton St Stephen's CofE Primary School and Huntingdon Academy - while Rosehill School - also rated outstanding - provides specialised education for pupils aged 4-19.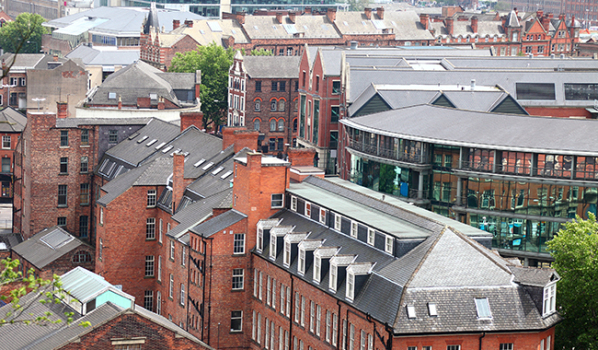 Where to start your property search
Nottingham is a large city and it can be difficult to know where to start if you're planning to move to the area. So here's a quick rundown of the main neighbourhoods.
Trinity Square: Located north of the city near the Victoria Shopping Centre, Trinity Square is home to plenty of cafés, bars and restaurants. Its young vibe is due to its proximity to Nottingham Trent University and subsequent density of nearby student accommodation.
Standard Hill: The area around Nottingham Castle is the oldest part of the city. Homes closest to the castle tend to be historic and expensive. Atmospheric pub Ye Olde Trip to Jerusalem is partially built into the caves beneath the castle. It claims to be the oldest watering hole in the UK – although this is hotly contested by other pubs in the area.
Hockley: Known as the Bohemian Quarter, the western neighbourhood of Hockley is filled with alternative fashions, galleries and an art-house cinema. The Victorian architecture also plays host to upmarket restaurants and bars including The Larder on Goose Gate.
Lace Market: Just south of Hockley, the Lace Market is deemed the most desirable pocket of Nottingham. During the 19th century, it was at the heart of the city's thriving lace trade and home to several red-brick warehouses. When the lace industry declined, these buildings were converted to modern apartments for city centre living.
Beeston: Well-connected by transport links, and nearby to many educational facilities, Beeston is popular amongst both professionals and academics. For downtime, the area is close to Wollaton Deer Park, and home to many shops, restaurants and pubs. Beeston Marina is also nearby with its stunning rivers and waterways.
West Bridgford: With open green spaces, plenty of leisure facilities and friendly locals, West Bridgford is a popular suburb. Only a mile away from the city and home to many excellent schools, the area is perfect for family life. Also home to major sporting grounds - Trent Bridge, National Water Sports Centre and Nottingham Forest's City Ground - the area has a lively buzz with plenty on offer.
Ruddington: Slightly more affordable than West Bridgford, Ruddington offers a balanced lifestyle, combining a village like feel but still within close proximity to the city centre. To completely get away from it all, local Rushcliffe Country Park is the perfect space for walking, running, cycling and wildlife spotting.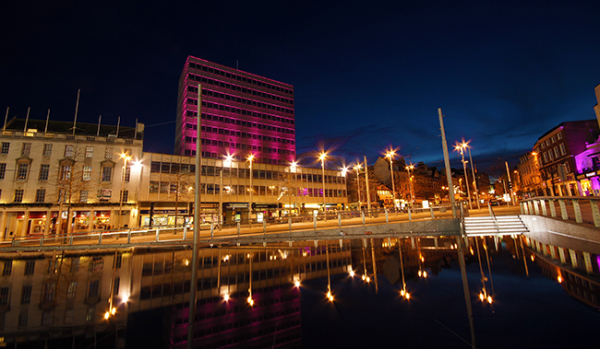 What's for sale
... for the first-time buyer?
Two-bedroom terraced house for sale for £100,000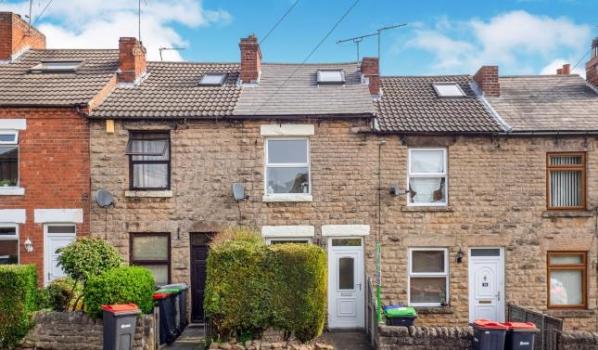 This reasonably priced terraced house has a lot to offer. Well-presented throughout, the property benefits from two good-sized bedrooms, a separate utility to the kitchen and a charming garden complete with patio area, outbuildings and an all-important shed.
Available via Bairstow Eves
…for the family?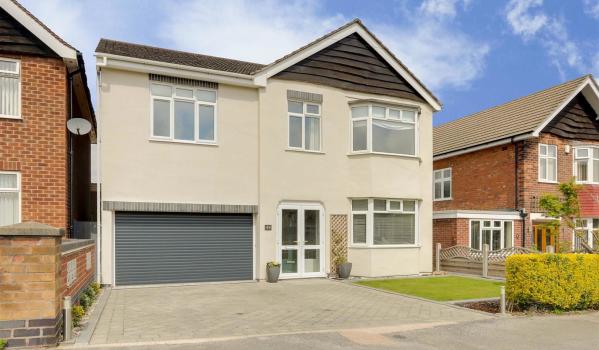 This exquisite detached home will truly wow any family. With extensive refurbishment throughout, all rooms are finished to an impeccable standard and offer a luxurious base for a comfortable lifestyle. The property also benefits from a contemporary garden – perfect for alfresco summer dining.
Available via HoldenCopley
... for renters?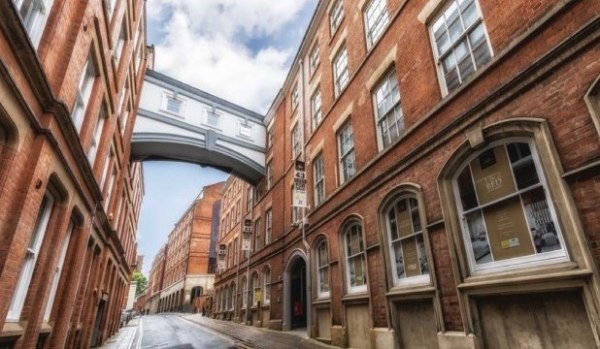 For a slice of lavish city-centre living, this two-bedroom rental has it all. Located in a highly desirable location and close to popular bars and restaurants, the apartment also features enviable mod cons including a jacuzzi bath, Bluetooth mirror and underfloor heating.
Available via Frank Innes
... with the biggest discount?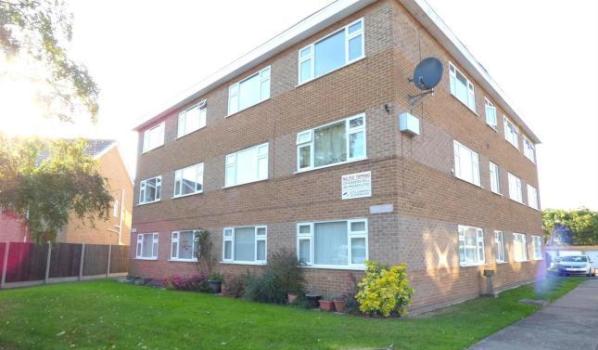 Perfect for the savvy investor, this one-bedroom flat, complete with carpark and garage, has seen a 30% reduction in the last year – making it an even more worthwhile opportunity. The property also benefits from already having a tenant in situ and has a potential 5% yield.
Available via Leaders
The most popular Nottingham property currently for sale is…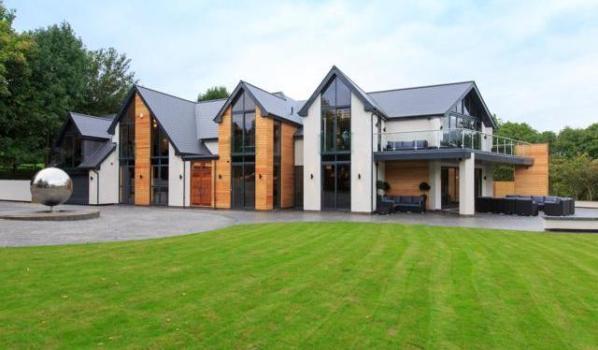 This opulent five-bedroom home is the property of dreams for those seeking state-of-the-art technology in a luxurious setting. From climate control, air conditioning and underfloor heating to a water feature and swimming pool with swim-fast technology – the high-specification features are outstanding. If you can escape the gadgets, the house is also situated near open countryside.
Available via The Agent Property Consultants Ltd
Getting around and about Nottingham
Nottingham offers quick and easy public transport including its award-winning bus network – one of the largest in the UK and still publicly owned. The city is also served by Nottingham Express Transit, a hop-on-hop-off tram service that has also received many accolades.
By train: Cross Country, East Midlands and Northern Rail train services all stop at Nottingham. Journey times to Sheffield or Leicester are around an hour, while London is 90 minutes away. Trains to major destinations like these leave every half hour from Nottingham Station.
By car: Nottingham is located just off the M1 motorway, providing great access to London by car in less than three hours. The M1 also connects Nottingham and Sheffield to the north and Leicester to the south. Both are around a 30-minute drive away, traffic permitting.
By Air: East Midlands Airport is only around 40 minutes away, either driving or on the train. It is an international airport that flies to both long- and short-haul destinations in Europe, the United States and the Caribbean. Low-cost airlines, including Ryanair, Jet2 and TUI Airways, all fly from here.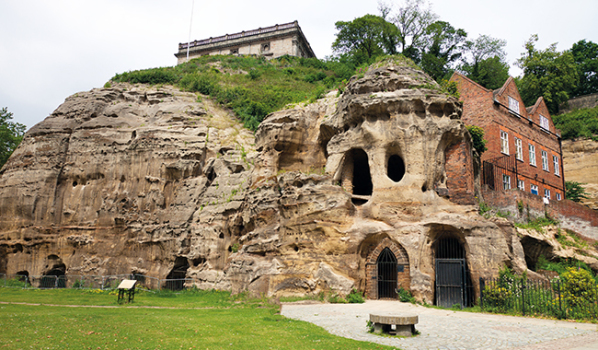 Things to do in Nottingham
History and culture: Just outside the city you'll find the legendary Sherwood Forest, the stomping ground of Robin Hood. The 450-acre forest is a haven of veteran oak trees and offers family-friendly trails.
Nottingham is also famous for its network of multi-purpose, man-made caves. Dating back to the dark ages and carved out of sandstone, visit the City of Caves to be captivated by these historic dwellings.
The National Justice Museum is home to a former Victorian courtroom, gaol and police station. Allowing visitors to immerse themselves in the story of justice, the museum caters for all ages and provides a fascinating insight into prison and crime history.
Food and drink: From fancy dining to soul-satisfying comfort food, Nottingham has plenty on offer to suit all needs.
On the pricey end sits the renowned Restaurant Sat Bains, an acclaimed two-star Michelin restaurant offering adventurous tasting menus with wine pairings. Alchemilla is another high-end favourite, showcasing Japanese-influenced cuisine in an underground former coaching-house.
For some tasty indulgence, Annie's Burger Shack offers an impressive 30 plus types of burgers, all available in both vegetarian and vegan options. Also offering plenty of variety is The Cod's Scallops, a refined fish and chip shop offering over 20 varieties, from salmon to swordfish.
For coffee connoisseurs, Outpost Coffee is a firm favourite with exceptional-tasting brews while The Pudding Pantry comes highly recommended – with platters on offer for those who can't decide.
Hockley Arts Club offers three uniquely designed floors and has a creative cocktail menu with delights such as Polynesian Pearl – a coffee meets exotic fruit concoction with a nod to the classic Pina Colada. For a craft beer, Junkyard has 15 brews on tap as well as a specialist shop so you can take your favourites home.
Shopping: There's lots of great shopping in Nottingham. From well-known chain stores in the intu Victoria Centre to exclusive designer outlets in Bridlesmith's Gate, you'll find something to suit every budget.
Due to its size, Nottingham is able to support lots of great independent shops – especially clothes, music (dance specialists Funky Monkey) and crafts (Keishi Jewellery) – and pop-ups.
Music: Nottingham has a lot to offer live music fans, including the 1,000-seater Royal Concert Hall, Rock City and Nottingham Arena. It also supports a large number of cooler clubs and late-night haunts – including perennial favourite, Stealth.
Wollaton Park to the southeast of the city plays host to several music festivals throughout the year, including Splendour and No Tomorrow.
You might also be interested in...