Nottingham is a vibrant city that promises opportunity, an ever-evolving choice of restaurants and affordable housing options.
As Britain's ninth largest city, Nottingham in the East Midlands has plenty to offer its residents. With vibrant neighbourhoods, a thriving jobs market, international cuisine and reasonable property prices, it's not difficult to see the appeal.
What to expect living in Nottingham
Like any large city, Nottingham has a bustling, metropolitan feel. Attracting residents from all over the world the community is diverse. Around 13% of the population are Asian, 6% American and 4% African. And the resulting wide range of shops and restaurants in Nottingham cater to the tastes and spending habits of a truly international community.
The city also has a large student population, owing to its two universities: the University of Nottingham and Nottingham Trent University. More than 60,000 students study here every year, providing a welcome youthful (and optimistic) atmosphere.
Among its other benefits, Nottingham's convenient location on the map continues to attract homebuyers. But it will comes as a relief to those looking to get onto (or up) the property ladder that homes here remain largely affordable. Prices are also perhaps less susceptible to the 'boom and bust' scenarios seen in some parts of London and the south east.
For example, according to Zoopla, average property values in the city have climbed a healthy 12% in the past five years.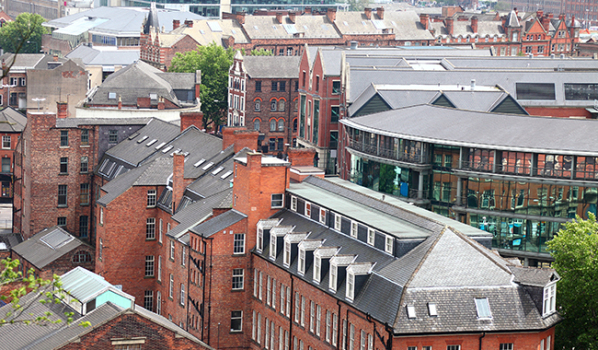 Where to start your property search
Nottingham is a large city and it can be difficult to know where to start if you're planning to move to the area. So here's a quick rundown of the main neighbourhoods.
Trinity Square: Located north of the city near the Victoria Shopping Centre, Trinity Square is home to plenty of cafés, bars and restaurants. Its young vibe is due to its proximity to Nottingham Trent University and subsequent density of nearby student accommodation.
Standard Hill: The area around Nottingham Castle is the oldest part of the city. Homes closest to the castle tend to be historic and expensive. Atmospheric pub Ye Olde Trip to Jerusalem is partially built into the caves beneath the castle. It claims to be the oldest watering hole in the UK – although this is hotly contested by other pubs in the area.
Hockley: Known as the Bohemian Quarter, the western neighbourhood of Hockley is filled with alternative fashions, galleries and an art-house cinema. The Victorian architecture also plays host to upmarket restaurants and bars including The Larder on Goose Gate.
Lace Market: Just south of Hockley, the Lace Market is deemed the most desirable pocket of Nottingham. During the 19th century it was at the heart of the city's thriving lace trade and home to several red-brick warehouses. When the lace industry declined, these buildings were converted to modern apartments for city centre living.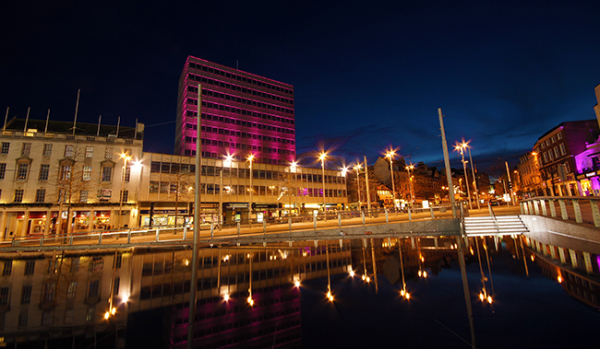 Getting around and about Nottingham
Nottingham offers quick and easy public transport with its bus network – one of the largest in the UK that is publically owned – and hop-on/hop-off trams.
By train
Cross Country, East Midlands and Northern Rail train services all stop at Nottingham. Journey times to Sheffield or Leicester are around an hour, while London is 90 minutes away. Trains to major destinations like these leave every half hour from Nottingham Station.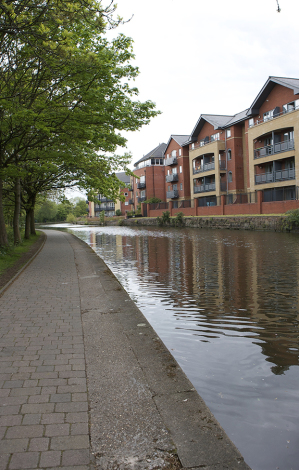 By car
Nottingham is located just off the M1 motorway, providing great access to London by car in less than three hours. The M1 also connects Nottingham and Sheffield to the north and Leicester to the south. Both are around a 30-minute drive away, traffic permitting.
By Air
East Midlands Airport is only around 40 minutes away, either driving or on the train. It is an international airport that flies to both long- and short-haul destinations in Europe, the United States and the Caribbean. Low-cost airlines, including Ryanair, Jet2 and BMI Baby, all fly from here.
Things to do in Nottingham
Shopping: There's lots of great shopping in Nottingham. From well-known chain stores in the Victoria Shopping Centre to exclusive designer outlets in Bridlesmith's Gate, you'll find something to suit every budget.
Due to its size, Nottingham is able to support lots of great independent shops – especially clothes, music (dance specialists Funky Monkey) and crafts (Keishi Jewellery) – and pop-ups.
Music: Nottingham has a lot to offer live music fans, including the 1,000-seater Royal Concert Hall, Rock City and Nottingham Arena. It also supports a large number of cooler clubs and late-night haunts – including perennial favourite, Stealth.
Wollaton Park to the southeast of the city plays host to several music festivals throughout the year, including Splendour and No Tomorrow.
Food and drink: Thanks to its multicultural community, Nottingham is home to a variety of different cuisines. With recommended Thai restaurants, such as Thaikhun in the Victoria Centre, authentic Japanese at Higoi on Lenton Boulevard and tapas at Baresca on Byard Lane to name a few, you can taste the world without leaving the city.
Best kept secret in Nottingham
Head to the Boilermaker bar on Carlton Street in Hockley, which is renowned for its expertly-mixed cocktails, excellent wine and welcoming service. It doesn't look like much from outside though and there's no sign so you'll have to hunt for it.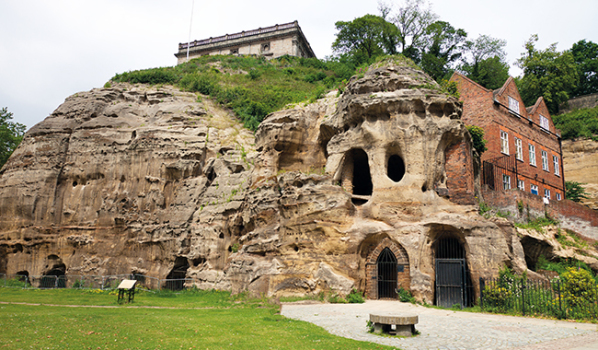 Reasons to live in Nottingham
There are lots of reasons to live in Nottingham but here are our tip picks:
Exciting job opportunities: Lots of big businesses have set up camp in Nottingham, including Alliance Boots, Pedigree pet food, Experian, E.On UK, Vision Express, Gala Group and Siemens.
Investment on the cards: In early 2016, it was announced that Nottingham will be receiving £250m investment for regenerating the Broadmarsh area. The intu shopping centre will be revamped, a new college will be built and the local car parks and bus station will be renovated.
Slice of literary history: Nottingham is proud of its literary connections, which include Lord Byron, DH Lawrence, Alan Sillitoe and Dame Stella Rimington – and we can see why.
Affordable homes: Although it's a major city, average property prices in Nottingham are more than 30% lower than London, making it a much more viable option if you want to get on the property ladder in an urban setting.
You might also be interested in...