Located on a stretch of coastline dubbed the English Riviera, Torquay in Devon offers relaxed coastal living.
Torquay has all the trappings of a continental resort – boats bobbing in the water, palm trees and white stucco buildings – so it's hardly surprising that it's a key destination along the so-called English Riviera.
Although it may not have the climate of the Côte d'Azur, Torquay has twice been voted as a top seaside destination by TripAdvisor and is set in one of only seven UNESCO global geoparks in the UK.
In recent years, the Devon town has also secured millions of pounds to regenerate its waterfront.
Living in Torquay: what to expect
The Torquay seen in the days of Fawlty Towers has long gone. It has retained its finer historical points while encouraging innovation and creativity along its seafront.
South of Exeter and to the east of Plymouth, Torquay grew out of a fishing port. You can still see lobster and crab pots on the harbour at certain times of the day, and there's a regular market every Thursday.
Torquay became a favourite holiday destination in the Victorian era, when many of the fine houses were built on the outskirts and in the surrounding seven hills.
More recently, Torbay Council has encouraged new housing developments, such as Abbey Sands, and the building of amenities including the short-let beach huts at Corby Head, which can be hired for approximately £20 a day.
According to Zoopla data, house prices in Torquay now stand at £226,358 - below the national average. Whatever your age, there's a good selection of property on offer from retirement bungalows, large family homes, modest chalets and starter homes to penthouse apartments with panoramic views.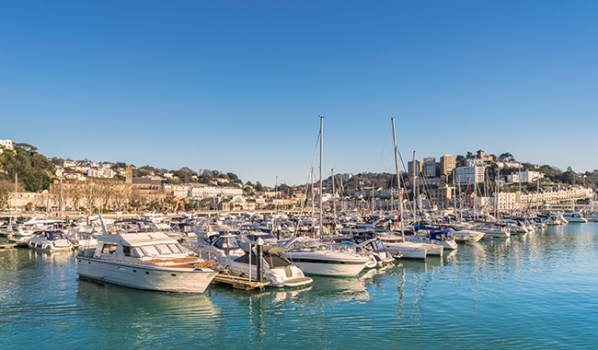 Where to start your property search
You can find some of Torquay's finest properties in the wooded hills around the bay. llsham Marine Drive and Thatcher Avenue, with their mix of Scots pines and palm trees, are popular roads for homes with sea views.
If you want a property that combines period style with chic living, look out for the refurbished apartments in Sovereign House along The Terrace – the best offer panoramic vistas beyond the marina.
For a good choice of properties, including 1970s bungalows and large Victorian villas with established gardens, keep an eye out along the tree-lined avenues around High Lincombe Road.
Just out of town, Cockington is famous for its picturesque thatched cottages and country park. The discreet driveways off Greenway Road conceal large Edwardian residences, some of which have been converted into guesthouses and apartments. Along Vicarage Road and St Matthews Road, huge detached and semi-detached houses face each other across a green.
If you're a buyer who likes period style but has a bit less in your pocket, the more modest terraces along Walnut Road leading into the suburb of Chelston make a good compromise. You'll have to put up with on-street parking, but it's a stone's throw from Torquay station.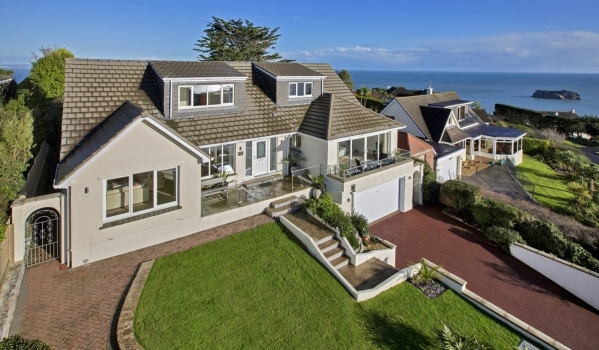 Getting around Torquay
By rail: Trains from Torquay to London Paddington (via Exeter, Bristol or Newton Abbot) take three hours. Bristol Parkway is two hours away and Exeter St Davids has a journey time of 45 minutes.
Car: The A380 connects Torquay with Newton Abbot where it becomes the A38 to Exeter, and the M5 motorway and the A30.
Air: Between Exeter International Airport, which is 30 miles away, and Bristol, which is 85 miles away, international flights are offered via Amsterdam, Brussels, Dublin and Paris.
Things to do in Torquay
As well as smart hotels and promenades, Torquay has a ferris wheel, a choice of sandy and pebbly beaches, a marina and a harbour. There are cafés and restaurants galore that cater to every taste and budget.
Check out the eateries in the Abbey Sands development, which was built on the site of the Palm Court Hotel and now looks like an ocean liner. You can pick up traditional fish and chips in Torquay, but there's also a huge range of world cuisine on offer in the town.
Walks and wildlife: Take a stroll past the marina along Beacon Quay and pause to reflect on the D-Day Landings Memorial dedicated to the men who lost their lives on the Normandy beaches. Continue past the Harbourmaster's Offices to Living Coasts, where you'll find a mini zoo and aquarium, with penguins and seals among other wildlife.
The Princess Pier, which was built in 1890, is a good spot for a promenade. It's also loved by anglers. Head to Princess Gardens, with its fountain and flowerbeds, to wander, sit and watch the world go by. Alternatively, choose one of the many walks along the South West Coast Path.
Beaches: Build a sandcastle, shift some shingle or go rock-pooling on one of the 13 beaches within a short distance of Torquay, including Anstey's Cove, Beacon Cove and Corbyn Head. A little out of town, but still within stomping distance, beckons the red sands of Maidencombe beach.
Alternatively, skip the trek and opt for a ride on the Babbacombe Cliff 1920s funicular railway.
Culture: The Princess Theatre hosts favourite West End shows and plays all year round, as well as comedians such as Al Murray and Ken Dodd.
Torquay was Agatha Christie's hometown and the queen of crime writing is celebrated with the Agatha Christie Mile walk and literary trail, which includes plaques dedicated to her life and work and an annual Agatha Christie Festival.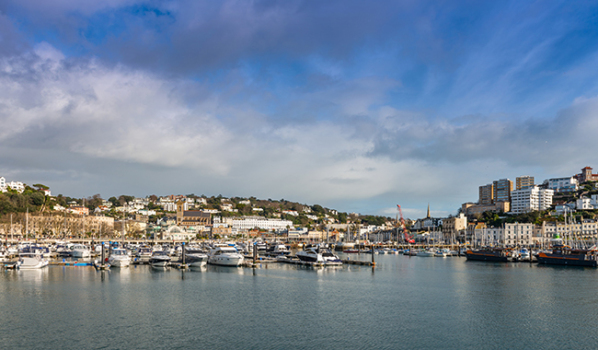 Hidden Torquay
The Torquay Pedal Car Grand Prix takes place at Torre Abbey Meadows on The Kings Drive each summer. Don't be fooled by the seemingly innocuous name – it's just as competitive as any head-to-head between Formula 1 drivers.
4 Reasons to live in Torquay
• Blue sea and perfect beaches
• Perfectly-manicured gardens and parks filled with exotic plants
• A fine selection of houses, bungalows and villas
• Mild climate