Excellent travel links, fine architecture and a fascinating history have made Winchester an attractive tourist destination – and a desirable place to live.
One of Hampshire's many jewels is the city of Winchester, which sits at the western end of the South Downs National Park.
It boasts elegant architecture and charming winding streets. And its rail and road connections to nearby towns and cities, including London, add to its appeal.
According to Zoopla data, house prices in Winchester have jumped by 34% over the last five years alone. Today, the average home stands at £537,000 (check the latest figures here).
The price could be worth paying, however. In 2016, Winchester was lauded as the best place to live in the UK by the Sunday Times Best Places to Live Guide.
Living in Winchester: what to expect
Winchester city centre has kept its historic character. The cathedral is surrounded by narrow medieval streets. And the charming high street is lined with Regency and Elizabethan buildings with bow-fronted windows, home to a range of independent shops, cafés and tearooms.
The city has a close connection to the countryside too. It's surrounded by hills – with some of the most desirable homes having enviable views over the city. The South Downs and New Forest national parks and the south coast are both well within reach.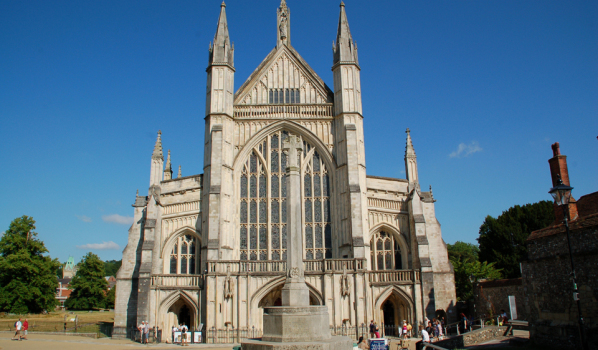 Where to start your property search
Property in Winchester ranges from cottages and historical townhouses, to modern properties.
In the Fulflood area, stately Victorian cottages near the station lead on to substantial inter-war period family homes. Look along Fairfield Road for three- to four-bedroom Victorian semis with bay windows and modest gardens, and Cranworth Road for three-bedroom terraces with period features and substantial gardens.
For spacious family homes, consider Milverton Road, which has 1920s and 1930s semis with bay windows and off-road parking. And for large, detached homes, try Cheriton Road.
The Hyde area is particularly appealing if you have a young family, thanks to its proximity to schools, a recreation ground and the train station. It's characterised by Victorian semis and terraces and the occasional flint-fronted property. Check out the narrow road of Hyde Church Lane for large cottages and the top end of Hyde Street for red-brick terraces with arched doorways.
If you're looking for a large, comfortable family home, try popular areas such as St Cross, St Giles and Oram's Arbour.
St Cross to the south is the city's premier neighbourhood and is filled with handsome Regency and Victorian houses. If you have the budget, search along tree-lined St Cross Road for spacious detached homes, or St Faith's Road for grand Victorian terraces with bay windows and gabled roofs. Listed townhouses with sash windows and cornicing – as well as cellars – can be found on Gar Street.
More modern townhouses are also available in this area. Why not put Peninsula Square on your list? Its elevated position gives views over the city and St Catherine's Hill.
Oram's Arbour to the west of the city has a fine selection of Georgian and early Victorian houses, villas and cottages. Clifton Road is particularly popular thanks to its stately semis and detached homes that overlook a green.
If you'd prefer a new-build home, keep an eye on Winchester Village, which has a choice of two-bedroom apartments and two- to five-bedroom homes.
If a more rural location appeals, check out quaint villages such as Cheriton, Sparsholt, Crawley and Easton. Easton and Cheriton benefit from desirable locations within the South Downs.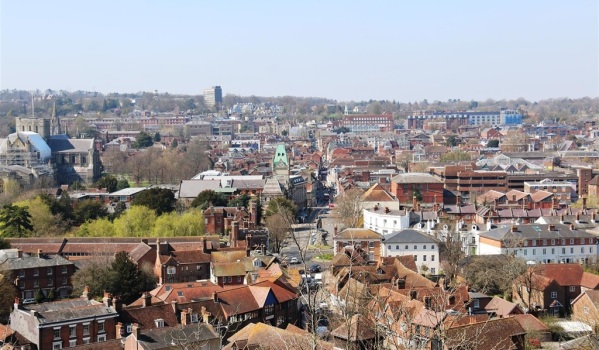 Getting around Winchester
By rail: Winchester is well connected by rail. The South West Trains service takes you to London Waterloo as well as Weymouth, Portsmouth Harbour and Southampton. London can be reached in around one hour, while a trip to Southampton takes just 20 minutes.
The CrossCountry service also runs trains to Bournemouth, Newcastle (via Doncaster) and Manchester Piccadilly (via Coventry).
By car: Winchester is located near the M3, which gives you easy access to London and the M25.
It's also at the meeting point of the A34, A31, A3090 and A272. From the A34, you can drive north to Oxford, the M4 and onto the A303 towards the West Country.
By air: Southampton Airport is just an 18-minute drive away. It has flights to domestic destinations such as Manchester and Edinburgh, as well as plenty of European locations including Paris and Amsterdam.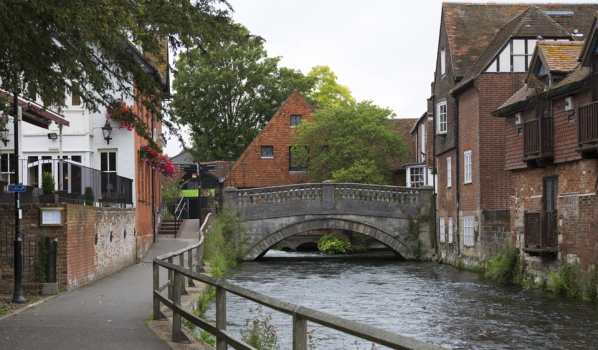 Things to do in Winchester
History: Visit Winchester Cathedral, one of Europe's largest medieval cathedrals, and uncover its 15 centuries of history. Take a guided tour – and look out for the illuminated Winchester Bible and the medieval carvings.
The ruins of Wolvesey Castle is an excellent spot for walks and picnics. The castle was once the residence of the rich Bishops of Winchester and most of the building stems from the 12th century. In 1554 the castle hosted Queen Mary and Phillip of Spain for their wedding breakfast, but in the 1680s the bishop moved elsewhere and the castle fell into disrepair.
Cultural: The 'Hat Fair' is the UK's longest running festival of outdoor arts. The event is held every year in July and regularly has around 200 performances scattered around different locations in Winchester. Best of all, the event is completely free.
The Winchester Science Centre and Planetarium offers a hands-on experience. Try out the 100 exhibits and watch a show in the digital planetarium.
Up to 200 performances a year are held at the Theatre Royal, which has a 400-seat capacity. You can also attend workshops and youth theatre groups.
Outdoors: The South Downs are filled with wooded hills and secret valleys, which can be explored on foot and by bike. If you're fit and adventurous, follow the South Downs Way, which runs for 160 kilometres from Winchester to Beachy Head.
Alternatively, the City Walk allows you to see the main sights of Winchester. Trace the footsteps of King Alfred from his statue to his last known resting place beneath Hyde Abbey Garden.
Shopping: Winchester Farmers' Market, one of the largest of its kind in the UK, has more than 80 producers selling everything from game and meat, to honey and cake. Tuck into buffalo burgers and salt beef sandwiches.
The High Street is pedestrianised, which makes moving between shops quick and easy. Independent and big-name stores sit side by side for an eclectic shopping experience. The Brooks Shopping Centre has more high street shops, such as Argos and Waterstone's, as well as pop-up stores.
Parchment Street has a mix of specialist shops, boutiques and designer stores, while St George's Street also has a great choice of shops, cafés and eateries.
Food and drink: Winchester has excellent pubs, many of which are in old coaching inns boasting exposed beams and open fires. Try The Wykeham Arms, The Golden Lion or The Willow Tree for beers and ales and hearty pub food. If you'd prefer cocktails, take a seat in the Edwardian-styled lounge of the Green Man.
Fine dining is also available. The Black Rat holds one Michelin Star and is set in a building from the 1700s. Ingredients are seasonal and some are provided by the kitchen garden. Try dishes such as hogs pudding or sauerkraut and foraged mushroom dumplings for a different dining experience.
Winchester is also the location of Rick Stein's first restaurant outside of Cornwall. Imaginative fish and seafood dishes are on the menu alongside favourites such as salt and pepper squid.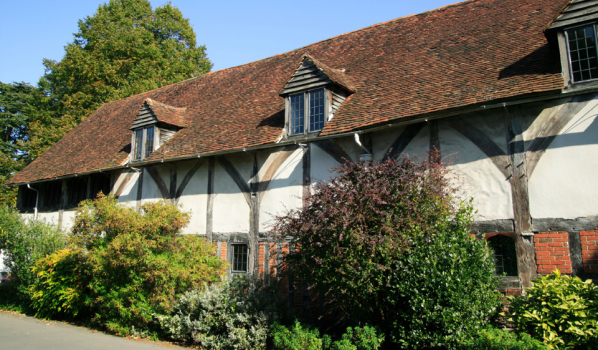 Hidden Winchester
Visit the Great Hall to see Arthur's Round Table. According to legend, this is the table around which the king and his knights met, although more recent research has revealed that the table was made long after the age of King Arthur.
5 reasons to live in Winchester
Easy commuting by road and rail

Rich history and elegant architecture

Proximity to unspoilt countryside, including the South Downs

Range of cottages, stately townhouses and modern homes

Plenty of shops and a large farmers' market
You might also be interested in...
Are you thinking of moving to Winchester? Share your reasons in the comments below…