If you're thinking of living in Stockport, what do you need to know?
Stockport has come a long way from its industrial days that were famously captured in L.S Lowry's brooding paintings.
Many of the town's suburbs are recognised as highly desirable places to live, competing heavily with the much sought-after areas of nearby Manchester.
With exceptional national and local transport links, a wave of new leisure facilities and impressive plans for more regeneration of the town centre, Stockport is updating its image, making it an attractive location in the north west's booming property market.
How much does it cost to buy?
If you're looking to buy property in Stockport, the average asking price is £208,112. The table, below, shows how many properties have sold in Stockport over the past 12 months, as well as the average sale price and the current average value based on Zoopla's data.
Properties in Stockport have seen a 2.83% increase in their average value price since last year with values rising by over £7,000.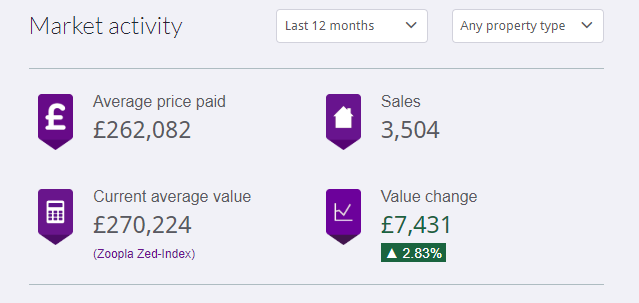 What about renters?
Average asking rents in Stockport currently stand at £657 a month. Renters will need to budget around £718 a month for a two-bedroom flat or £997 a month for a four-bedroom house.

Living in Stockport: what to expect
The town is one of Greater Manchester's 10 districts and is just seven miles from Manchester city centre. As well as being close to a major city, the spectacular British countryside of the Peak District National Park is only half an hour away, making the area attractive to ramblers, cyclists, campers and wildlife enthusiasts.
In the town itself, remnants of Stockport's past that are still standing today include churches from several different centuries. There is also a wide variety of architecture and Stockport boasts 500 listed buildings along with 37 conservation areas. Buildings can be found from the Victorian, Regency, Georgian and Tudor eras.
Stockport is successfully using local heritage to its advantage in creating a contemporary lifestyle for nearby residents. The Grade II listed Produce Hall in Stockport Market Place is set to be transformed into a quirky food hall inspired by the successful transformations of Manchester's Mackie Mayor and Altrincham Market.
Major new additions are also proposed for Stockport with the proposal of major investment in its slightly outdated town centre. Building on the success of the Redrock complex - home to a state-of-the-art Light Cinema, restaurants, bars and a gym - work is in place across various sites for the creation of new housing developments and office space in the town's new business district.
Stockport's already impressive transport links are set to be further enhanced with the proposal of a transport interchange for the town's busy bus station. Excitingly, the project is set to make the interchange 'metro-link ready' - a step closer to the much hoped for extension of Manchester's tram network into the heart of the town centre.
Although extended transport links will increase accessibility to job across Greater Manchester, Stockport itself has more than 11,000 businesses across major employment sectors, such as wholesale and retail trade, healthcare, education and manufacturing. The area has also become a hub for financial and professional services as well as the digital and creative industries.
Stockport, it seems, is excelling in all areas - from new places to work and live to revitalised transport links and leisure activities. With house prices on the up, Lowry's Stockport has seen an injection of colour and is a town becoming increasingly notable for its quality of living.
Top places to start your property search

The municipal borough of Stockport encompasses several suburbs and residential areas, which gives buyers and renters the opportunity to find the right place to call home. Fantastic schools are available in all areas with places such as Aquinas College being hugely popular among all school leavers in the Stockport area - notably receiving twice as many applications as there are places.
Stockport town centre is largely non-residential although there are some properties in the Hillgate area and the proposal of many new developments. The homes that are available closest to the town centre are usually flats that have the perks of being close to Stockport's shopping facilities, transport links and nightlife.
Renters that are looking for a more historic property can look to some of the town's converted warehouses and mills, which provide modern homes with an industrial edge.
Stockport College is the boroughs main educational institute, offering undergraduate courses, adult courses, apprenticeships and foundation study.
The area to the north west of the town centre is known as the Four Heatons, which includes Heaton Norris, Heaton Chapel, Heaton Moor and Heaton Mersey. The Four Heatons are recognised amongst property experts as favourable suburbs to live, now overtaking South Manchester's hotspots of Didsbury and Chorlton. The increasing popularity has meant a sky-rocketing of house prices over recent years.
Heaton Moor considered the most popular of the four suburbs, boasts a large amount of grand Victorian homes that sit along wide, tree-lined streets. The area also has several estates that were built in the 1940s and 1950s. This area is ideal for those who love sports as the Heaton Moor Rugby Club is based nearby at The Heatons Sports Club, where there are also tennis, lacrosse and cricket facilities. Golfers can while away the hours on the 18 hole Heaton Moor Golf Club.
Heaton Mersey is a very green suburb with several conservation areas. It holds regular farmers markets, boot sales and family days. It also has several sports clubs. Property in Heaton Mersey includes a mixture of 1950s, 1960s and 1970s housing along with traditional Edwardian properties. Popular schools here include St Winifred's RC Primary School and Didsbury Road Primary School, both rated 'Outstanding' by Ofsted.
Heaton Norris is mainly home to terraced or semi-detached homes, but there are larger, more expensive properties closer to the Heaton Moor border. Dog walkers, footballers and horse riders can all enjoy The Bowerfield Open Space all year round and when it snows it is also a popular spot for sledging. Homes in the area are typically terraced or semi-detached, but there are larger, more expensive properties closer to the Heaton Moor border.
Heaton Chapel contains a train station of the same name that offers regular trains into Manchester and out towards Alderley Edge, Buxton, Crewe and Hazel Grove. Heaton Chapel contains some of the largest and most expensive houses in Greater Manchester, some of which are mansions that were built in the early twentieth century.
The suburbs of Reddish and Brinnington are located to the north east of Stockport. Homes in Reddish are mainly Victorian terraces or semi-detached built after the Second World War, although some of the old mills have been converted into flats.
Brinnington is an area that is undergoing regeneration, but the existing housing is mainly high rise flats and 1950s semi-detached houses. Properties here are ideal for first-time-buyers and cheaper rentals. Popular schools in the area include St Joseph's Catholic Primary School - rated 'Good' by Ofsted.
The nearest residential areas to the south west of Stockport are Edgeley. Most of the properties in Edgeley are traditional Victorian terraces and ideal for renters or those looking for a step on the property ladder.
Most of the houses to rent in Stockport were originally built for the local factory workers. These properties typically come in the 'two-up two-down' layout but offer high ceilings and original features.
Cheadle, Cheadle Heath and Cheadle Hulme all sit further south west of Stockport. These areas boast a range of housing from the 1800s through to modern homes. Cheadle Hulme has its own train station and all of the Cheadles are close to the M60.
There are also several primary schools, secondary schools and independent schools that serve the areas. Schools rated 'Outstanding' by Ofsted include Cheadle Catholic Infant School, Lane End Primary School and Cheadle Hulme High School - the latter which has previously been voted as the best school in Stockport.
The suburbs of Shaw Heath, Heaviley, Offerton and Davenport lie to the south east of the town. Homes in both Heaviley and Shaw Heath are predominantly traditional Victorian terraces. Property is more varied in Offerton and Davenport.
The homes in these areas are generally bigger and have larger gardens. Popular schools in this area include Stockport School, rated 'Good' by Ofsted and Stockport Grammar School, a leading independent school and second oldest in the North of England.
Bramhall is an affluent area that can be found to the south of Davenport. It is one of the most sought-after districts in Stockport thanks to its traditional detached homes and its wide range of amenities. There are many schools in the area rated 'Outstanding', including Pownall Green Primary School and Ladybrook Primary School.
Other villages like Hazel Grove, Marple and Marple Bridge are also popular, particularly with families, as both areas offer a good variety of housing. The Marple area also sits close to Derbyshire and boasts stunning countryside views while the Peak Forest Canal, a vital transport route in the Industrial Revolution, runs alongside the village.
What's for sale
... for the first-time buyer?
One-bedroom terraced house for sale for £95,000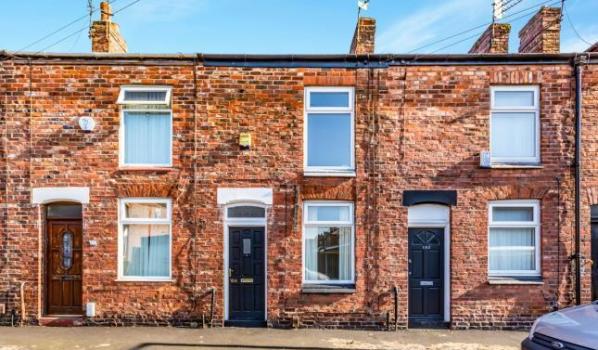 This generously priced one-bedroom terrace presents the perfect opportunity for the first time buyer. With well-presented rooms - requiring only a little modernisation - and situated in a great location, this is an ideal home for an individual or couple looking to get on the property ladder.
Available via Bridgfords
…for the family?
Three-bedroom semi-detached house for sale for £320,000
Set in a sought-after location and close to numerous well-regarded schools, this three-bedroom semi offers both a practical family home and a worthwhile investment. The property further benefits from spacious rooms, a garden with lots of potential and off-road parking.
Available via Reeds Rains
... for renters?
Three-bedroom apartment to rent for £950pcm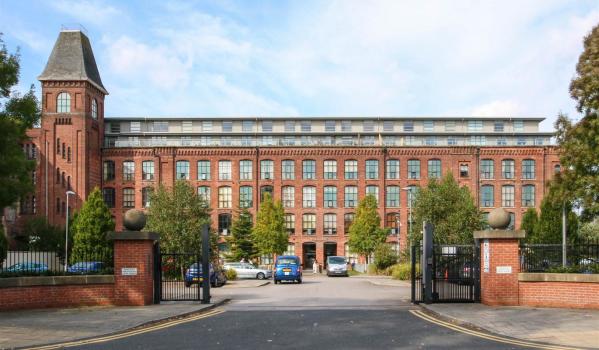 If you are looking for a home that celebrates Stockport's industrial heritage with a contemporary and luxurious finish, this three bedroom apartment is a highly attractive rental. It may be a little above the average rental cost for the area but it packs a punch in terms of charm and character and offers a unique living experience.
Available via Ascend
... with the biggest discount?
Three-bedroom semi-detached house for sale for £160,000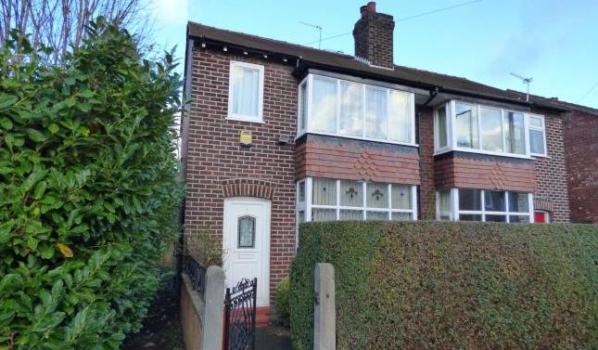 With a reduction in price of just under £30,000, this semi-detached house is a great opportunity for those desiring a refurbishment project. In need of some cosmetic attention, yet with massive potential, this house has no property chain and is ideal for eager DIY enthusiasts keen to make their mark on a charming property.
Available via Ian Tonge Property Services
The most popular Stockport property currently for sale is…
Five-bedroom detached house for sale for £350,000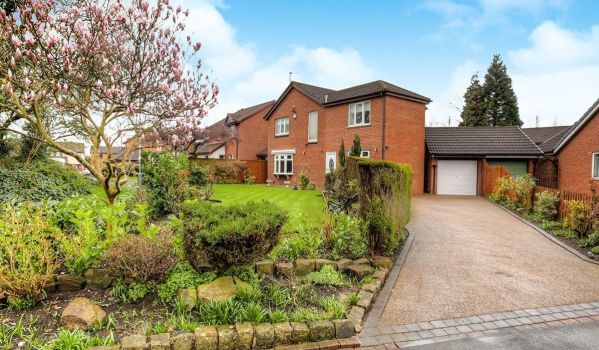 Set in a popular location, this five bedroom detached house is stunning throughout. Offering two en-suite bathrooms, two sizeable reception rooms, a conservatory and an appealing garden, this home offers plenty of space for a large family to reside in a comfortable environment.
Available via Reeds Rains
Transport in Stockport
Stockport is a well-connected town with fantastic transport links to the north of England and the rest of the country. The town has easy road access into Manchester city centre thanks to the A6, while the M60 provides links to the M56 and M62.
At the heart of the town is Stockport train station which offers fantastic links across the country and provides frequent rail travel to London Euston in just under two hours.
Services that run north west all head through Manchester Piccadilly. There are rail links to the likes of Liverpool, Preston, Blackpool, Wigan, Southport and Barrow-in-Furness.
Trains that head south east include services to Sheffield, Cleethorpes, Nottingham and Norwich.
Other southern routes run to Macclesfield, Stoke-on-Trent, London and Birmingham. Some of the services to Birmingham also continue on to the south of England stopping at Bournemouth, Paignton and Plymouth.
Manchester Airport is located only five miles south west of Stockport, offering easy access for international travel.
Things to do in Stockport
Food and drink:
There is a multitude of dining and drinking places across all areas of the borough covering all cuisines and tastes. Old favourites such as traditional Italian - Donatello Pizzeria Ristorante - have served locals over the years while new contenders, such as Where the Light Gets In, are wowing residents with a unique dining experience, offering produce from their very own farm.
Restaurants such as Olivers offer carefully chosen fine foods and wines in an ambient setting - perfect for special occasions, while those in need of top-notch comfort food should head to Bun & Bones Club, which offers sizeable American-style burgers.
For those in want of a tipple or two, pay a visit to The Arden Arms in the heart of the town centre - an old marketplace pub with both real ales and real fires. In the suburbs, Heaton Moor caters for all needs - from traditional boozers such as The Plough on the Moor to trendy venues such as Thom's Wine Bar.
A conversation about drink and Stockport is not complete without mentioning Robinson's Brewery. Based in the heart of Stockport for almost two centuries, and owning hundreds of pubs, inns and hotels across the north west, Robinsons is one of the oldest and most respected names in British brewing history.
Book yourself on a brewery tour and be sure to sip on a pint afterwards in their Unicorn Bar.
Sport and Leisure:
Although Stockport is within easy reach of Manchester, there's no need to leave the town to find things to do. Film lovers can enjoy seeing blockbusters at either the Cineworld Cinema or the Stockport Plaza, the latter of which is one of the few art deco cinemas left in the country.
Along with films, Stockport Plaza holds live music and theatre performances and was used as a filming location in the popular television show, Peaky Blinders. There is also The Garrick Theatre, which produces amateur shows.
Stockport also offers plenty of options for shopping, with numerous high street brands and independents stores. There are two shopping centres, the Merseyway and the Peel Centre.
Take a trip to Edgeley Park to watch Stockport County F.C. play and mix with their dedicated supporters. Over the years, the club has slipped from the heights of the then First Division to the National League North but the club maintains one of the highest attendance rates for that league.
There are plenty of places to get fit in Stockport. There are three athletics clubs along with football, rugby, lacrosse and tennis clubs. Stockport is notably the hometown of legendary tennis player Fred Perry - a blue plaque can be found on a terrace in Offerton, commemorating his birthplace.
The town also boasts a 50-metre swimming pool in the Grand Central leisure centre. It is home to the renowned Stockport Metro Swimming Club, which has produced several Olympic medallists.
For those looking to try something a little bit different, Stockport is also home to Rope Race and Awesome Walls, both extremely popular climbing centres.
The outdoors:
There is an abundance of green spaces in and around Stockport. Eight of the town's urban and country parks have Green Flag Awards, while Vernon Park is recognised as being nationally important after being restored to its Victorian glory.
Bramhall Hall is a 14th-century timber-framed hall that sits in a stunning park inclusive of woodland and trails. You can explore the Tudor manor, visit the park's Stable cafe or simply sit and enjoy the scenery - particularly on a summer's day.
Further afield is the Lyme Park estate, which is home to the Grade I listed Lyme Hall and shot to fame when it featured in the BBC adaptation of Pride & Prejudice. The building is used to represent the exterior of Mr Darcy's home Pemberley, and the lake is the very one used in actor, Colin Firth's, famous swimming scene.
A short drive or train ride out of Stockport and you will be immersed in the stunning scenery of the Peak District National Park - a true haven for both serious walkers and leisurely amblers. There is also the added bonus of a few cosy pubs nestled along the way.
History:
There are many interesting venues of great historical significance worth visiting in Stockport. A highlight is Stockport's Air Raid Shelters - a system of almost a mile of underground air-raid shelters dug under the town - offering visitors an unparalleled insight into life in wartime Britain in the 1940s.
To learn more about the history of Stockport's thriving hat industry, a visit to the Hat Works museum is a must. Situated in a restored Grade II listed Victorian mill, the museum features a recreated hat factory with some 20 fully restored working Victorian-style machines.
You might also be interested in...