Keep the kettle and mugs out, and attach your essential Allen key to flatpack furniture with masking tape.
They say moving house is one of the most stressful moments in your life and, there's no sugar coating this, they're right. You're likely to do it more often if you're renting too.
But we're here to help. Follow these 10 tips to making your move a little less painful:
1. Get packing early
As soon as you've secured your new rental pad, write down what you'd like to take with you, or use a free list app (trust us, you'll never look back), and start prioritising.
Pack as many of the non-essentials as you can in advance – books, spare bedding, egg cup collection – so you're not piling everything into a bin liner the day before in a wild panic.
2. But keep the kettle out
There are few bigger thrills than ticking off every item on your to-do list way ahead of schedule, but don't leave yourself living in an empty room for weeks. It's not much fun packing, but it's even less fun unpacking your packing to find your toothpaste.
It's also a good idea to create a survival kit with all the things you'll want easy access to when you arrive at your new home. Obviously that should include a kettle, mug and teabags, which you'll be mainlining. Also consider putting in phone chargers, snacks and something to play stress-relieving whale sounds on.
3. Order, order
Apart from that survival kit, keep some discipline to your packing. When you're tired it's tempting to chuck everything together just to make things fit. But a box containing pants, spoons and your PlayStation 4 just increases your work load at the other end.
Keep related items together and label each box with what's inside it and which room it's going in.
If you're deconstructing and reconstructing any furniture, number the parts in the order they go back together and use masking tape to attach nuts, bolts and screws where they're needed.
4. Declutter like a pro
When you move for the first time you'll be amazed that you can fit all you need into the back of a car. A couple of years later you'll wonder how on earth you have enough stuff to fill a fleet of lorries.
To avoid that, every time you move question each item you're packing: do you use it and, to borrow from tidying guru Marie Kondo, does it spark joy? If not, it's time for a new home in a charity shop.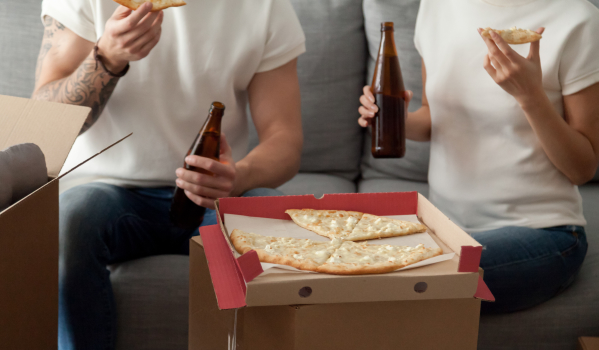 5. Call on friends and family
Book in some free help and give them as much notice as possible, so they have less excuse to back out. As mentioned above, if you're moving out of the family home for the first time you may get away with packing your possessions into one or two cars.
If not, or you're taking large furniture with you, simply go to Zoopla's cost estimate tool and our trusted partner, AnyVan, will give an instant quote for a full home removal or a man and van.
6. Get ahead on the admin
Investigate which energy suppliers and internet providers will give you the best deal and start the sign-up ball rolling before you move in. You'll want to have those services up and running in the most cost-effective way as soon as possible.
Visit the council website and find out how to let them know you're moving, so they can sort out your council tax and you can order all the bins and recycling boxes you need. It's amazing how quickly a milk carton mountain builds without them.
Also start changing your address with all the companies and institutions you use. You can buy yourself some time by using the Royal Mail's redirection service, but if you have a car you'll need to tell the DVLA immediately or risk a £1,000 fine. And don't forget to register to vote.
7. Stagger your arrival
If you're moving in with several housemates, there probably won't be room for everyone to park nearby all at once. Even if there is, you'll be laden with boxes and bumping into each other in the halls and doorways.
Luckily it's your first day so everybody will be unfailingly polite, but there's only so many times you can say "excuse me", "coming through", "room for a small one?" without it getting annoying. For a smoother introduction to your home, arrange your arrivals in hourly slots.
8. Come armed with questions
Your landlord or estate agent should be there to hand over the keys when you arrive. Now's the time to double check where some of the important things are such as the stopcock, fuse box, thermostat and aerial sockets.
When you're shown the gas and electricity meters, take a picture so you have a record of the readings for the provider you've (hopefully) already signed up for.
You should also be given an inventory and schedule of condition that records what's in the house and any existing damage. If you find anything that's not noted down, take a picture and get it added to the list, to avoid potential problems when you leave.
9. Make the bed first
After a long, hard day lugging your possessions up the stairs, you'll be glad you decided to put the sheets on hours before you needed to fall into them.
10. Don't try and do it all in one day
There's really no rush. Leave colour coordinating your sock drawer until the morning and follow the sacred first-night-as-housemates tradition, passed down from generation to generation: eat a curry on an upturned box, then check out the local.

You may also be interested in...