Here's how to turbo-boost your chances of getting the rental flat or house you really, really want.
Whether it's your first time renting or you're moving to a new rental, you can improve your chances of getting the house or flat you want by following these straightforward steps. Being prepared really does propel you to the front of the crowd, especially at peak rental changeover times in the new year and summer months.
1. Let us power your search
You can use our site to search for rental properties in your chosen area, specifying your target rent and desired property type, including the number of bedrooms.
You can also register to receive alerts when a property matching your requirements comes onto the market. We'll email you instantly, daily, every three days or weekly – it's up to you. If you're the first to view a property when it comes onto the market, you give yourself an excellent chance of securing it.
We can also show details of letting agents in the area where you want to live, giving you access to vital expert knowledge of the local rental market.
2. Go local for your info
Whether you're looking to move within the area where you live or you're heading to a new location, you should check out social media to see what's happening locally.
Most towns and cities have at least one online forum or a Facebook page covering everything from shopping to nightlife to gripes and grumbles about the local council.
There's likely to be a thread or two about housing, which can be a valuable source of information.
If you're moving to university or college or moving out of halls of residence into a shared house or flat, check out the student accommodation scene in the area. Some districts are particularly popular with students, so doing research in advance will narrow down your choices.
3. Sort your finances
Having your finances in order will stand you in good stead with a landlord or a letting agent. It's important to know how much money you're going to need so that there are no nasty surprises.
You'll need to pay rent in advance. This is usually a month's rent, but it might be more depending on your rental agreement, especially if you have a low credit rating or poor references.
You'll also need to pay a deposit of up to five weeks' rent (if you're paying rent of more than £50,000 a year, this could be six weeks). You'll get this back when you move out, although the landlord or letting agent can deduct enough to pay for any damage you cause, or if you're in arrears with your rent.
By law, the landlord or agent has to put your deposit in a government-backed protection scheme to ensure it's safe. You must be given written details of this scheme when you pay your deposit.
You might also need to pay a holding deposit while your references are checked – this can be up to one week's rent. Once you've paid this, the property can't be let to anyone else.
Make sure you get a receipt for this deposit plus written details of what will happen to it if you end up not moving in. If the landlord decides against accepting you as a tenant, you should get it back in full.
If you go ahead with the rental, the holding deposit should be deducted from the amount you have to pay in advance rent or as a deposit.
The golden rules when it comes to paying rent in advance, paying a damage deposit or a holding deposit are:
never make a payment without seeing the property first


get the landlord and the letting agent's contact details in writing – they can't refuse to give these to you


avoid paying anything in cash if possible


always get receipts and confirmation of the deposit protection scheme.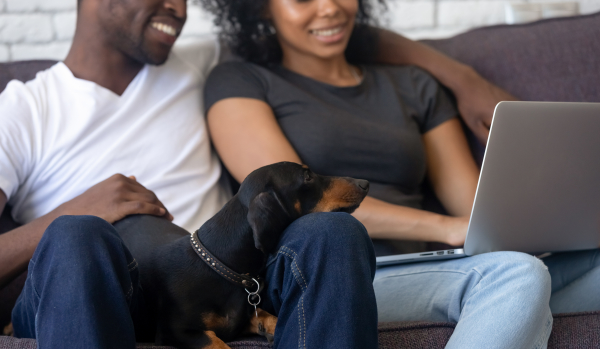 4. Sort required paperwork in advance
When you want to rent somewhere, you'll be asked for references – usually from your employer, a previous landlord and your bank.
At the very least you should have bank statements, a utility bill from your current address and some photo ID, such as a driver's licence or your passport.
If you're asked to provide written references, let your bank or employer know they might get asked – that way they're prepared, and there's less chance of hiccups and delays.
If you're renting with other people, make sure everyone has their paperwork in good order.
5. Be available
It's not always easy but try to be available to view properties during normal working hours, rather than just at the weekend or in the evenings. This greater flexibility will be appreciated by the landlord or letting agent and may help put you at the front of the queue.
If you're renting with a group of friends, see if you can work out a schedule where someone is available to attend a viewing as soon as a potential rental home becomes available - or divide to conquer by each seeing different properties.
But it's probably not a good idea to allow any one person from your group to make a decision about the property. Wait until you've all seen it, and until you all agree it's what you're looking for.
6. Be punctual
If you've got an appointment, make sure you're prompt – if you keep the landlord or agent waiting, you'll make a bad first impression. You might even have your viewing cut short by the next potential tenant, and that's probably not going to end well as far as you're concerned.
Being on time might be an issue if you're in an unfamiliar area or you're travelling in rush hour, so make sure you plan your route and know exactly where you're going and how you're going to get there.
If you're viewing as a group, rendezvous in advance and arrive together rather than in dribs and drabs.
If you think you're going to be late, phone the landlord or agent and let them know.
7. Be charming and presentable
Landlords and agents want to know that tenants will look after the property, so try to make a good impression. That doesn't mean dressing up in all your finery, but it won't do any harm to look smart and to be pleasant when you meet them and ask questions.
Even if you might be disappointed this time, make a good impression and you'll be first on their list for the next rental that comes up.
You may also be interested in...