Searching for a home to rent? Here's how to save time and beat the crowd.
When you're searching for a new house or flat to rent, you really must check out the free tools that will help you get ahead of the competition.
Here's our round-up of the time-saving tools on Zoopla to help you find your next rented room, flat or house. And don't forget Zoopla has over 200,000 homes listed to rent, from penthouses to flat shares.
1. Map out the exact area you want to live in
Our SmartMaps tool allows you to zone in on a specific area you fancy living in. Whether you've always dreamed of living in a particular street, want a five minute walk to the train station or you're looking for a home in a popular school's catchment area, this tool is your friend.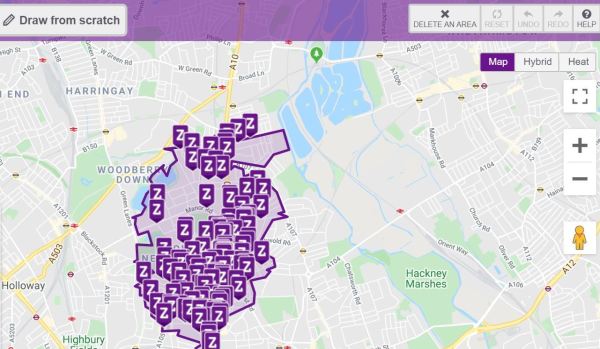 SmartMaps lets you add what's most important to you from a list of local amenities. For example, transport, sports and health clubs, local parks or food stores if you really need somewhere for your late night chocolate craving.
And if you want to get seriously specific, just click on 'Draw from scratch' and mark out the desired area with your mouse.
Like this.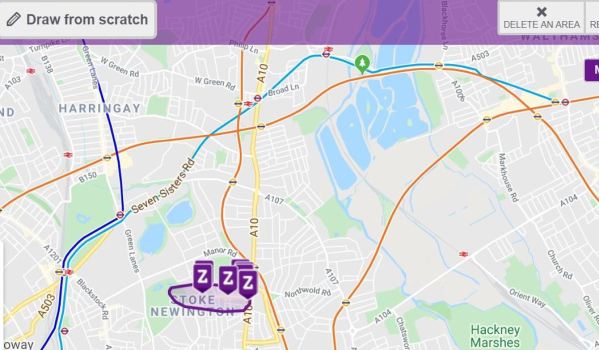 2. Use our commuting times calculator
Our travel time search tool means you can find homes to rent within a specified journey time of the places that matter most to you. So, whether you want an easy commute to work, a home within walking distance of your kids' school or the ability to pop back to your parents for a Sunday roast, you can find your ideal location. You can calculate according to your favoured mode of travel - bus, train, public transport, walking, cycling or driving.
You can also refine your search based on your price range, number of bedrooms, when the rental listing was added and furnished or unfurnished. Genius!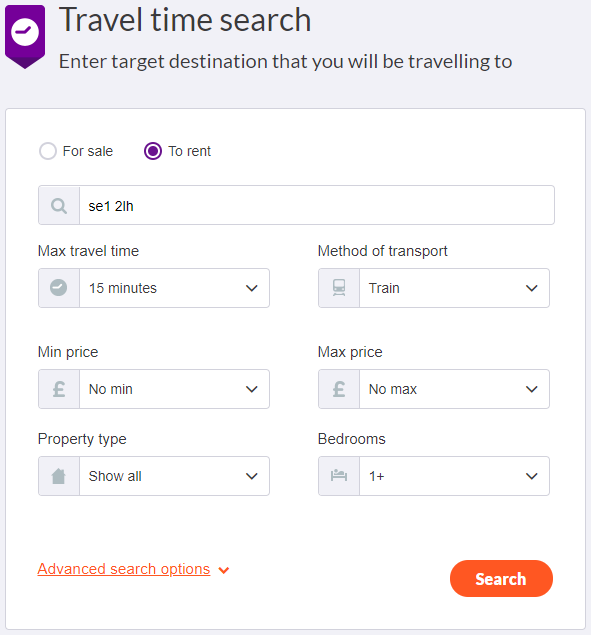 3. Simplify your online searching with Advanced Search
None of us have time to trudge around lots of places that don't quite fit the bill. Advanced Search lets you add specific must-haves like 'garage' and 'newly decorated' to narrow your search and save you time.
Our clever keyword search allows you to find exact matches using quotation marks, for example "double glazing". If a particular type of home or interiors style is on your never-want list, you can exclude them simply by prefixing it with a minus sign, for example, -basement.
4. Set up an email alert
Never miss out again on the perfect place. By creating a property alert you'll be the first to know when homes that fit your criteria are listed.
5. Download our app
With a clean new look and feel, the Zoopla app couldn't be easier to use. You'll get instant info on potential homes while you're on the move and the 'saved properties' section at the top is a winner for staying on top of your rental search.
6. Compare rental prices
Under the 'market stats' tab displayed under photos of each rental, you can find up-to-date average rents for similar sized properties in the same area. It's a great way to check the home you're interested in renting isn't overpriced.
You can also click on 'general market trends' to find current asking rents for the same area, divided between flats and houses and different property sizes from one-beds to five-bed homes.
This is a great starting tool if you're new to a city and trying to work out what areas match what you want to pay in rent.
The one below shows the contrast in price difference by regions. But you can delve even deeper by specific areas and post codes.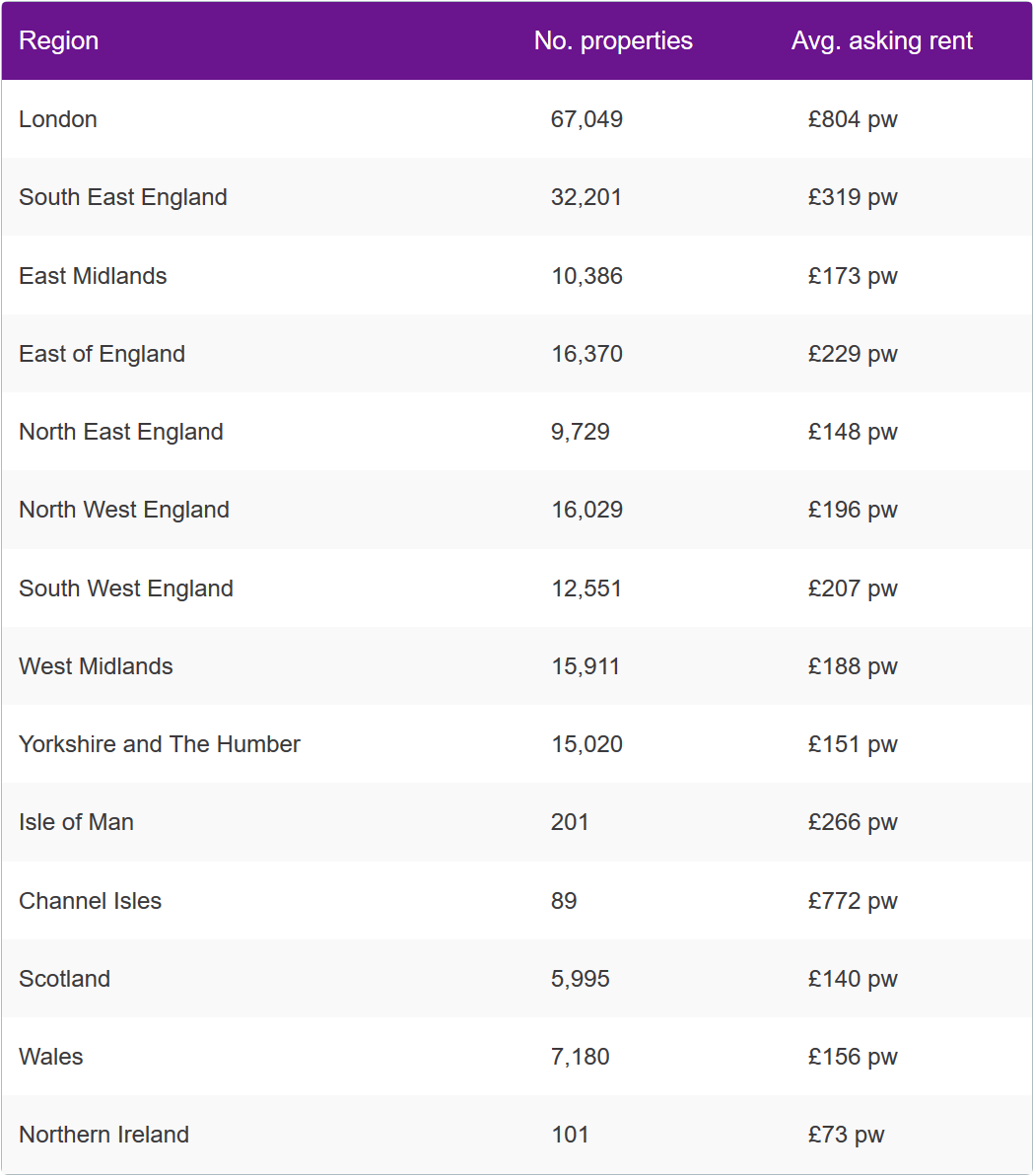 7. Find local lettings agents all in one place
Wowed by a particular area or postcode? On Zoopla you can find all the letting agents in your specific search area together with their contact details, history, current listings and membership of accredited organisations for estate agents.
It's always worth having a chat to see if any potential homes that match your requirements are coming up, particularly in the peak summer months when competition is fierce.
8. See how much a rented home costs to run
When you're pricing up a new move, you need to factor in not just the cost of renting, but all the other running costs like electricity and gas bills.
Under almost every property for rent on Zoopla, you'll find our running costs tool which gives an estimated monthly total of how much the home would cost to run. In some cases, of course, some bills may be included in your monthly rental fee.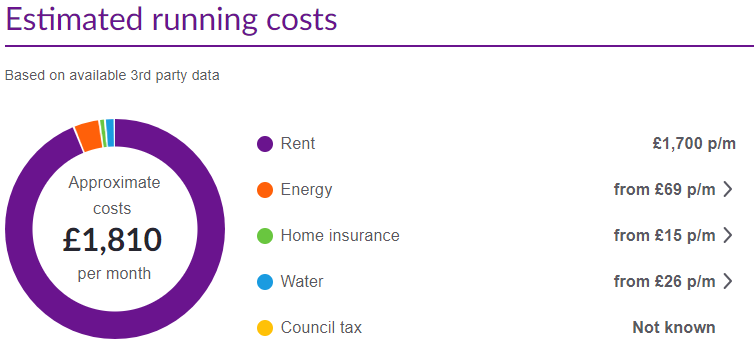 9. Nose into a rented flat's price history
Scroll down the property details for each listing and you'll see 'property history'. Here you may see previous rental prices, and whether the listing price has been reduced since it was first added.
10. Get an instant removal quote
Unless you're a first-time renter lugging a duvet and a couple of cardboard boxes, you'll need to organise how you're going to move all your possessions from your old home to new.
Simply go to Zoopla's cost estimate tool and our trusted partner, AnyVan, will give an instant quote for a full home removal or a man and van. Or even a piano.
Continue your rental journey…