If you're tiring of the cost and hassle of residents' parking permits, creating your own driveway might not be the greenest option, but it could make financial sense.
For many people, parking outside their own home can be both a cause of stress and come at a financial cost.
In certain urban areas, despite having forked out for an annual residents' parking permit, it can still be tricky to find a place to leave your car close to home.
If parking is tight, you might consider paving over your front lawn and cracking out the concrete to create your own guaranteed, private, off-road parking space.
But are you allowed? What's involved? How do you go about dropping the kerb? And what will it all cost? Here we take a closer look.
What will it cost?
If you are thinking of turning your front garden into a parking spot, you will probably need to drop the kerb to allow vehicles to drive easily and safely on to your new driveway.
The pavement may need to be strengthened in front of the property, and in some cases it may be necessary for lamp-posts, man-hole covers and other street furniture to be moved.
You should first contact your local council to ask if you need planning permission. While some do not charge for 'dropped kerb' applications, others levy a fee of more than £250.
It's also worth noting that your local council may stipulate that you use its contractors to do the work.
Examples...
According to the website of the London borough of Wandsworth, 'you must pay for any works done to provide a crossing, plus a £225 fee to cover administrative costs. The fixed cost of a standard "domestic" pavement vehicle access for up to two domestic cars and constructed in grey bricks is £1,667.20'


According to the Devon County Council website, 'the cost varies depending on the contractor you choose, and the specification of crossing required, but will probably be somewhere between £1,500 and £3,000. Our licence costs £260 in total, which covers our safety assessment, construction audit and administration costs.'


According to Birmingham City Council website, applicants are charged a '£95 (non-refundable) application fee, which includes inspecting the kerb and producing a quotation. The typical cost of a standard width crossing is approximately £1,400 to £3,500; this includes the admin fee of £273, but not any additional works (such as moving pipes, trees, street furniture, utility boxes etc) which may increase the cost up to £5,000 or more.'
Is it worth it?
In addition to using the correct materials, the foundations also need to be able to support the weight of your vehicles. All of this could also affect the eventual cost.
Quotes for the work can vary from a few thousand up to over £15,000, depending on both the external cost of dropping the kerb and reinforcing the pavement and the cost of adapting your own front garden to a driveway. At the cheaper end, hardcore and gravel may suffice, but this will escalate with block paving, for example.
It will take time to recoup the savings, but as well as considering the current fee for an annual residents' parking permit (that can rise to more than £400 for certain vehicles in some areas of London), you should also factor in the reduced time and stress of having a guaranteed spot, plus the potential added value if you choose to sell the property.
Read our 5 steps to finding a tradesperson you trust.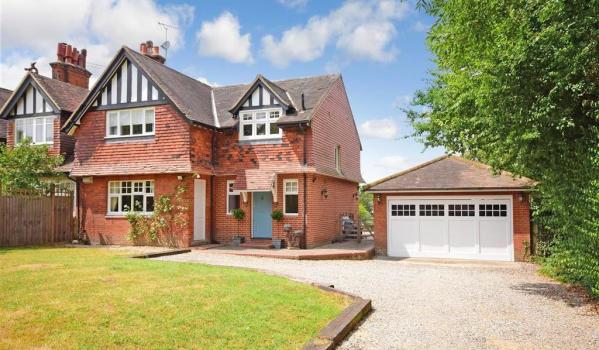 What are the upsides?
Aside from removing the need for a residents' permit, a driveway takes away the stress of trying to find somewhere to leave your car each day. Plus your vehicle will be more secure.
You will also effectively 'privatise' the piece of road outside your property, as that section of road is no longer available for other people to park on.
Further to this, a driveway can add value to your property, as having a dedicated parking space is a 'must-have' for many – estate agents say that having off-street parking can often make or break a sale.
Estimates suggest that in a prime city area, you could potentially add a whopping £50,000 to your property's value. Far exceeding the initial cost of the groundwork.
What are the downsides?
For nature lovers, paving over your front lawn is not an aesthetically pleasing choice to make. You'll now look out at your vehicle and you've removed a garden which may have been home to birds, bees, butterflies and all manner of insects.
If you are going to pave over your front garden to create parking space, consider using environmentally friendly materials.
The Royal Horticultural Society (RHS) recommends using permeable paving and keeping hard surfaces to a minimum as "paving, tarmac and concrete are less porous (than a garden) and increase the amount of rainwater that runs off by as much as 50%. This additional water usually flows into street drains, which can't always cope. The excess can then go back up people's front drives to floods their homes."
Research from the RHS also found that almost a quarter of front gardens had been entirely paved over, prompting the organisation to launch a campaign – Greening Grey Britain – a move to 'green' front gardens that are currently paved over.
Of course the two do not have to be mutual exclusive. With a bit of creativity, it can still be possible to have shrubs and flowers out front, and a place to park.
You might also be interested in…
Would you convert a front garden into a driveway if you didn't have off-street parking? Let us know in the comments, below...