Whether it's longer life expectancy, avoiding smokers or craving cleaner air, we've picked out the top-rated places to live if health is your priority.
Healthy living goes much further than eating plenty of superfoods, exercising regularly and getting eight hours sleep a night.
Where we live significantly contributes to our overall well-being. So, where in the UK is the best place to buy a property to help you live the healthiest lifestyle possible?
To help you find the right area we looked at the parts of the UK which show the most promise in providing a healthy environment for highest life expectancy, lowest prevalence of smokers, most healthy amenities, healthiest high streets and cleanest air.
Highest life expectancy
There are pockets of the UK where people live much longer than others, according to official figures from the Office for National Statistics (ONS). Interestingly, they differ for men and women. But there is a clear link between affluent areas and living longer.
Men
1. Kensington & Chelsea, London
As most of the wealthiest people in London live in the Royal borough of Kensington & Chelsea it is hardly surprising that the medical care that you can find there is arguably second to none. There's plenty to keep you busy in your old age here. The museums in Kensington & Chelsea are some of the best in the world and The Science Museum, The Natural History Museum and the V&A are on the same street. Just down the road from the best museums and opposite Regent's Park is the world-famous Royal Albert Hall.
Average life expectancy: 83.3 years
Average house price: £2.2million
2. St Albans, Hertfordshire
Some 20 miles north of central London, St Albans is a buzzy little cathedral city with a great street market. It also has plenty of parks, open countryside, commons and forests for those who love the great outdoors.
Average life expectancy: 82.9 years
Average house price: £558,878
3. East Dorset
Dorset is known as a beautiful part of the country where many people move to pursue a healthier, more relaxed lifestyle.
Average life expectancy: 82.8 years
Average house price (Wimborne): £390,286
4. Harrow, London
Nestled in the far north-western corner of London, the average life expectancy for men is not far off that in central London. Harrow is popular with families as well as a large retired community looking for a place to settle down.
Average life expectancy: 82.7 years
Average house price: £460,841
5. South Cambridgeshire
The district is set in 350 square miles of cycling and walking countryside, offering the perfect opportunity to relax and explore. The village Wimpole is popular and known for the beautiful Wimpole Estate.
Average life expectancy: 82.7 years
Average house price (Wimpole): £500,000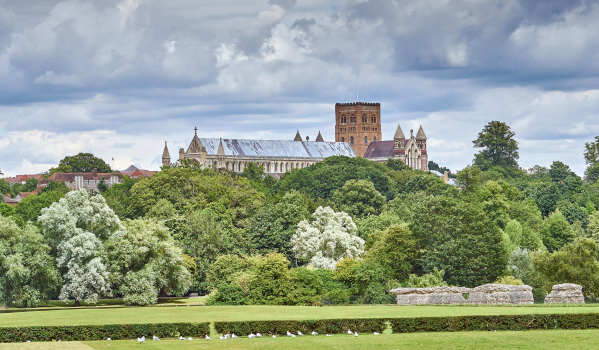 St Albans is second only to Kensington & Chelsea for male life expectancy in the UK
Women
1. Chiltern
This picturesque area of Buckinghamshire has some of the largest homes in the country, as well as the highest life expectancy for women. The picturesque old town of Amersham, with an attractive collection of period buildings, is especially sought after.
Average life expectancy: 86.7 years
Average house price (Amersham): £675,714
2. Camden
A borough associated with punks and tattoos might not spring to mind for impressive longevity. But women in Camden are expected to live to the same average age as those who live in the Chilterns. It's possible to escape the hustle and bustle of Camden Lock and find some serious green spaces, with Primrose Hill and Regent's Park close by.
Average life expectancy: 86.7 years
Average house price: £1.08million
3. Hart
The Hart district lies in the north-east corner of Hampshire and takes its name from the River Hart which flows through its centre. Most of the land in Hart is farmed, with many acres owned by the Ministry of Defence and the Forestry Commission.
Average life expectancy: 86.6 years
Average house price (Odiham): £622,048
4. Kensington & Chelsea
The only location to make the men's and women's top five. Although No 1 on the men's list, women outlive their male counterparts by an average of over three years.
Average life expectancy: 86.4 years
Average house price: £2.2million
5. Westminster
Residents here have some rather notable neighbours such as HRH Queen Elizabeth II and the Prime Minister. With most of the capital's exciting attractions nearby, there's plenty to keep you going.
Average life expectancy: 86.3 years
Average house price: £1.14million
Lowest prevalence of smokers
If you can't bear the thought of walking down your local high street or park in the vicinity of someone lighting up, then look no further than these five areas. The ONS provides a breakdown of where in the UK you can find the lowest number of residents who smoke cigarettes.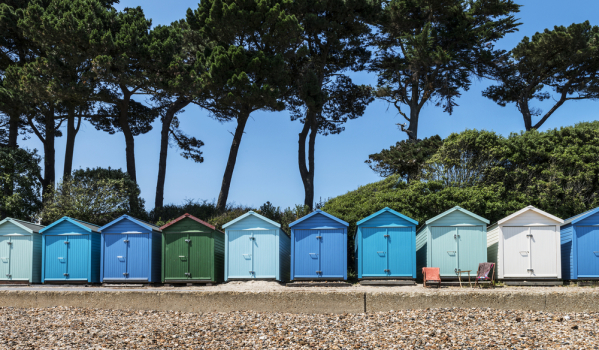 No smoking. At least not much. At Christchurch in Dorset.
1. Christchurch, Dorset
When looking at the local authorities with the lowest prevalence, Christchurch in Dorset comes top of the pops with 4.6% reporting they smoked in 2017. This desirable market town with its harbour is perfect for fresh air - and boat enthusiasts. Many properties come with their own moorings. The Christchurch Priory and the local Regent Centre Theatre are very popular. Views of the Isle of Wight are breathtaking.
Percentage of smokers: 4.6
Average house price: £393,696
2. West Devon
Towns in the district where just 4.9% said they smoke, include Chagford, Okehampton, Princetown, and Tavistock, which are all near the beautiful Dartmoor National Park. Walking is big here. The West Devon Way is a 37-mile marked route between Okehampton and Plymouth which skirts the western edge of Dartmoor, passing historic settlements, crossing moorland, following green lanes and woodland tracks.
Percentage of smokers: 4.9
Average house price (Tavistock): £276,074
3. Maldon, Essex
Maldon is one of the oldest towns in Essex, blending its coastal setting with easy access to mainline rail connections into central London. There's lots for sailing enthusiast here too with facilities at the nearby Heybridge Basin and Thames Barges sailing from the town's Hythe Quay. Around one in 20 residents of this town say they smoke.
Percentage of smokers: 5.3
Average house price: £348,247
4. North Warwickshire
The main town in the largely rural district is Atherstone. Others in the borough include Coleshill, Polesworth, Kingsbury and Hartshill. The area once relied heavily on the coal mining industry, but now the vast majority of residents are fed up of inhaling carcinogens.
Percentage of smokers: 5.7
Average house price (Atherstone): £233,586
5. Orkney Islands
The archipelago, famed for its spectacular landscapes and archaeological treasures, was crowned the best place to live in the UK earlier this year in a Bank of Scotland Quality of Life Survey. With many properties here on sandy beaches, rocky coves and expansive coastal views from open unspoilt headlands, there's plenty to offer.
Percentage of smokers: 6.3
Average house price: £160,390
(Chiltern, which came sixth, so didn't make it into our top five, is worth a mention as it has featured in the 10 local authorities with the lowest prevalence for the fourth consecutive year, with 6.4% reporting they smoked in 2017. Average house price (Amersham): £675,714)
Healthiest UK cities for amenities
We can reveal the cities in Britain that offer the most options for a healthy lifestyle. A study by Protectivity Insurance analysed the amenities available in locations around the UK, taking into account gyms and fitness centres, green space, spas and vegan restaurants. Here are the cities it ranked in the top five spots.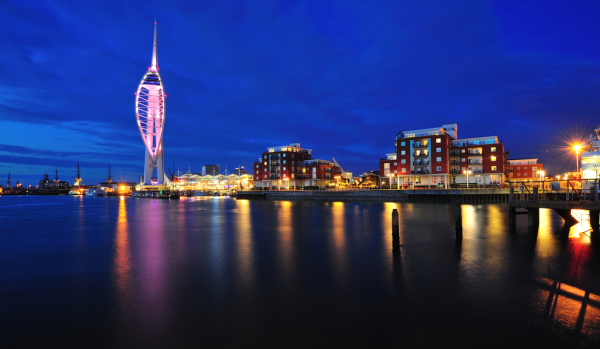 Residents of Portsmouth have no shortage of healthy options
1. Portsmouth
Home to around 194,150 people, Portsmouth boasts four gyms, three yoga studios, five health food shops and 134 restaurants with vegan options. In addition, its 56 professional therapists, 21 museums and six parks helped to earn the top spot.
Average house price: £230,993
2. Norwich
Residents of this cathedral city enjoy a relaxed pace of life, with plenty of heritage, entertainment and healthy eating at hand. The city boasts over 190 vegan option restaurants and 22 health food shops. It also has the spectacular Norfolk Broads on its doorstep.
Average house price: £264,172
3. Nottingham
Britain's ninth largest city offers Sherwood Forest, ancient caves and residents have the choice of a whopping 490 vegan option restaurants, 82 registered therapists and 31 spas.
Average house price: £264,192
4. Oxford
Oxford, the beautiful city which revolves around its prestigious university, follows closely behind in fourth place. This smaller city really packs a punch when it comes to what they have to offer with 190 vegan option restaurants to get your teeth into and 20 museums to get your dose of culture.
Average house price: £503,523
5. Southampton
Southampton is on the south coast nestled between two areas of natural beauty – New Forest National Park and South Downs National Park – so it's a beautiful part of the country to move to. It boasts 15 parks - the most in the top five - as well as 147 vegan restaurants, 55 therapists and 11 museums.
Average house price: £291,668
Healthiest high streets
A thriving - and healthy - local high street is paramount to many homebuyers who want to live in the thick of a city or town. The Royal Society for Public Health (RSPH) analysed the UK's high streets to find the best for health and wellbeing. The RSPH regarded cafes and vape shops as positive influences on high streets, while off-licences, takeaways and empty stores are believed to have a negative impact. Again, there was a clear link between affluent areas and the high streets ranked the highest.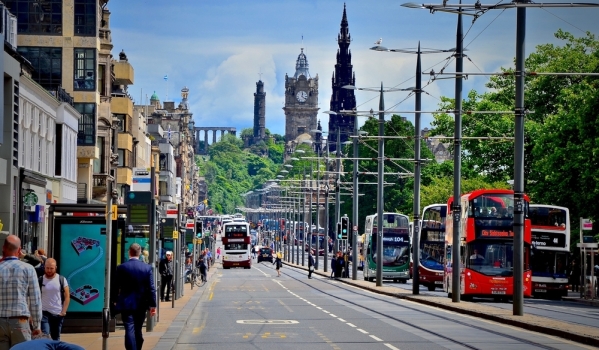 Looking for a healthy high street? Head for Edinburgh
1. Edinburgh
This historic Scottish city offers a handful of high streets to residents and tourists who flock to the capital to admire the sights. The Royal Mile is a succession of streets forming the main thoroughfare of the Old Town including Castlehill, the Lawnmarket, the High Street, the Canongate and Abbey Strand. There's also Princes Street in New Town.
Average house price: £279,284
2. Canterbury, Kent
The long, wide, pedestrianised main street is known at various points as St George's Street, The Parade, High Street and St Peter's Street, but collectively known as 'The High Street'. Aside from its high-speed commuter links to the capital, Canterbury offers attractive Georgian architecture and is a great staging post for coast and country. Open space is plentiful with Blean Woods National Nature Reserve and the Kent Downs nearby.
Average house price: £330,864
3. Taunton, Somerset
Taunton's claim to fame goes further than a healthy high street. Taunton is the only garden town in the South West. Garden towns are designed to be distinct, self-contained communities which have their own facilities – such as shops, schools and transport links – and to include green spaces. The movement was the brainchild of Ebenezer Howard in the late 19th century, who proposed garden cities as a greener alternative to urban slums.
Average house price: £264,218
4. Shrewsbury, Shropshire
Surrounded by green hills and greener fields, Shrewsbury is known for its many independent shops in the crooked medieval alleyways that criss-cross the town centre. It claims that independent retailers outnumber big chains by almost half. Pronounce it "Shrowsbury" if you want to sound posh. It also ranked eighth in the Midlands region of the best places to live in the UK by The Sunday Times.
Average house price: £248,358
5. Cheltenham, Gloucestershire
Not only does this spa town have one of the healthiest high streets, it has recently had a £750,000 facelift to install raised flower beds, large trees and shrubs, as well as new seating, a performance space and other street furniture. The town, on the edge of the Cotswolds, is perhaps better known for horse racing at Prestbury Park, with the main event for steeplechasing being the Gold Cup National Hunt Festival week in March.
Average house price: £355,645
Cleanest air
Air quality is increasingly important to homebuyers. In general, well ventilated and remote areas, as well as those with low levels of traffic and industrial activity, will have good air quality. In urban locations, traffic is one of the major sources of air pollution so living away from busy roads will improve your air quality. Being close to parks will help too. The air quality measuring specialist EarthSense has given us five of the cleanest places to live in the UK.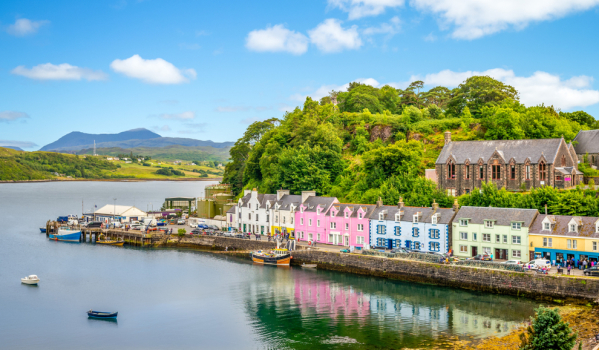 Take in stunning scenery and lungfuls of fresh air on the Isle of Skye
1. Isle of Skye, Scotland
Island life isn't for everyone, but the Isle of Skye, which has been voted the most desirable place to live in Britain, is one of the best places to breathe in clean air. Residents also benefit from very little light pollution. Skye is the largest island in the Inner Hebrides and is linked to the mainland via the Skye Bridge. It is famous for its majestic geological features, including the Old Man of Storr rock pillar and the Cuillin mountain range.
Average house price: £223,583
2. Aberystwyth, Wales
Here you'll find blue flag beaches galore, castle ruins, and striking countryside. As well as its good quality air, Aberystwyth has been hailed the friendliest places to live. According to a survey 89% of its residents greet people as they walk past on the street, the most likely to do so in the country.
Average house price: £198,572
3. St. Ives, Cornwall
This picturesque fishing village in Cornwall has plenty to offer on top of clean air. Its views have been a muse for artists for centuries. It has sheltered beaches, turquoise waters and quaint fishing boats as well as beautiful countryside all around. It even has its own art gallery, the Tate at St Ives.
Average house price: £347,547
4. Allendale Town, Northumberland
Allendale means 'Valley of the Shining Water' in Celtic. The village is surrounded by moorland, waterfalls and wildlife which should account for its fresh, unpolluted air.
Average house price: £260,557
5. Malvern, Worcestershire
Malvern is an elegant spa town that is renowned for the Malvern Hills, designated as an Area of Outstanding Natural Beauty.With a readily available local source, it's no surprise that many of the houses are built from distinctive Malvern Stone.
Average house price: £289,090
You might also be interested in...