Affordable homes, sea views and a prime commuter belt are putting Northern Ireland's Bangor on the map.
The Victorian seaside resort of Bangor is located on the east coast of Northern Ireland in County Down. Just 13 miles north east of the country's capital, the town is part of the Belfast Metropolitan Area and sits just inside the Belfast Lough – a busy passageway for ferries to and from Northern Ireland.
Bangor has become a key retail hub and commuter town for the Belfast area thanks to its location and excellent transport links. It also remains hugely popular as a domestic holiday destination.
Bangor is growing in popularity with homebuyers, who currently pay an average £168,800 for a property there. This compares to an average of £136,000 for Northern Ireland as a whole. You can view the latest property values here.
Learn about the capital of Northern Ireland by checking out our detailed guide.
What to expect living in Bangor
Sea air, coastal views, quaint streets, green spaces, rocky shoreline and a busy sailing marina are all big selling points in Bangor for property buyers.
A multi-million-pound regeneration scheme is also set to improve Queen's Parade. Plans include the construction of a new hotel, restaurants, cafés, theatre space, homes and offices.
Bangor is perfectly located for Belfast commuters. It's just 30 minutes' drive from the Northern Ireland capital and 20 minutes' from the George Best Belfast City Airport.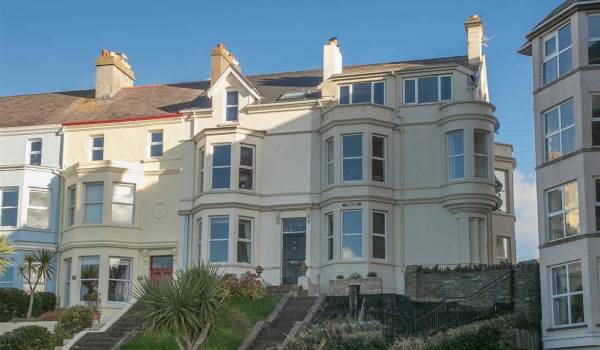 Where to start your property search
Seafront: Properties with sea views are unsurprisingly the most sought after in Bangor. The large, stucco-fronted terraces close to the marina are particularly desirable and hark back to the town's Victorian heyday.
Mostly now converted into two- or three-bedroom flats, but with some townhouses still remaining, these buildings boast classic coastal architecture, period features and large living spaces.
Head to Seacliff Road, Ballyholme Esplanade, Princetown Road, Queen's Parade or Pickie Terrace for properties like these.
For more modern homes and flats located on or close to the seafront, try heading to the west of Bangor to Maxwell Drive, Maxwell Road, Seacourt Lane, Stricklands Bay and Downshire Lane.
Further west, in the Helen's Bay area, you'll find more opportunities for sea views. Prices here tend to be higher, which reflect the generous size of the detached houses and bungalows and their gardens. Take a look at roads such as Sheridan Drive, Old Fort, The Fort, Fort Road and Grey Point for examples.
Inland: The town centre of Bangor is dominated by Victorian and Edwardian homes. Most are terraced and of varying sizes, with some converted into flats and others remaining as standalone houses. Try Albert Street, Beatrice Road, Holborn Avenue, Victoria Road, Primrose Street and May Avenue for a choice selection.
A little further out to the east and west of town, on roads such as Ward Avenue, College Avenue, Farnham Park and Downshire Road, the properties tend to become larger. This area is ideal for commuters using Bangor (Down) train station.
The most modern Bangor homes are primarily found in the networks of residential streets to the south and the far east and west of the town.
Ideal for families and first-time buyers, affordable terraced, semi-detached and detached properties of varying sizes – including bungalows – are all available here. Try such roads as Glenshesk Park, Fairfield Road, Rosemary Drive, Towerview Avenue and Skipperstone Road. For flats, try Linen Crescent and Upritchard Crescent.
Some new-build developments are also dotted around the Bangor, including Lynn Hall Park to the south west, Ashfield Hall to the south east and the terraced townhouses of James Mews near the town centre.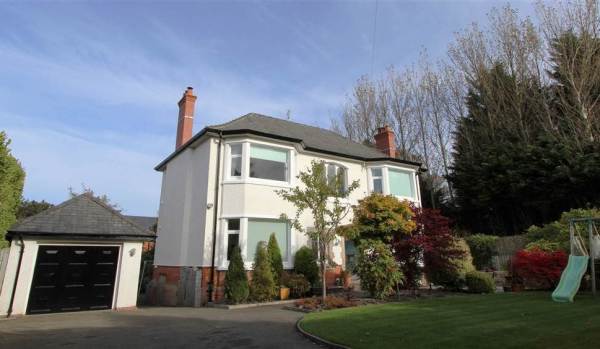 Getting around Bangor
By rail: There are two train stations in central Bangor – Bangor (Down) and Bangor (Down) West. Carnalea station is also nearby on the north western outskirts of the town.
All of these stations lie on the same line and offer regular services to Portadown (90 minutes) via Belfast (30 minutes), Balmoral (45 minutes) and Lisburn (60 minutes).
By car: To the south of the town, the West Circular Road provides access to the Belfast Road (A2) for journeys to the capital and onwards.
The journey time by road to Belfast is 30 minutes – ideal for commuting and for leisure excursions. Meanwhile, the A21 south heads towards Newtownards, which can be reached in 12 minutes.
By air: Bangor is well situated for air travel, with the George Best Belfast City Airport just 10 miles (20 minutes) away by road for UK and European flights.
For international and European flights with airlines such as Virgin Atlantic, Thomas Cook and easyJet, the Belfast International Airport is less than an hour away.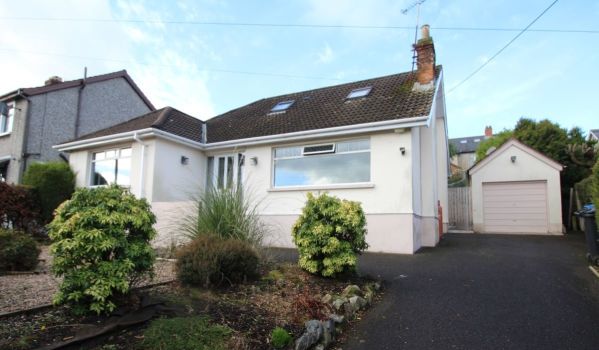 Things to do in Bangor
Cultural: The North Down Museum in Castle Park tells the story of the local area from the Bronze Age to the present day. Artefacts include Bronze Age Ballycroghan Swords, the Bangor Bell from the Bangor Abbey settlement and the only complete Folio of Plantation era maps in Ireland.
Bangor Abbey is also a popular attraction. Established by Saint Comgall in AD 558, it was rebuilt in the 1600s after falling into disrepair. The present-day building mostly dates to the 19th century, but also features a 15th-century tower with a 17th-century steeple.
The town's SPACE performing arts venue offers a varied programme of events, including theatrical performances and festivals, as well as state-of-the-art hire facilities.
Outdoors: Surrounded by the rolling countryside and picturesque coastline of County Down, Bangor is perfectly placed for outdoor activity.
The town itself benefits from a seaside location with plenty of good beaches nearby. It's also one of Ireland's top sailing destinations.
Bangor Marina has two yacht clubs for sailing enthusiasts – the Ballyholme and the Royal Ulster. It also has plenty of boat operators offering fishing, sightseeing and wildlife-watching trips, as well as diving and kite-surfing opportunities.
The North Down Coastal Path and Balloo Wetland Nature Reserve offer stunning views and plenty of wildlife. And the two large parks in Bangor – Castle Park and Ward Park – are particularly popular with families.
Sports: Facilities at the Bangor Aurora Aquatic and Leisure Complex include leisure waters with flumes, three swimming pools, health and fitness suites, an eight-court sports hall, two squash courts, an outdoor floodlit synthetic grass pitch and a children's soft play area.
Several golf courses are located nearby, including Bangor Golf Club and Carnalea Golf Club. Ward Park also has all-weather hockey pitches, a cricket pitch, bowling greens, a putting green and tennis courts.
The ever-popular Pickie Fun Park provides a fun day out for families, with its 18-hole mini-golf course, swan pedal-boats, miniature railway and children's play area and electric car track.
Shopping: The Bloomfield Shopping Centre and Retail Park is a sprawling complex just outside Bangor's town centre. It houses a wide range of high-street names including Accessorize, Argos, Boots, H&M, Laura Ashley, M&S, Next, Tesco and River Island.
The town itself also has plenty of shopping opportunities, particularly along Main Street and at the Flagship Shopping Centre.
Food and drink: Enjoy an 'olde worlde' setting at a traditional Irish eatery such as Donegan's Restaurant. Live bands are hosted every Saturday and Sunday and in the summer diners can take advantage of a large beer garden.
A historic setting can also be enjoyed at The Boat House, which is found in the former Harbour Masters Office. The menu uses local ingredients, including fruit and vegetables grown in its own two-acre kitchen garden.
For sea views while eating dinner, restaurants such as Jamaica Inn are popular destinations. On warmer days diners can sit outside to watch the boats, but in winter log fires and hot toddies continue to attract visitors. Drinks also include craft beers, cocktails and locally-supplied wine.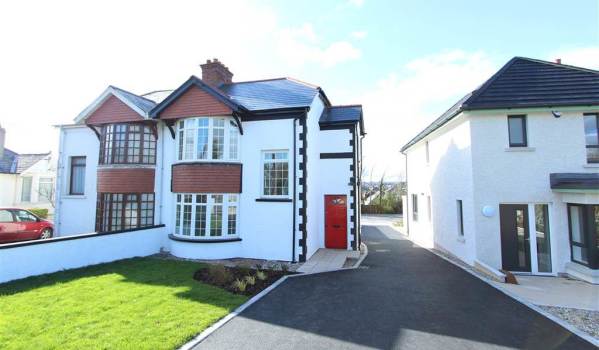 Hidden Bangor
The Walled Garden in Castle Park was designed in the 1840s and was previously a 'secret garden' closed to the public. It's now been restored and was opened as a visitor attraction in April 2009, winning the Royal Horticultural Society Award for Permanent Landscaping.
6 reasons to live in Bangor
Commuter town, just 13 miles away from Belfast

Good transport links

Coastal location

Range of period and modern properties

Retail and leisure hub

Investment in town-centre regeneration and new-build developments
You might also be interested in...
Have you been looking for a place to call home in Northern Ireland? Share your thoughts on Bangor by leaving a comment below…